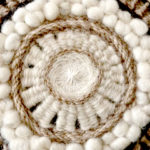 April 12, 2023 
1:00 –4:00pm 
$60 non-members, $48 member (flat price for the two workshops)
Take inspiration from the fiber work of exhibiting CNY artist Alison Altafi! Participants will be creating weavings in the round but with a different twist – that is, the first session will be devoted to making a circular loom (six inches) in ceramic. 
The second session will be devoted to weaving with a variety of colorful fibers to make a unique decorative piece. 
Click to learn more about Everson's CNY artists this year.
 
Artist Bio: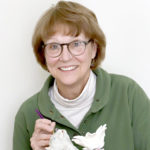 Karen Jean Smith is a ceramic artist with a background in fiber, including weaving on various style looms. She is retired after teaching art for 33 years in public school, the best learning adventure of her life. 
$12 Member, $15 Non-member

May 25, 2023: We invite you to join us in a series of LGBTQ+ Workshops hosted by the Everson in partnership with local Syracuse busin...

$36 Members | $45 Non-Members

April 6, 2023. Enjoy a night filled with wine, fun, and creativity! Learn basic techniques for acrylic pour painting and design your ...