Urban Video Project – 2023
Thursday-Saturday | dusk – 11:00pm / Light Work UVP | Everson Museum Plaza
Institute of Queer Ecology: Hysteria
October 12 – December 16, 2023
"Strange Terrain: Institute of Queer Ecology in Conversation with Jack Halberstam"
Thursday, November 2, 2023 | Reception at 5:30pm, Talk begins at 6:00pm
Hosmer Auditorium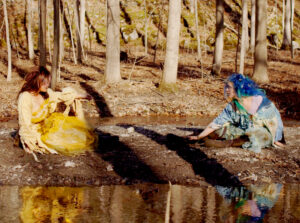 Hysteria is new work by the Institute of Queer Ecology inspired by the poorly understood "dancing plagues" of medieval Europe. In IQECO's reimagining, the afflicted dancers are recast as pointedly subversive agents entangled in a complex web of environmental contamination and contagion that drives their choreomanic uprising. Hysteria was shot in Syracuse and features many iconic Central New York locations, including the Syracuse Metro Water Treatment Plant on Onondaga Lake, Pratt's Falls, and Stone Quarry Art Park.
IQECO is an ever-evolving collaborative organism producing interdisciplinary art as a tool of critical optimism and queer futurity in the face of vanishing "nature."
Urban Video Project (UVP), a program of Light Work in partnership with the Everson Museum of Art and Onondaga County, is an outdoor architectural projection venue sited on the north facade of the Everson Museum of Art dedicated to the public presentation of film, video and moving image arts. It is one of few projects in the United States dedicated to ongoing public projections and adds a new chapter to Central New York's legacy as one of the birthplaces of video art.