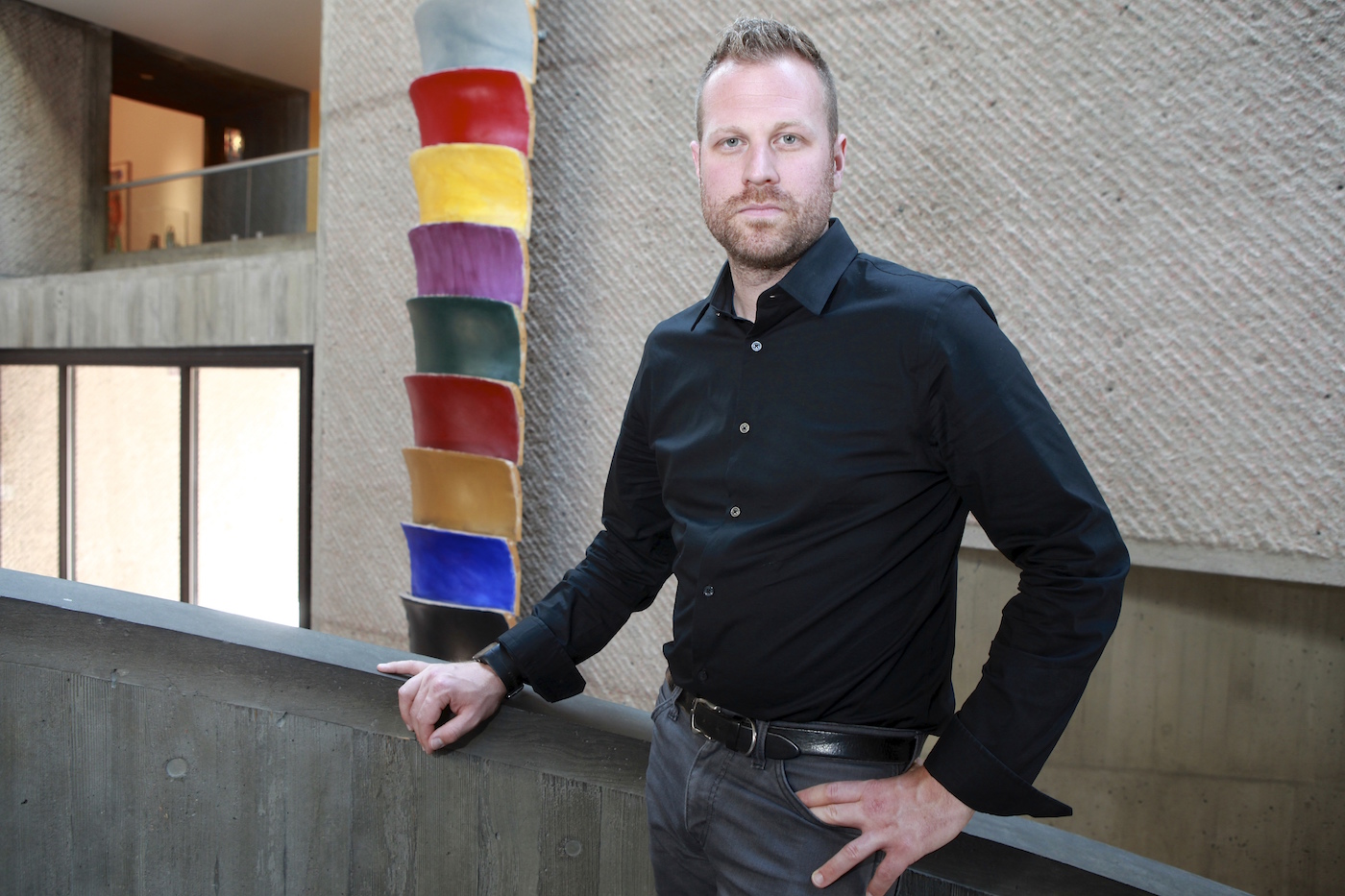 Photo credit: Mike Davis
D.J. Hellerman, the new curator for the Everson Museum of Art, has found his initial months there to be an exciting, busy time. For one thing, he's spent time exploring the museum's collection of 11,000 artworks through various avenues: reading catalogs and archival material, looking through databases, talking to docents who have seen many shows at the Everson."The collection is quirky and very interesting," said Hellerman. He is focused not only on ceramics, the crown jewel in the museum's holdings, but also on street photography, video and other works owned by the Everson.
His delving is an ongoing process for two reasons: the size and scope of the collection, and the fact that he's got a lot on his plate. For example, Hellerman has considered ways to creatively linkKate Gilmore: Touch Like This, Hold Like This, an exhibit inside the museum featuring eight of the artist's videos, with her sculptural installation staged outdoors.Moreover, there's preparation for the fall schedule of exhibitions. The curator is selecting works from the collection to complement Angela Fraleigh's one-woman show opening on Sept. 24. In addition, Hellerman is setting up a display that will showcase pieces from the collection with political content and will run in the Members Gallery.
And he's in contact with Marie Lorenz, whose work centers on waterways. This summer, she will travel from Buffalo to Albany along the Erie Canal and then to New York City on the Hudson River. In the fall, she will have a multimedia exhibition at the Everson.Beyond that, a curator has to consider exhibits that will open further down the road. Hellerman is planning for a January 2017 show devoted to Adelaide Alsop Robineau. It offers a potential trifecta: the intrinsic appeal of Robineau's work; her role as a central figure in the Arts and Crafts movement, which had its heyday during the early 20th century; and her direct and vital connection to the Everson's collection. The museum owns more than 100 of her porcelains.Hellerman and Elizabeth Dunbar, the Everson's executive director, are also discussing exhibits for 2018, when the Everson will celebrate its 50th anniversary. They collaborate and consult with each other on an ongoing basis.
Clearly, his job encompasses multiple projects, but that's not a new experience for Hellerman. From 2012 through early 2016, he served as curator for Burlington City Arts, an organization built on a partnership between the city of Burlington, Vt., and a nonprofit organization.
There he organized wide-ranging exhibitions of contemporary art for two galleries and shows featuring Vermont artists for a third gallery.As might be expected, most of the exhibits were presented at Burlington. However, Hellerman also coordinated Of Land and Local, a show centered on Vermont landscapes. It featured 40 artists and ran at seven sites ranging from Burlington to Brattleboro to Newport, in Vermont's Northeast Kingdom.While Burlington City Arts and the Everson are very different institutions, they do share a mission of engaging with the public. Hellerman strongly believes in programs that encourage people to interact with art, to talk about it, to look at art from new perspectives. He also favors activities like the recent Plazapalooza, an all-day festival held in the outdoor plaza adjacent to the Everson."Museums need to invite people in," Hellerman said. "This is hard work but absolutely necessary."
He also argues that Burlington City Arts, the Everson and other venues far away from New York City or Los Angeles have ample opportunity to present interesting exhibits and to work with artists doing important work. "Regional venues have freedom to experiment, to push history in a different way," Hellerman said. "The Tang Gallery, at Skidmore College in Saratoga Springs, is doing amazing things. That's just one example of what can happen at a regional facility."