Mastering "Material you can Squeeze:" Traipse by Alison Britton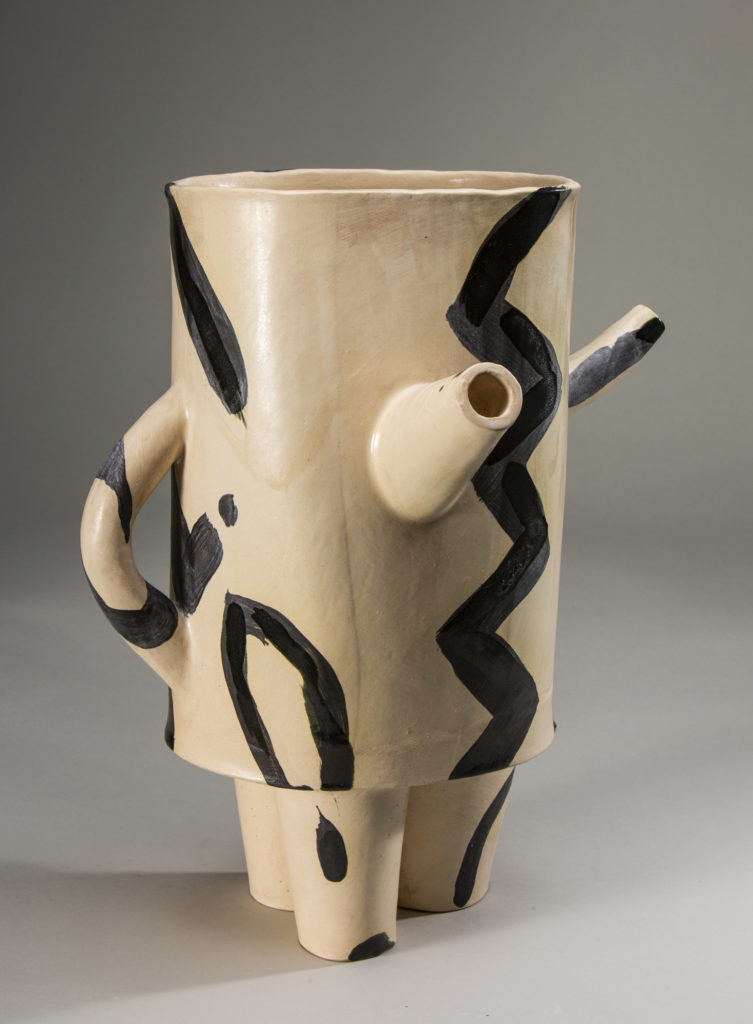 Alison Britton (b. 1948) has always been interested in clay. Renowned internationally for both her craft and curatorial voice, Britton's earliest experiences with clay involved digging deep into her family's garden when she was a child. The tactility of squeezing, kneading, stretching, and smoothing clay, as well as the transition from a wet material to something dry and brittle, interested her. In an article written for her solo exhibition in London's Marsden Woo Gallery, Britton explained, "I first had a lump of potter's clay in my hands at school when I was nine. Material you can squeeze that ends up rigid and lasting, shiny and colourful, has great appeal."
Britton attended Leeds College of Art in 1966 and transferred one year later to attend the Central School of Art and Design in London to study ceramics. In 1970, she enrolled in the master's program at the Royal College of Art, London. There, Britton joined a group of young artists whose experimental and radical new approaches revolutionized postwar ceramics in the U.K. Britton and her contemporaries rejected the traditional ways of making ceramics, throwing out existing forms as they explored the "new," which garnered the name "The New Ceramics." Many, including Britton, rejected the polish of thrown ceramics, instead embracing irregular, hand-built pots and wares.
Indeed, process is crucial to Britton. Britton loops coils of clay to shape the ceramic's initial form, which she then smooths by hand. She also uses a technique called "slabbing," where an artist will cut pieces from rolled slabs of clay and connect them together. For Britton, these slower processes allow her to build her idea as well, moving from a vague idea to one with structure, form, and body. Time is crucial too, as well as the material's limitations. "Working its plasticity," she says of clay, "waiting for it to be leather hard, imagination flows into the awkwardness, the physical constraints of the stuff. The things clay won't do are gifts to the stubborn and spontaneous maker finding a path."
Britton's works, like Traipse, tease and question the necessity for functionality in earthenware vessels. Traipse proudly features two opposite-facing spouts, meaning any liquid decanted from the vessel would pour in two directions. Further, the organic shapes and tilting body almost make the vessel look alive, granting the work additional whimsy alongside the loose, gestural decorative brushwork. Though Britton's work is typically identified by its earthy, brown clays and clay slips, Traipse pushes her color palette to its furthest extreme with an opaque, bone white body dashed with wet, transparent black marks.
Traipse is currently on display in Mutual Affection: The Victoria Schonfeld Collection through February 20, 2022.
—Kelli Fisher, Curatorial Intern
Sources:
Andrews, Tim. "Alison Britton: Standing and Running." Ceramics, Art and Perception no. 91 (March 2013): 46-48.
Blackie, Sebastian. "Content and Form: Alison Britton." Ceramics, Art and Perception no. 106 (10, 2017): 16-19.
Britton, Alison. "Making it Up." Ceramics, Art and Perception no. 111 (01, 2019): 50-59.
Britton, Alison. "Overthrowing Tradition." Paper presented at Diversity in the Making: Studio Ceramics Today, Camberwell College of Arts, London, UK, January 15, 2001. Interpreting Ceramics, http://interpretingceramics.com/issue002/overthrowingtradition.htm.
Curriculum Vitae. "Alison Britton," Taste Contemporary. Accessed September 14, 2021. https://www.tastecontemporary.com/alison-britton.
Frank Lloyd Gallery. "Alison Britton." Accessed September 14, 2021. http://www.franklloyd.com/dynamic/artist_bio.asp?ArtistID=17.
Staff. "Alison Britton: 17 Sep — 24 Oct 2020 at the Taste Contemporary in Geneva, Switzerland." The Wall Street Journal International, September 19, 2020. https://wsimag.com/art/63505-alison-britton.