Clay & Be Gay — Preserving Joy with Pottery

Thursday, June 1, 2023 6:00 – 8:00pm 
$28 Members | $35 Non-Members 
Registration: https://21573a.blackbaudhosting.com/21573a/Clay-and-Be-Gay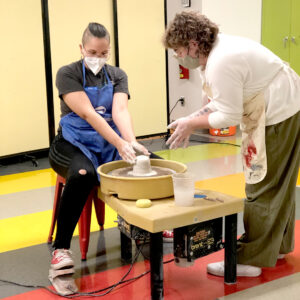 Join us for an evening of celebration, reflection, and connection.
Over the course of the class, artist August Sable will guide participants through the techniques used to throw various open or lidded forms on the pottery wheel.
Open to those of all experience levels, this class will provide a chance to create a meaningful memento dish, bowl, or box intended to hold objects or photos that represent each person's individual queer joy.  
Participants will have a chance to use a pottery wheel under the artist's instruction, as well as time to embellish their pieces with various pottery techniques.
August hopes that participants leave feeling connected to their work and restored through community care.  
This class is reserved as a safe space for the LGBTQIA+ community to connect and create.
Artist Bio: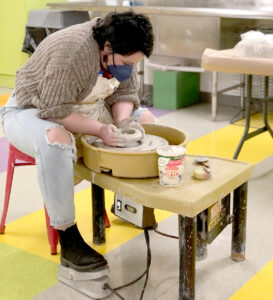 August Sable (he/they) is a multimedia artist based in New York. He has always had an eye for color, but it was not until studying visual arts at SUNY New Paltz that he discovered a passion for the physical form. In all their work, August attempts to maintain functionality while adding touches of whimsy to every piece he makes. Whether he is using paint or clay, August enjoys the act of making art regardless of the outcome. As a proud member of the LGBTQ+ community, he seeks to spread the joy of entertaining one's inner child through art and education — specifically in underrepresented communities.
Clay & Be Gay – Preserving Joy with Pottery 
Thursday, June 1, 2023, 6:00 – 8:00pm 
$28 Members | $35 Non-Members 
Register