Everson Teen Arts Council
Everson Teen Arts Council
This is a fantastic opportunity for teens from Onondaga, Madison, and Oswego Counties to work directly with an arts organization, gain valuable experience to add to their resume, and learn about career paths in the arts. ETAC is a year-long commitment.
The Everson Teen Arts Council is a partnership between the Everson and teens from local school districts, offering a safe platform for teens to share their voice, work with their peers, and engage with the greater community. The Teen Arts Council provides dynamic leadership opportunities to create meaningful and relevant programs and exhibitions, while giving teens space to explore identity, build skills, and prepare for college and careers.
ETAC meets every other Wednesday (twice monthly) from 4:00—5:30pm from October  to June.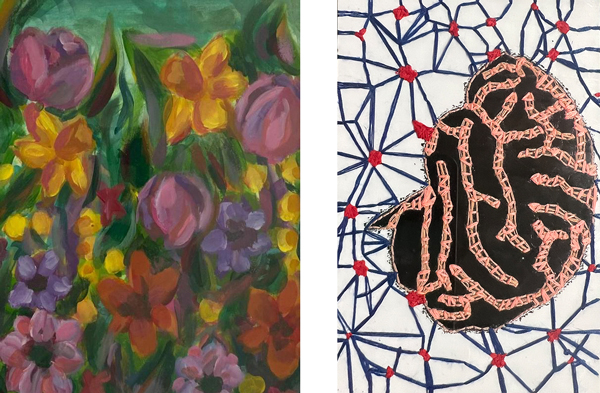 Artwork by Minerva Miller and Hannah Salvagni
How to Apply
The Everson Museum of Art Teen Arts Council (ETAC) will run from October 18, 2023 through June 1, 2024, meeting bi-weekly on Wednesdays.
Submit your application by October 13, 2023, and please note that we have a rolling deadline; applications submitted after this date will still be considered.
When applying, you will need to answer these questions:
Submit a letter of recommendation.
Complete a 500-word essay with the following information:

Tell us about yourself!
Describe your interest in the arts.
Consider one issue affecting your community or peers that you would like to see change.
Discuss an experience you've had working as part of a group. What was your role? Were there any problems or conflicts? If so, how were they resolved?
ETAC members will receive a complimentary one-year membership to the Museum.
Link to ETAC Application Google Form
Questions? Contact Director of Learning & Engagement Adam Carlin at [email protected].