Jamie Young: Decivilization
On view through March 12, 2023
A Conversation with  Jamie Young, CNY Artist Initiative
by Natalie Rieth, Writing & Communications Intern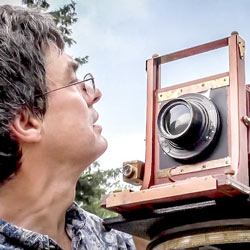 Jamie Young feels grounded by landscapes of Iceland and Central New York — two places he's explored extensively and photographed over a period of years. The Syracuse-based photographer  strives to capture the natural world as an expression of spiritual redemption and renewal, especially at a time when we are beginning to face lasting environmental changes. Over the past 25 years, Young has traveled throughout Iceland to document the allure and natural decline of the land due to climate change for an ongoing series.
He hopes to share solace with others by celebrating the world that still exists, captured by his camera lens. In addition to running his photography business, Young teaches photography and wood & fabrication at local universities and designs and builds custom furniture as a freelance maker.
Decivilization is rooted in Icelandic and Central New York landscapes. What about these two places inspires you as a photographer? 
JY: Because of the volcanic activity, jökulhlaups (glacial outburst floods), and powerful storms, the Icelandic landscape feels raw and primordial. These natural forces often seem to wipe away any human elements and in a certain sense purify the landscape. I'm fascinated by that.  
The landscape in Central New York is remaking itself as well, as farm and pasture land is reclaimed into forest. The changes in light and weather create a sense of ongoing transformation.
What makes Iceland and Central New York a suitable pairing? 
JY: They contrast each other. The ephemeral quality of light, the power of the water and wind are visible in both landscapes, with nature reinventing itself every chance it gets. 
What other places have you found joy in photographing?  
JY: The Lake Superior shoreline, Yosemite, Northern Wisconsin, the national parks in Utah. Locally, Green Lakes, Chimney Bluffs, and Clark Reservation. So many beautiful and interesting spots in New York. 
Describe the feeling you get when you know the time is right to snap a photo. What kinds of elements do you look to capture in your photography? 
JY: My reaction to a photographic scene is emotional. It looks and feels right. A visceral response makes me want to explore the scene visually. I stop and take the time to just take in the scene once I've clicked the shutter. Beyond the camera, just being in a place and enjoying it is important. 
Your work touches upon the idea of climate grief. By sharing these ephemeral qualities of the natural world —light, water, wind, etc.— with viewers, what do you hope they will gain in return? 
 JY: I want to remind them of the beauty of the amazing planet we live on, and the need to protect it. Everyday life keeps us occupied and it's too easy to take these things for granted.
Jamie Young's Decivilization is on view until March 12, 2023 at the Everson Museum of Art, in Syracuse, NY.