May 20, 2023 – September 3, 2023
For photographer Doug Muir (1940-2016), Syracuse was always home, even though he moved away in 1967.
Muir grew up on Syracuse's South Side where — as a twelve year-old — he embarked on a lifelong passion for capturing moments of daily life.
His early snapshots of places and people familiar to him evolved into sophisticated and compelling photographs that documented a changing America while speaking to a fundamental humanity shared by all. Spanning more than thirty years, Doug Muir: Coming Home surveys Muir's journey as a keen observer of humankind, from his beginnings in Central New York to his adopted home on the West Coast where he made his living as a steamfitter.
Although Muir photographed places all over the country throughout his lifetime, Syracuse remained his touchstone and he returned countless times to visit family and friends and reconnect with the source that gave his works such poignancy. Doug Muir: Coming Home marks a final return for the artist to his hometown, a place his heart never left.
---
1982
A gallon of gas cost $1.19. Joan Jett loved rock 'n roll and Tommy Tutone sang about some phone number.
ET phoned home and someone yelling "Khaaaaan!" ruled the cinema; even M*A*S*H was still on!
And, happening at the Everson Museum of Art: Current exhibiting artist Doug Muir had another exhibition at the Everson!
Read more about Douglas Muir: Small Gardens in Color Photography from the April 1982 edition of The Everson Bulletin below and then come check out the current exhibition, Doug Muir: Coming Home, on view through September 3, 2023!
___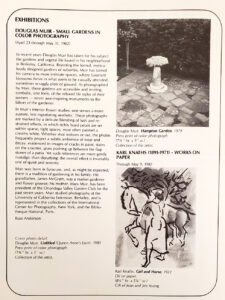 In recent years Douglas Muir has taken for his subject the gardens and vegetal life found in his neighborhood in Berkeley, California. Rejecting the formal, meticulously designed gardens of suburbia, Muir has turned his camera to more intimate spaces, where luxuriant blossoms thrive in what seem to be casually attended, sometimes scraggly plots of ground. As photographed by Muir, these gardens are accessible and inviting; symbolic, one feels, of the relaxed lifestyles of their owners—never awe-inspiring monuments to the labors of the gardener.
In Muir's interior flower studies, one senses a more austere, less ingratiating aesthetic. These photographs are marked by a delicate blending of lush and restrained effects, in which richly hued pearls are set within sparse, tight spaces, most often painted a creamy white. Whether shot indoors or out, the photos frequently project a subtle ambiance of wear and decay, evidenced in images of cracks in paint, stains on the counter, and grass pushing up between the flagstones of a patio. Yet such references are more gently nostalgic than disturbing; the overall effect is invariably one of quiet and serenity.
Muir was born in Syracuse, and, as might be expected, there is a tradition of gardening in his family. His grandfather, James McGrath, was a market gardener and flower grower; his mother, Mary Muir, has been president of the Onondaga Valley Garden Club for the past seven years. Muir studied photography at the University of California Extension, Berkeley, and is represented in the collections of the International Center for Photography, New York, and the Bibliotheque National, Paris.
_______________________
Opening Event: July 6, 2023
The Everson Museum of Art hosted an evening opening for "Doug Muir: Coming Home," the Everson's latest exhibition featuring the works of the late photographer, Doug Muir, along with a documentary of his work in the Everson's Hosmer Auditorium on Thursday, July 6, 2023.
More than 350 people attended the event, including 25 new Museum members, who were all part of a standing-room-only presentation by Doug's daughter, Heather Muir, and nephew, David Muir, the ABC News journalist, and Syracuse native. The Muir family debuted the first annual Doug Muir Photography/Art Scholarships – honoring three local students, including two high school graduates from the Syracuse City School District and one member of the Everson Teen Arts Council.
Event photos by Natalia Purchiaroni, Jeff Macharyas & Jenn Neuner, Everson Museum of Art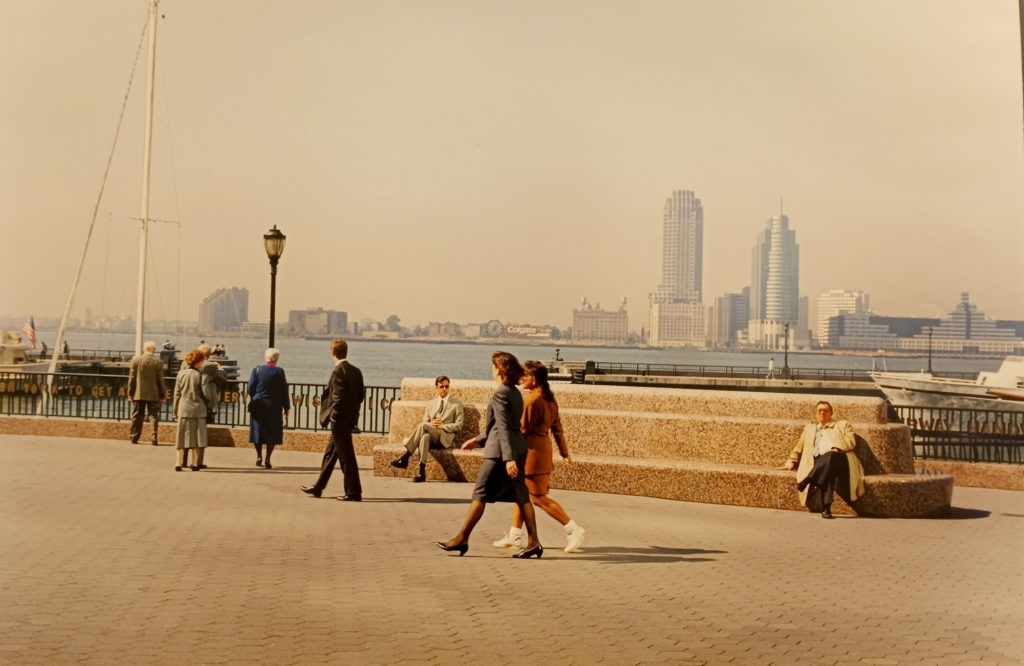 Scott Burton Bench
Battery Park, New York City, 1992
Douglas Muir
Record Attendance at Everson Museum to Honor Native Son, Photographer Doug Muir.
Heather and David Muir Announce First Annual Doug Muir Scholarships for Next Generation of Syracuse Artists.