July 20, 2019 to January 5, 2020
Named after Yoko Ono's 1963 Earth Piece, a score that invites the reader to "Listen to the sound of the earth turning," this exhibition examines artists who have combined clay and ceramics with performance art, photography, conceptual art, and even land art. Far from being used as "just another material," clay comes freighted with millennia of associations with material culture. Earth Piece highlights the work of well-known figures from the art world, as well as lesser-known artists whose work shaped the field of ceramics into a vibrant discipline that is equally at home in both domestic and contemporary spheres.
For a medium that is most often associated with "craft" or "decorative" art, clay has a surprisingly rich history when it comes to conceptual art. Clay's material qualities—plasticity and ability to crack and shrink as it dries, as well as the capacity for permanence when fired—have prompted generations of artists to use it for bold conceptual statements. Whenever a theme emerges in contemporary art—from land art to the exploration of the body, clay has been ever-present as object, subject, or collaborator.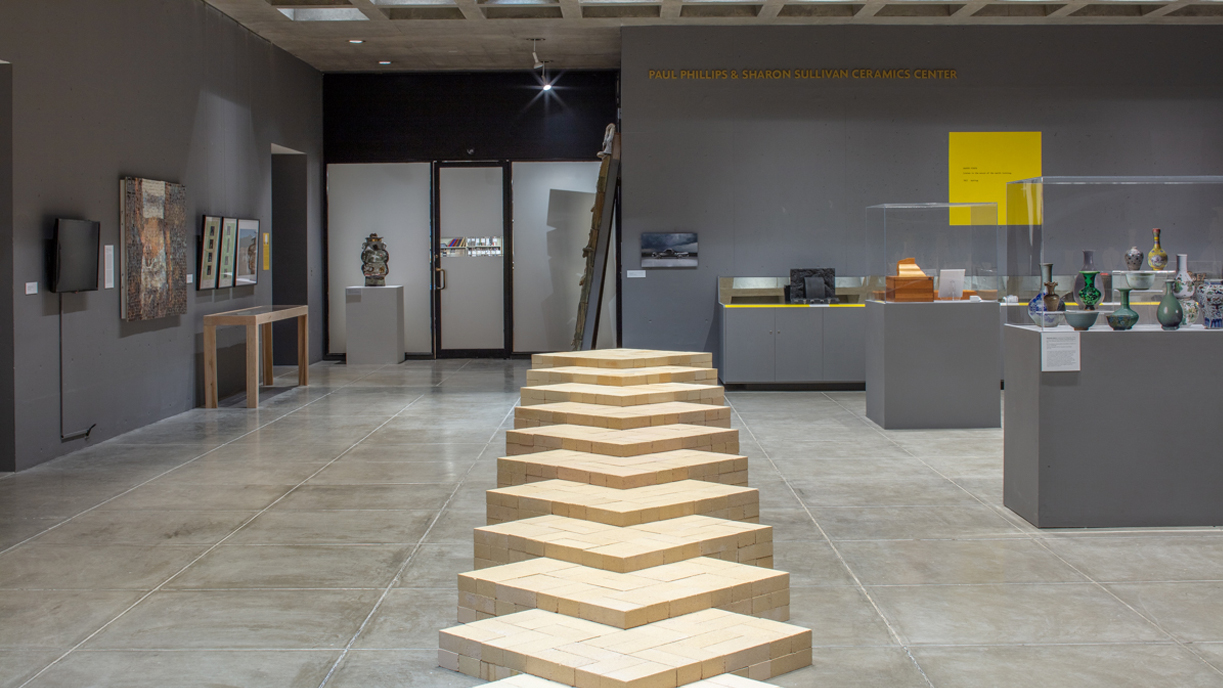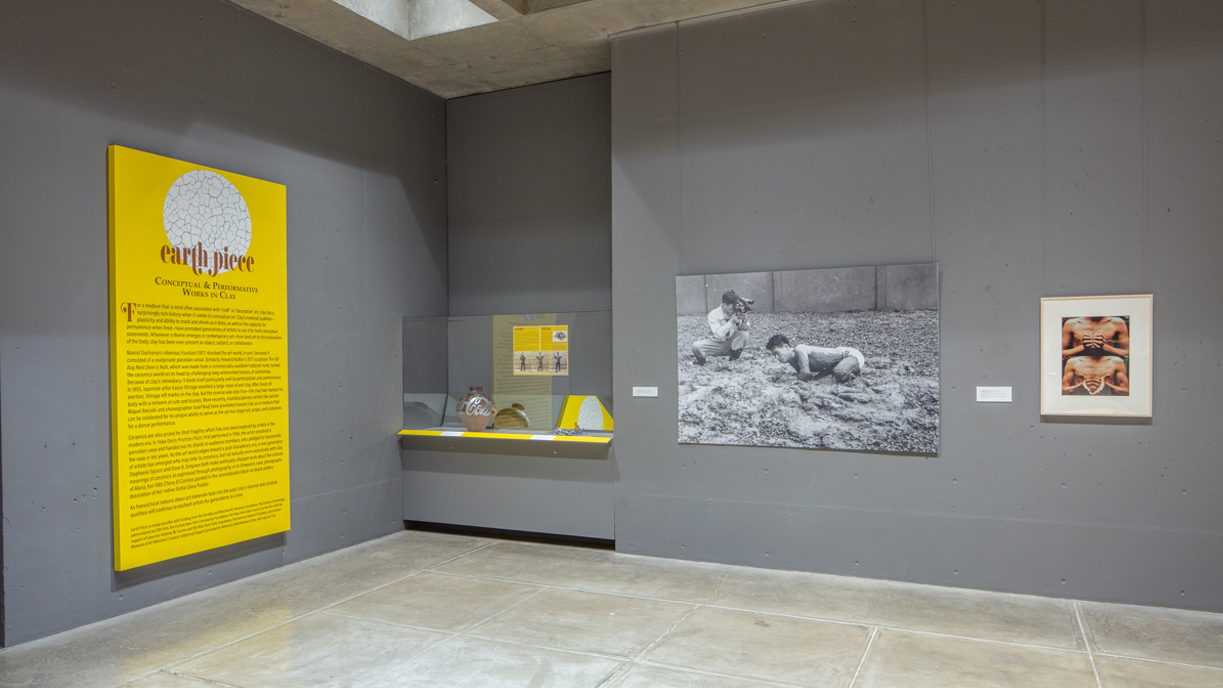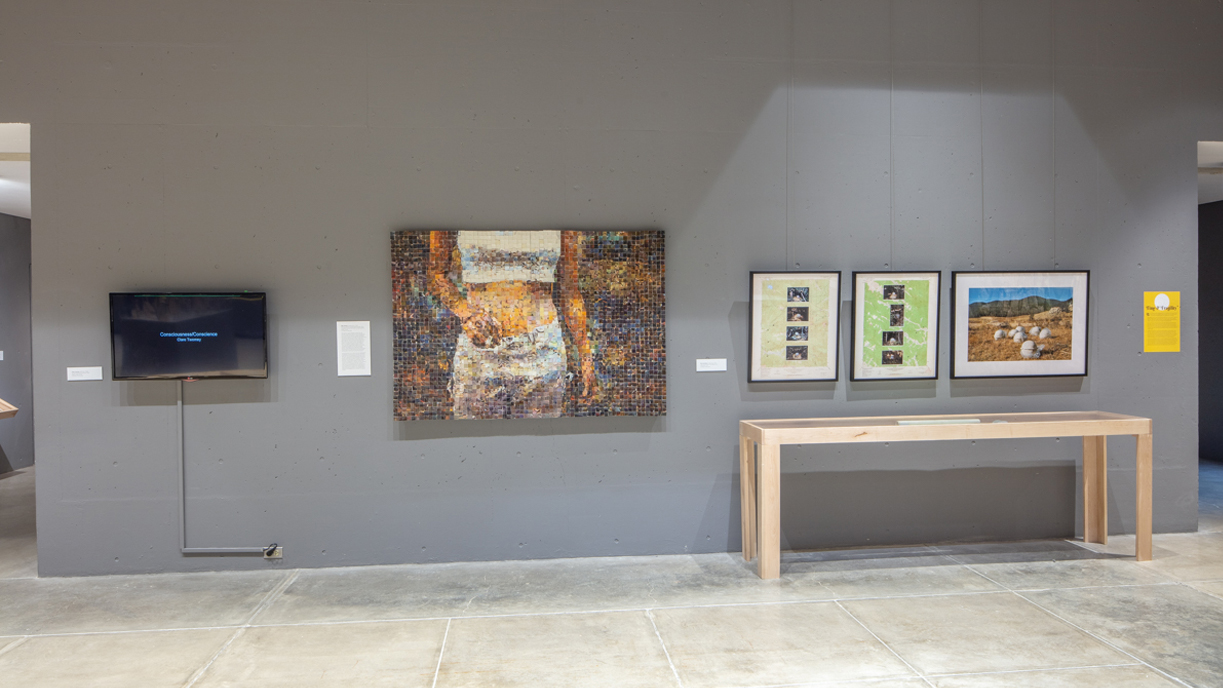 Marcel Duchamp's infamous Fountain (1917) shocked the art world, in part, because it consisted of a readymade porcelain urinal. Similarly, Howard Kottler's 1977 sculpture The Old Bag Next Door Is Nuts, which was made from a commercially available hobbyist mold, turned the ceramics world on its head by challenging long-entrenched notions of authorship. Because of clay's immediacy, it lends itself particularly well to participation and performance. In 1955, Japanese artist Kazuo Shiraga wrestled a large mass of wet clay. After hours of exertion, Shiraga left marks on the clay, but the reverse was also true—the clay had marked his body with a network of cuts and bruises. More recently, multidisciplinary artists like painter Miquel Barceló and choreographer Josef Nadj have gravitated toward clay as a medium that can be celebrated for its unique ability to serve as the ad-hoc stage set, props, and costumes for a dance performance.
Ceramics are also prized for their fragility, which has also been explored by artists in the modern era. In Yoko Ono's Promise Piece, first performed in 1966, the artist smashed a porcelain vase and handed out its shards to audience members, who pledged to reassemble the vase in ten years. As the art world edges toward a post-disciplinary era, a new generation of artists has emerged who may refer to ceramics, but not actually work exclusively with clay. Stephanie Syjuco and Rose B. Simpson both make politically-charged work about the cultural meanings of ceramics as expressed through photography, or in Simpson's case, photographs of Maria, her 1985 Chevy El Camino painted in the unmistakable black-on-black pottery decoration of her native Santa Clara Pueblo.
As hierarchical notions about art materials fade into the past, clay's visceral and cerebral qualities will continue to enchant artists for generations to come.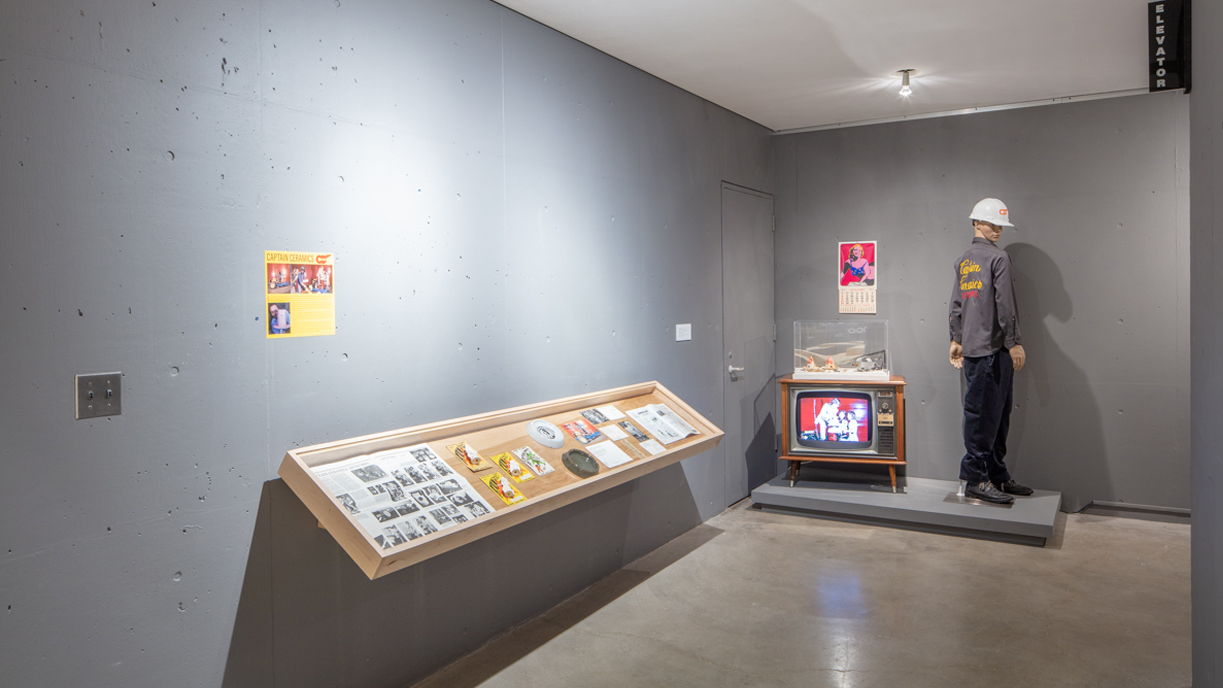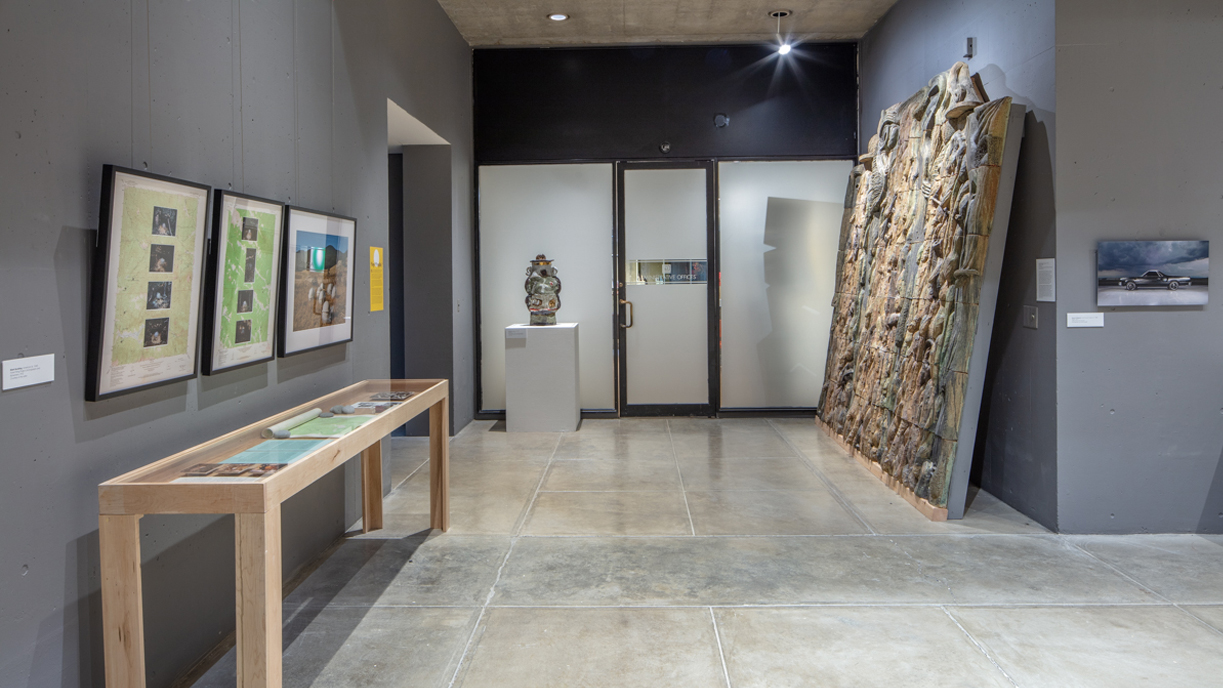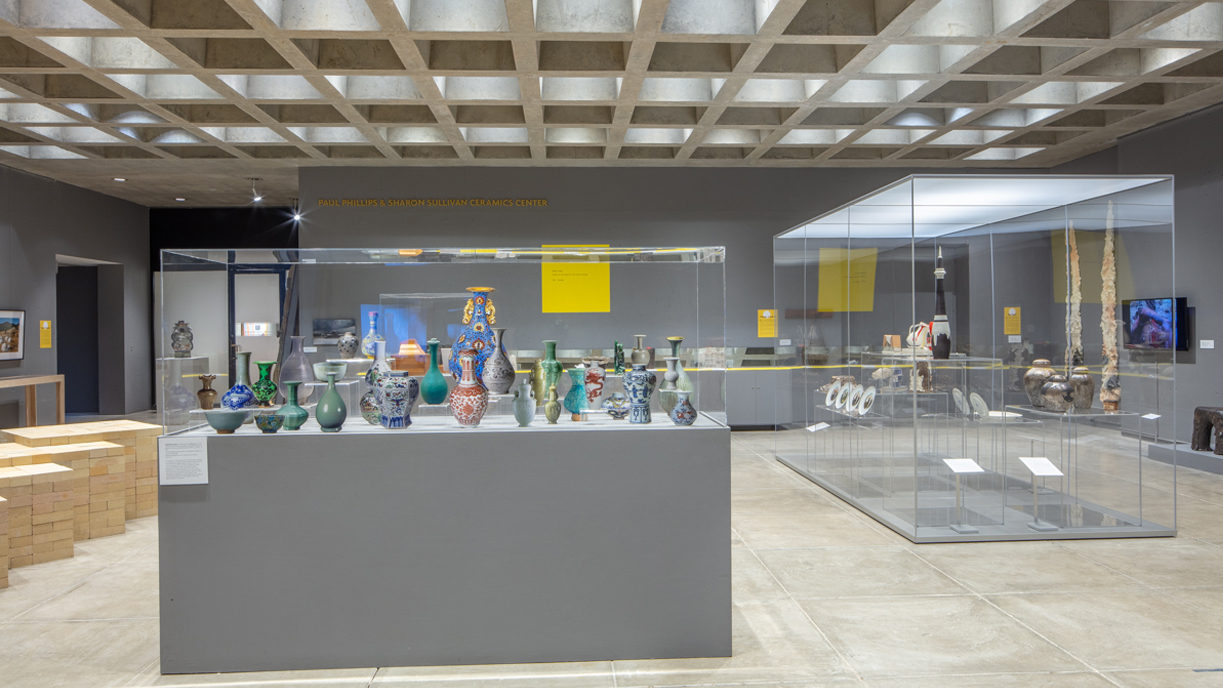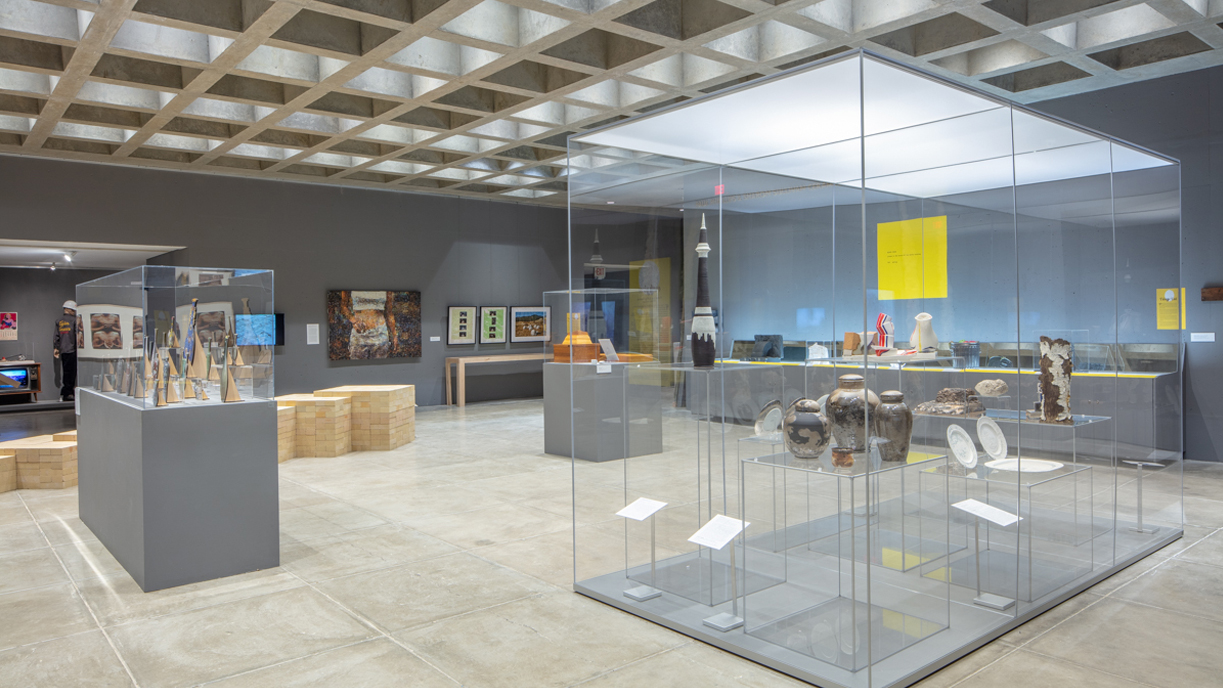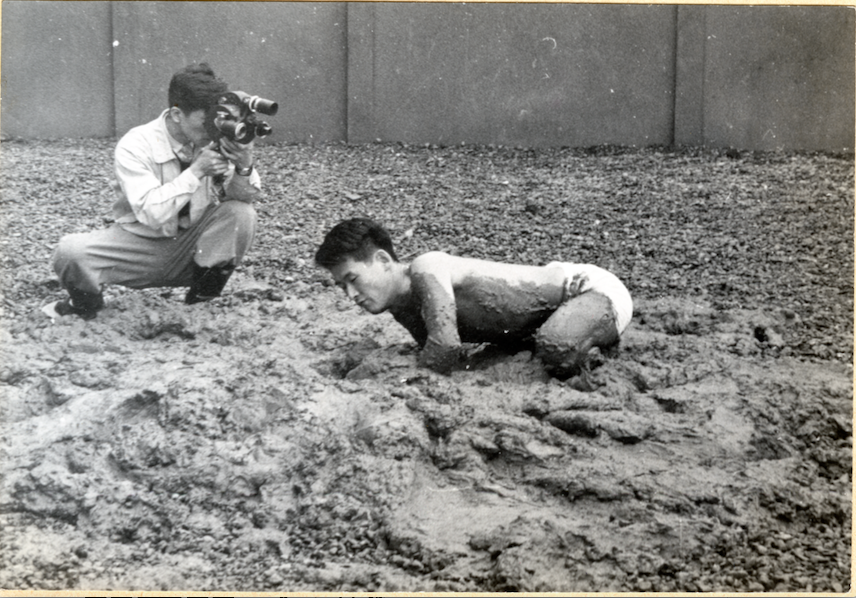 Kazuo Shiraga, Challenging Mud (3rd Execution), 1955, Courtesy of Amagasaki Cultural Foundation.
Related Events
Docent-Led Tour
August 15, October 17 6:00pm
Free Third Thursday
Fall Opening Night Reception
August 30, 6:00pm