April 29, 2023 - December 31, 2023
Pick & Mix
Spring 2023 marks the beginning of a massive project that will convert an area adjacent to the ceramics gallery, which previously held paintings and prints, into dedicated ceramics storage. To accomplish this, we will close a portion of the ceramics gallery to make room for all the sorting and organizing that is to come. More than two hundred paintings will come out of storage and hang salon-style in the Everson's upstairs galleries for the exhibition, Off the Rack.
In the face of space limitations like these, most museums would offer you less art—but that is not the Everson way. Instead, we offer you Pick & Mix, a cornucopia of five fabulous exhibitions under one banner. Pick & Mix highlights the vitality of the Museum's mission to gather works that document the ways that artists draw inspiration from their cultures, as well as the ways that artists give back. Ceramics are an ideal lens to examine the gender roles, politics, and material culture of any given moment.
The Turner's Prize: Art Pottery from the Bill and Dorothy Paul Collection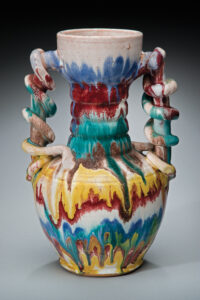 As the keeper of potter Adelaide Alsop Robineau's legacy, the Everson has a heavy investment in American Art Pottery of the early and mid-twentieth century. The Turner's Prize highlights the extraordinary collection of Athens, Georgia-based Bill Paul. Instead of following mainstream collectors and market trends, Paul and his late wife Dorothy spent decades gathering rare and exotic works from the Art Pottery era that highlight hand-turned forms and experimental glazes.
Holding Space, Holding Pattern: Radical Decoration Strikes Back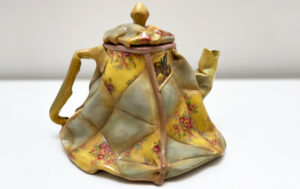 Holding Space, Holding Pattern springs from a moment in the 1970s when pattern became a political and cultural weapon in the hands of feminist artists like Judy Chicago and Miriam Shapiro. The Pattern and Decoration movement kicked open the doors for women to move past the Japanese-inspired stonewares and muscular abstract sculptures that dominated ceramics throughout the 1950s and 1960s.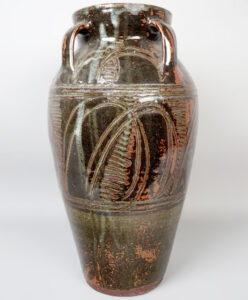 Natural Synthesis: African Stoneware from the Ramage Collection
Natural Synthesis tells the story of a group of talented Nigerian potters who apprenticed at a colonial British pottery school led by Michael Cardew. Potters like Danlami Aliyu and Ladi Kwali blended British forms and firing techniques with motifs and functional elements from their own aesthetic heritage, then opened their own studios and handed down their legacy to their own students.
Feelies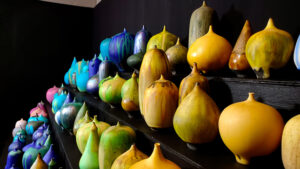 Over a career that spanned more than seven decades, Arizona-based potter Rose Cabat perfected the Feelie, a matte-glazed pottery form that begs to be held and touched. Feelies brings together more than one hundred of Cabat's pots in a show-stopping array highlighting her mastery of glaze and form.
Cosmic Pipes: Pipes from the Clayton and Betty Bailey Collection
The Everson's recently acquired collection of Cosmic Pipes from the late 1960s joins other clay pipes from Indigenous and European cultures in the permanent collection. Ceramist Clayton Bailey created these pipes along with friends Roy De Forest, David Gilhooly, and Maija Peeples-Bright in 1969. Legend has it that Bailey's wife, Betty, an artist in her own right, encouraged the group to make what she called "paranoid pipes" in the form of everyday objects like ice cream cones and flowers to disguise their purpose and blend into their surroundings.