From The Archives | Video In America
January 12, 2019 to December 29, 2019
The Everson's commitment to video art began in 1971 with the launch of one of the first exhibition programs in the country to feature the work of video artists, and today the Everson's historic video art collection contains over 400 tapes. Over the last several years, the Museum has worked to conserve and digitize a significant portion of the collection and this exhibition features a number of the newly digitized works.
December
Video In America: Day Without Artan International Day Of Action And Mourning In Response To The Aids Crisis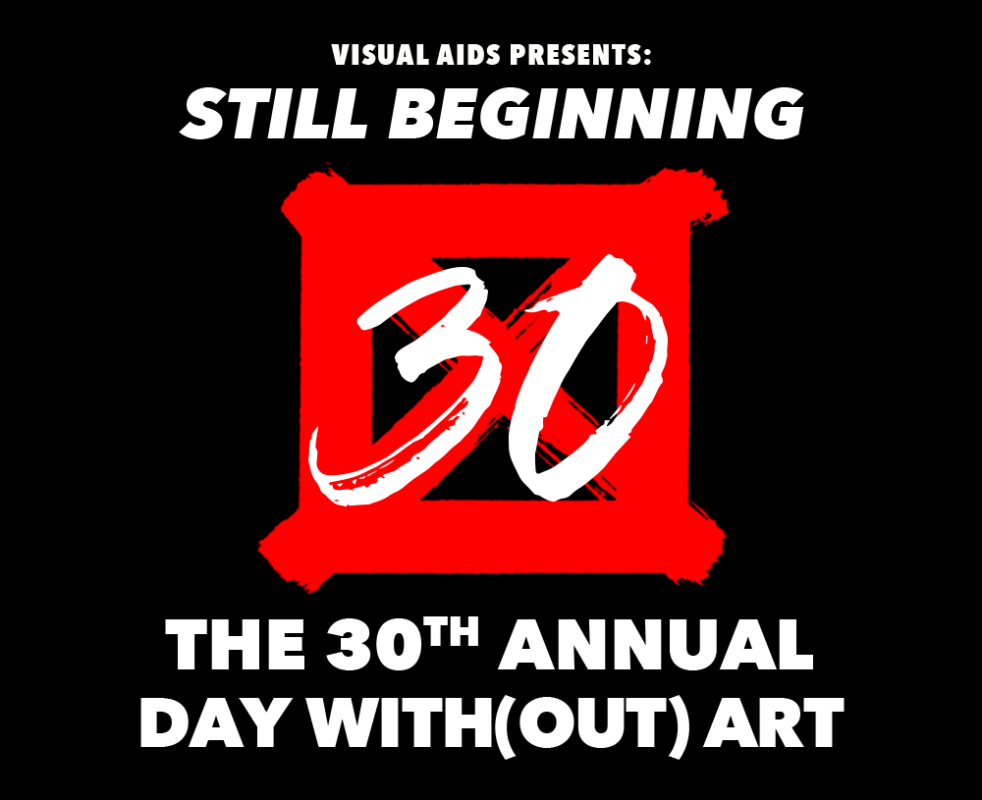 An International Day Of Action And Mourning In Response To The Aids Crisis
In 1989, in response to the worsening AIDS crisis and coinciding with the World Health Organization's second annual World AIDS Day on December 1, Visual AIDS organized the first Day Without Art. A committee of art workers (curators, writers, and art professionals) sent out a call for "mourning and action in response to the AIDS crisis" that would celebrate the lives and achievements of lost colleagues and friends; encourage caring for all people with AIDS; educating diverse publis about HIV infection; and finding a cure. More than 800 arts organizations, museums and galleries throughout the U.S. participated by shrouding artworks and replacing them with information about HIV and safer sex, locking their doors or dimming their lights, and producing exhibitions, programs, readings, memorials, rituals, and performances. Visual AIDS coordinated this network mega-event by producing a poster and handling promotion and press relations.During the early nineties, as artists became more intimately involved with the group, Visual AIDS initiated numerous projects that included: A Night Without Light (the dimming of the New York skylight); the Electric Blanket (a nationwide outdoor slide projection with text and images); Positive Actions (an exhibition-competition for a television PSA held simultaneously in three NYC venues); the Broadside Project (distribution of copyright-free text and images by well-known artists targeted to specific audiences); and ambitious media collaborations, including AIDS Timeline by Group Material and national televised events. Artists created many of the most moving actions, including Robert Farber's Every Ten Minutes. By the mid-90's, Day Without Art attracted more than 8000 participants throughout the world.In 1998, for its 10th iteration, Day Without Art became Day With(out) Art. Visual AIDS added the parentheses to highlight the ongoing inclusion of art projects focused on the AIDS pandemic, and to encourage programming of artists living with HIV.
Since 2010, Visual AIDS has worked with artists and filmmakers to internationally distribute videos to museums, art institutions, schools and AIDS organizations. To mark the 25th anniversary of Day With(out) Art in 2014, Visual AIDS distributed ALTERNATE ENDINGS, a program of commissioned
STILL BEGINNING: The 30th Annual Day With(out) Art
For the thirtieth annual Day With(out) Art, Visual AIDS presents STILL BEGINNING, a program of seven newly commissioned videos responding to the ongoing HIV/AIDS epidemic by Shanti Avirgan, Nguyen Tan Hoang, Carl George, Viva Ruiz, Iman Shervington, Jack Waters/Victor F.M. Torres, and Derrick Woods-Morrow.
The seven short videos range in subject from anti-stigma work in New Orleans to public sex culture in Chicago, highlighting pioneering AIDS activism and staging intergenerational conversations. Recalling Gregg Bordowitz's reminder that "THE AIDS CRISIS IS STILL BEGINNING,"* the video program resists narratives of resolution or conclusion, considering the continued urgency of HIV/AIDS in the contemporary moment while revisiting resonant cultural histories from the past three decades.
Video Synopses:
SHANTI AVIRGAN, BEAT GOES ON
Beat Goes On is an impressionistic portrait of the activist Keith Cylar (1958–2004), co-founder of Housing Works and a central figure in the AIDS Coalition To Unleash Power (ACT UP) NY. Cylar spoke clearly, frequently and with moral force about the struggles of people living with HIV/AIDS in New York City, many of whom were impoverished and struggling with multiple social and medical problems. His openness about his own drug use and the centrality of the fight against the criminalization of drugs for AIDS activism make Cylar's legacy especially resonant and relevant at this time. A fellow harm reduction activist recalls how "Keith moved from mixing with the government, to threatening the government, to beating the government—all in the space of five minutes." By resurfacing and weaving together archival media of Cylar's own words and actions, this video will endeavor to convey—in the space of about five minutes—some of the personal charisma, political savvy and fearlessness that characterized Cylar's advocacy.
CARL GEORGE, THE LIE
The Lie is the latest in an ongoing series of short films by Carl George drawing on found footage and materials from the artist's archive. Offering "ruminations on ruined nations," the film aims to expose the links between war, AIDS, capitalism, and the persistent mythologies that bind them all.
NGUYEN TAN HOANG, I REMEMBER DANCING
I Remember Dancing brings together an intergenerational cast of "trans and queer gaysians" ruminating on the past and future of AIDS, activism, gay culture, love, and (un)safe sex. Inspired by Joe Brainard's I Remember poems, these confessions illuminate perspectives of queer Asian communities often absent from whitewashed narratives of HIV and AIDS. Grief, regret, longing, risk, and pleasure surface as their memories and fantasies blur into one another.
VIVA RUIZ, CHLOE DZUBILO: THERE IS A TRANSOLUTION
Viva Ruiz invites transgender AIDS activist, artist, and beloved friend Chloe Dzubilo (1960–2011) to speak via never before seen Hi-8 footage filmed by Chloe's then-partner Kelly McGowan in the 1990s. The process triangulates mother (Chloe), lover (Kelly), and child (Viva) in a deliberate ritual to uplift the spirit and legacy of an ancestral teacher. Through artifacts from the moment when video first became accessible and before mobile phone cameras became ubiquitous, we witness Chloe declare herself and her sisters as leaders in art, advocacy and culture for evermore.
IMAN SHERVINGTON, I'M STILL ME
I'm Still Me explores how digital platforms have created community and connections for Sian, a Black woman living with HIV and navigating the stigma and misinformation that is prevalent in the American South. Through her blog, social media accounts and online video platforms, Sian connects with (predominately) heterosexual Black women that send her messages, ask questions, and share their experiences with stigma and fear, all the while creating community that may have previously only existed in the shadows.
JACK WATERS/VICTOR F.M. TORRES, (EYE, VIRUS)
Through an experimental collage of video and pictographs, (eye, virus) explores how conversations around disclosure, stigma, and harm reduction shift across generations and from public to private realms. Combining street interviews with footage from a punk show and a mobile testing site, the video centers pleasure and community as it expands the conversation around HIV to include hepatitis C and the opioid epidemic. (eye, virus) extends from documentation of a 2017 public program titled AIDS OS Y Version 10.11.6, and is collaboratively produced with Nikki Sweet.
DERRICK WOODS-MORROW, MUCH HANDLED THINGS ARE ALWAYS SOFT
Much handled things are always soft unearths the unwritten and undocumented histories of public sex culture in the south-side of Chicago. Through conversation with longterm survivor Patric McCoy, the film traces the height of activity in the 1970s, the downfall of cruising culture in the 1980s, and the prevailing summer heat, which continues to linger. Together, McCoy and Woods-Morrow reflect on their relationship to cruising, to photography, and to each other; attempting to bridge the gap between what was, and what still remains to be explored. November, Adam Milner
November, Adam Milner
Walk to Moon (I walked from my apartment in Pittsburgh to Moon, PA — about 19 miles, 24,000 steps, nine hours. David Bernabo filmed it.), 2018, video, 21 minutes
This video connects with Adam Milner's exhibition, Late Night Space Force, installed across the hall in the Robineau Gallery. In Walk to Moon, Milner walks from his apartment in Pittsburgh to a place called Moon — a township in Pennsylvania about twenty miles from where he was living.
Through this simple but day-long action, Milner borrows from early conceptual artists making work using instructions, sets of rules, or simple prompts. Using Google Maps as his guide, Milner's poetic and somewhat absurd prompt, "walk to Moon," captures long shots of neighborhoods, landscapes, and communities and ultimately becomes a portrait of Pittsburgh.
Milner's obsession with the moon, and his critique of a collective desire to grasp it, is at the heart of Late Night Space Force and Walk to Moon. Both the town called Moon and Milner's walk to it point to the ways humans attempt to get closer to this celestial body as we admire, celebrate, co-opt, and compete for it.
September-October, St. Louis, MI
Yvonne Osei
EXTENSIONS, 2018, single channel video, TRT 6:04 minutes
Africa Clothe Me Bare, Dallas II, 2016 single channel video, TRT 13:29 minutes
José Garza
Prolong the Glow (Nabokov), 2018, single channel video, TRT 2:30 minutes
Hell is Chrome (Secret Wars Redux), 2019, single channel video, TRT 10:44 minutes
July-August, Pacific Northwest
Before You Go is a two-part video series by artists Maikoiyo Alley-Barnes and Roland Dahwen Wu. With their films Sacred (2014) and May 35 (2017), filmed in Washington and Oregon respectively, these Pacific Northwest (PNW) artists employ dreamlike narrative devices for accounting time, space, and labor in connection to the land. The PNW is romanticized for the fortitude of its diasporic communities, fertile natural ecosystems, and a politically rigorous ethic toward the survival of each. Before You Go as a pairing presents two perspectives on the passage of time as illustrated by water and industry.
Curated by Ashley Stull Meyers
Ashely Stull Meyers is a curator and writer based in Portland, Oregon. She has curated exhibitions in California, Washington, and Oregon and served as the director and curator of the Art Gym and Belluschi Pavilion at Marylhurst University in Oregon. In 2019, Meyers will co-curate the Portland Biennial, an exhibition showcasing Portland-based artists. In addition to her curatorial endeavors, she is also an accomplished writer, with work published in several notable art publications, and holds an editorial position on Art Practical. Meyers currently serves as an adjunct professor in the Master of Fine Arts program at Sierra Nevada College.
Roland Dahwen Wu
Roland Dahwen Wu, American
MAY 35, 2017
Cantonese translation and narration by Shao Way Wu
Digital video transfer from 8mm black and white film, 2:30min
Roland Dahwen Wu is a photographer and filmmaker based in Portland, Oregon whose work explores migration, race and memory. After growing up in a Northern California coastal town, Wu moved to Portland to study Spanish Language and Literature at Reed College. He has exhibited at the California Institute of the Arts, the Portland Art Museum, and Time Based Art Festival in Portland. Wu is also the founder of Portland-based film studio and production company Patua Films, producing short films, music videos, documentaries, and fiction films. In 2018, he received the Oregon Media Arts Fellowship and currently serves as an artist-in-residence at Portland Institute for Contemporary Art's Creative Exchange Lab. Wu is interested in race and migration, themes that frequently emerge in his work.
Maikoiyo Alley-Barnes
Maikoiyo Alley-Barnes, American
Sacred, 2014
Digital video 3:42min
Maikoiyo Alley-Barnes is a Seattle-based filmmaker, writer, curator, designer, and photographer. He co-founded Pun(c)tuation Gallery in Seattle, serving as the gallery's creative director for several years, and founded the art collective Black Constellation, a venue that showcases artwork and artists exploring issues such as race and ancient rituals in conjunction with cosmic and other-worldy themes. Alley-Barnes's own work has been exhibited in museums nationwide, including the Museum of Contemporary Art in Los Angeles, the Whitney Museum of American Art in New York, and the Museum of Natural History in New York. He was awarded the Neddy Artist Award in the Open Medium category in 2014 through Cornish College of the Arts.Alley-Barnes has a deep interest in the African diaspora, which connected him to many African American communities in the Pacific Northwest. He explores this in Sacred alongside environmental themes such as water and plant life. Alley-Barnes uses water as a rhythmic, metronomic soundscape to indicate the passage of time. The rhythmic quality of the water alludes to the music and rhythms of diasporic communities. Music has been a powerful force within diasporic communities, and has influenced musical styles outside of the communities as well. Alley-Barnes also seeks to evoke a reverence for the beauty and richness of life through his exaggeration of the lushness of nature.
FROM THE ARCHIVE
Ithaca Video Corp.
From Behind These Bars, not dated
Digital video transfer from ½-inch tape, 30 minutes
Everson Museum of Art; 90.87
Aldo Tambellini, American (b. 1930)
Clone, 1976
Digital video transfer from U-matic, 39 minutes
Everson Museum of Art; 90.176.1
May-June, Omaha, NE
May's Video in America was curated by Rachel Adams, Chief Curator and Director of Programs at Bemis Center for Contemporary Arts in Omaha, Nebraska.
Mitchell Squire
Mitchell Squire,
Cleansing myself of narratives that might otherwise be invisible, 2018,
Video; 2:33 minutes
Courtesy of the artist
Mitchell Squire is an artist and educator whose practice engages material culture, architecture, and visual art. He is known for creating deeply cerebral work that explores a broad spectrum of American culture through collecting and archiving artifacts. Using a combination of found and salvaged objects, his collections, assemblages, sculptures, and performances offer complex socio-political associations and elegiac narratives that underline particularly potent historic events and institutional practices that quietly and continually influence the national dialogue.
Ella Weber
Ella Weber,
Clean Hands, 2018
Video; 2:50 minutes
Courtesy of the artist
"By reverting back to a childlike innocence of carefree happiness, I immerse myself in our sentimental culture while bathing in rainbow sprinkles. Simultaneously, I desire to cleanse myself from such artificiality. I continue to search for my identity as I inevitably drown myself in my own image of femininity, guilt, and self-worship within the present. While searching for contentment and fulfillment, I am left empty and stained as I reflect upon the unsubstantial value of an idealistic image. Too much sugar makes one sick." – Ella Weber
FROM THE ARCHIVES
Skip Blumberg, American (b. 1946)
Summer Ski Jumping, The Roller Skiing Report, 1979
Digital video transferred from ½" tape
Everson Museum of Art; 90.212.2
Henry Gernhardt, American (b. 1933)
Clay is a Very Heavy Substance, 1977
Digital video transferred from ½" tape
Everson Museum of Art; 90.66.1
April, Cleveland, OH
Video In America: the cold mornings edge of the old viaductCurated by Christina Vassallo, SPACES Executive + Artistic Director
The video works included in the cold mornings edge of the old viaduct touch on the notion of place-based dysphoria and were created by artists who are connected to Cleveland. The title of the exhibition is a line from "Cleveland Undercovers," a poem by d.a.levy, who was both revered and reviled for the ways in which he captured the city's burgeoning counterculture of the 1960s. Addressing a broad range of forces that have shaped modern-day Cleveland, these video works by Cameron Granger, Kelley O'Brien, and Rachel Yurkovich are shown alongside works in the permanent collection of the Everson Museum of Art that illustrate the rich history of film and video in capturing the mood of a place.
Cameron Granger
Cameron Granger,
This Must Be The Place, 2019,
Video, 00:04:32
An award winning filmmaker and video artist currently based in Columbus, OH, Cameron Granger's recent work revolves around notions of blackness as they relate to the American Dream, as well as representation in film and media. He is a founding member of MINT—a Columbus-based art collective and project/gallery space—and a 2019 resident artist at Bemis Center for Contemporary Arts, and a 2017 resident artist at the Skowhegan School of Painting & Sculpture.
Kelley O'Brien
Kelley O'Brien, in collaboration with Marcus Brathwaite (sound design) and Rachel Dewey (narration),
We too, traverse the earth, 2019,
Video, 00:11:11
Kelley O'Brien is an interdisciplinary artist working between the American Midwest and Ireland. With her background in Architecture (University of Tennessee, 2011) and Design (Cranbrook Academy of Art, 2014) Kelley's work negotiates boundaries defined between humans and the natural world. She has exhibited at the University of the Philippines, National College of Art and Design in Dublin, SPACES (Cleveland), Transformer Station (Cleveland), and The McDonough Museum of Art (Youngstown). Kelley has been awarded grants from the Ohio Arts Council and a Fulbright Scholarship to the Philippines. Additionally, she has attended residencies at Green Papaya Art Space in the Philippines, the Irish Museum of Art in Dublin, and the Scottish Sculpture Workshop in Lumsden among others. Her artistic practice extends into her academic and curatorial research through collaborative projects with Francis Halsall under the title "Mapping Systems." Collectively they have held workshops, lecture courses, and curated residencies in Ireland and the Philippines.
Rachel Yurkovich
Rachel Yurkovich,
Black Friday 2014, 2014,
Video, 00:17:58
Rachel Yurkovich's video work treats living things and their movement as a medium. She was born in South Carolina, but lived most of her developing years in the former Yugoslav Republic of Macedonia and the Czech Republic. She received her Bachelor of Fine Arts in Sculpture and Painting from the Cleveland Institute of Art in 2014. Rachel has had solo exhibitions of her work at the ROY G BIV Gallery (Columbus, OH), The Sculpture Center (Cleveland, OH), and Bruce Gallery (Edinboro, PA). Her videos have also been featured in film festivals such as the Barcelona Planet Film Festival (Spain), The Berlin Flash Film Festival (Germany) and the Sandalia Sustainability Film Festival (Sassari, Italy). Rachel is currently living in Cleveland, Ohio with her chickens, where she works at the Cleveland Museum of Natural History as an Interpretive Media Coordinator.
FROM THE ARCHIVES
Ira Schneider American (b. New York, 1939)
Greatest Hits of the Eighties?, Fourth of July in Saugerties, The boring years., 1972/ 2-1974 b/w, sound, U-matic, 30 min. format, 30 min.,
Everson Museum of Art, 90.102.2
Joan Jonas, American (b. New York City, NY, 1936)
I Want to Live in the Country and Other Romances, 1979 color, 3/4′ cassette with sound, 24:06min.,
Everson Museum of Art, 90.92
March, Atlanta, GA
The March selection of Video in America is an overdue pairing of two old friends: JD Walsh and Sarah Hornbacher. Walsh moved to Atlanta at age twenty-two to teach at the Atlanta College of Art. The chair of the video departmentat the time was Hornbacher, a boundary-buster in the realm of site-specific, environmental video installations. Years earlier, when Hornbacher was a student at the Center for Media Studyat the State University of New York Buffalo, she studied with many of the first pioneers in video art: Paul Sharits, Woody Vasulka, Gerald O'Grady, Hollis Frampton, and Tony Conrad. For many years the avant-gardevideo community was active in Central and Upstate New York. Hornbacher first visited the Experimental Television Center located in Owego, New York in 1976 and she returned frequently until the center closed in 2011.
Hornbacher uses forever evolving machines to explore her deep fascination with light and surface. She manipulates found and filmed footage to tease our conventions of time and space. Walsh also keeps us between moments when we stop existing in reality and when fantasy begins. Untitled RPG, utilizes the language of game-theory, especially Role-Playing Games (RPGs). The work brings together a moving picture within a moving picture, stitching seemingly mundane genuine moments at the beach or having picnic on the grass, birds balancing atop a tree or the m1 bus arriving at the Kmart Pharmacy in NoHo.
Daniel Fuller
Daniel Fuller is the curator at Atlanta Contemporary, a position he has held since December 2014. Prior to this he was the Director of the Institute of Contemporary Art (ICA) at Maine College of Art. He has curated exhibitions at ice fishing shacks, a swap meet, the JumboTron of a minor-league hockey stadium, on public access television, and in several closets. Fuller received his MA in Museum Studies from Syracuse University. He has written for 032c, Art in America, Afterall, Art Asia Pacific, Art Papers, Frieze, and numerous artist catalogs. A book of essays titled This is not here was published in 2018 with Publication Studio. He has previous curatorial experience with the Pew Center for Arts and Heritage in Philadelphia and Hudson Valley Center for Contemporary Art in Peekskill, NY. Fuller was born and raised in Syracuse.
Sara Hornbacher
Digital Media Artist, Concept and Realization
Numerical Studies Series, 1977, black & white, silent, 5 min, courtesy of the artist
Numerical Studies Series, 2014 -2019, black & white, stereo, 17 min, courtesy of the artist
Sara Hornbacher is a pioneer of video art and digital imaging. After receiving an undergraduate degree in Fine Art, she completed a Master's degree at SUNY Buffalo in 1978, where she studied video with the Vasulkas, Paul Sharits, and Tony Conrad at the Center for Media Study. Hornbacher was guest editor of the first CAA ART JOURNAL issue on Video in 1985. She completed her first residency at the Experimental TV Center in 1976 and her annual residencies at ETC continued through 2011. Her annual Signal Culture residencies began in 2014 and continued annually through 2018. The artist's single-channel video works and multi-media installations have been exhibited throughout the United States, Europe, Australia, and Japan. In 2012, she became a Legacy Artist at The Burchfield Penney Art Center in Buffalo, NY and her video work is being archived at the Rose Goldsen Archive at Cornell University in Ithaca, NY.
JD Walsh
Untitled RPG, 2008, digital video, 7:36 min, courtesy of the artist
JD Walsh is a multimedia artist. He has exhibited at galleries internationally including Halsey McKay, Cleopatra's, 106 Green, Brennan & Griffin, and Nicole Klagsbrun in New York, Atlanta Contemporary, Galerie Steinek in Vienna, and Cooper Cole in Toronto. In 2012 his public art installation Ensemble for Mixed Use was commissioned by the City of Toronto for the 2012 Nuit Blanche festival. His work has been written about in Artforum, Flash Art, and Sculpture Magazine, among others. His ongoing music project Shy Layers has garnered critical acclaim and was listed as one of the top twenty electronic albums of 2016 by Pitchfork.
FROM THE ARCHIVES
Keith Sonnier
1.2000, 1972
Digital video transfer from 1/2″ open reel
Everson Museum of Art, 90.154.7
Bill and Louise Etra
Narcissicon; Ms. Muffet; Abstraction on a Bedsheet; Mask/Face: Inside Out/Lady of the Lake; Evolution to Tree; Mechanical Man, 1975
Digital video transfer from 3/4″ U-Matic,
Everson Museum of Art, 90.55
January-February, Syracuse, NY
Tom Sherman
I'm an insect but I love you like a mammal, 2018
Tom Sherman is best known for his video art addressing relationships between humanity and machines. Many of his works incorporate text and explore nature, death, human-machine relationships, and modes of communication. I am an Insect, but I love you like a mammal centers on a police camera located at 900 Ackerman Avenue in Syracuse to explore the mixed emotions people feel about security cameras. Sherman's footage exposes the police camera, invading its privacy in a manner similar to how the camera invades the privacy of its subjects. Subtext narrates the film, questioning whether there is anyone actually monitoring the video footage or if the camera functions as a scarecrow, simply changing the neighborhood's perception of safety while having little impact on the actual situation.
Rachel Fein-Smolinski
Referred Pain, 2019
Interested in the ways western medicine acknowledges and attempts to alleviate physical and emotional pain, Rachel Fein-Smolinski draws inspiration from narrative fiction with supernatural elements and intuitive details of medical history. Referred Pain is a meditation on empathy and questions what it means to be a woman in pain. In her videos, Fein-Smolinski performs as an alter ego that stems from her upbringing as a Jewish woman in a religion that, according to the artist, idealizes intellect to the point of fetishization. Her use of the word "referred" in the title of this video references a medical referral, the process of transferring something from one person to another, and as another word to think about empathy.
The video begins with the camera focused on moths trapped in a moth catcher while a voice asks, "Do you think there are moth power dynamics?" immediately questioning the hierarchies that exist within and between particular species. Weaving together images of Daphnia Magna (spineless planktonic crustaceans with huge hearts, that can reproduce sexually or asexually), footage of a young man pole dancing, medical animations of her spinal cord, and a tender scene of a woman apologizing to a dead bird as she sweeps it up and places in a trash can, Referred Pain points to the difficulty we have relating to other people's experience of pain. This is an opportunity to discuss the loneliness and isolation that accompany our experience of pain, the difficulties associated with pain, and what it means to be cared for.
FROM THE ARCHIVES
Juan Downey
Videodances, 1974
Digital transfer from b/w 3/4′ cassette, 28 min.,
Everson Museum of Art 90.51.5
Antoni Muntadas (b. 1942)
Snowflake, 1976
Digital transfer from b/w 3/4′ cassette, 24 min,
Everson Museum of Art, 90.125