On View February 15 – September 6, 2020
Over the course of his nearly six-decade career, Jim Ridlon (b. 1934) has explored abstraction through a variety of media, from the traditional to the unusual. His early paintings and sculptures, minimal and monumentally- scaled, were recognized for their monolithic timelessness and sense of physical permanence. In contrast, Ridlon's more recent works explore time differently: as fleeting, transformational, and in flux. Paintings from the Garden Series, a selection of which is on view here publicly for the first time, are impressionistic meditations on the passage of time, the impermanence of nature, and also, perhaps, a reflection of life itself. The evolution of Ridlon's art—from the imposing bravado of early works to the quiet intimacy of the Garden Series—suggests an artist who is living a full and creative life, ever open to traveling new paths over time.
The Garden Series stems from Ridlon's visits to private and public gardens across Central New York in recent years. He created several paintings on paper at each location, capturing the gardens in various weather conditions, times of day, and seasons. Returning to the studio, he cut and collaged the paintings together to convey the moods, textures, sounds, and sights of each garden. Ridlon's garden paintings record a multitude of moments into a single image, creating transformative, emotional experiences abstracted from the botanical world.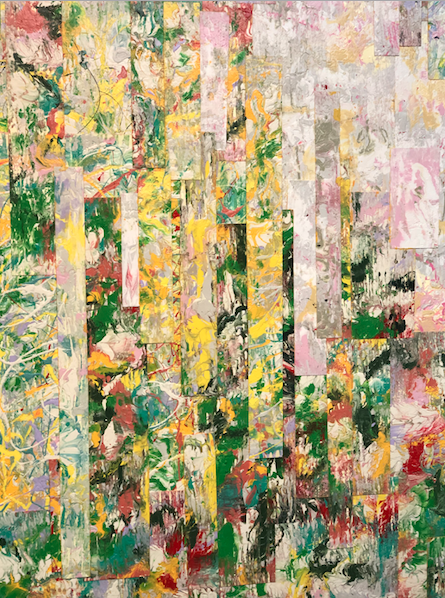 Jim Ridlon, Spring Treat, acrylic on canvas on board.
Related Events
Opening Night Reception and Artist Talk
February 20
6:00-8:00pm
Free Third Thursday