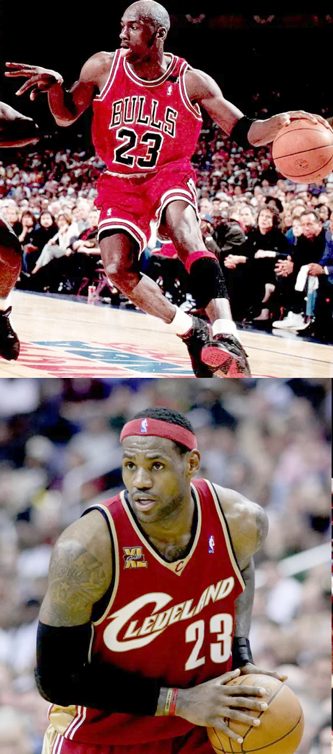 Today is February 23, 2023 – the 23rd day of the month in the 23rd year of the century.
The number 23 is a significant number throughout history, philosophy, literature, and even sports (remember the 23-23 tie between the Bengals and Eagles in 2020?).
There have even been movies dedicated to the number 23. In 2007, Jim Carrey played a man obsessed with the number in a movie called, you guessed it, The Number 23. The film was released, of course, on February 23. And, another film, 23, released in 1999.
Basketball and 23
Basketball great Michael Jordan wore number 23 during his basketball career, starting at Laney High School, in Wilmington, NC, then at the University of North Carolina, and in the NBA with the Chicago Bulls and the Washington Wizards.
Another basketball legend, LeBron James wore number 23 with the Cleveland Cavaliers and the Los Angeles Lakers. He chose number 23 in honor of Michael Jordan.
Is it any coincidence that two of the Greatest Of All Time basketball legends wore number 23? Or, does the number 23 have special powers, after all?
The Syracuse Nationals, a professional basketball team, played from 1949 to 1963, before moving to Philadelphia to become the 76ers. During that time, three Nationals sported the 23: Byrum William Cable, '60-'61, Charles H. Osborne '62, and Leonard Roy Chappell '63.
Not surprising, the distance from the center of the basket to the three-point field goal line in the NBA is, yup, 23 feet.
The number 23 does have special powers in basketball — and art — as Hoop Dreams: Basketball and Contemporary Art, an art exhibition dedicated to basketball is on view at the Everson Museum of Art.
Explore the art of basketball and even shoot some hoops yourself in the Museum gallery — from the three-point line — only 23 feet away!
LeBron James photo: Keith Allison/Wikipedia. cc-by-sa-2.0. Michael Jordan: Public Domain/Wikipedia. This image is in the public domain because the copyright of this photograph, registered in Argentina, has expired.