Frank Buffalo Hyde: Exhibition and TV Challenge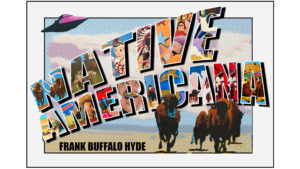 Native Americana is a homecoming exhibition for Onondaga/Niimíipuu (Nez Perce) artist Frank Buffalo Hyde, who grew up dividing his time between the Onondaga reservation near Syracuse with his mother and visiting his father, noted Nez Perce sculptor, Doug Hyde, in New Mexico.
From the beginning, codeswitching became a necessary coping strategy for Buffalo Hyde. When living in the Onondaga Nation, he faced the everyday realities of privation on the reservation, including a lack of indoor plumbing and a steady diet of government cheese. With his father, Buffalo Hyde learned to navigate the art world, including chic VIP opening receptions at museums and galleries throughout the country.
Buffalo Hyde will debut a new body of work, Native Americana, that re-examines material culture like souvenirs, advertising, and sports mascots through an Indigenous lens. Over the past five years, Frank Buffalo Hyde's practice has evolved from being strictly two-dimensional to include installations, and in his upcoming exhibition, virtual reality.
Throughout his career, Buffalo Hyde has presented pop iconography, such as UFOs, hamburgers, and corporate logos in parallel with Native symbology like the bison on the Onondaga reservation and Indigenous leaders and dancers.
Buffalo Hyde's works grab attention through their bright colors instantly recognizable iconography but resist easy stereotyping through their embedded messages about the fragmented nature of Native life.
"From the beginning, Buffalo Hyde has charted his own path, veering away from well-worn territory that other artists have explored. He's fearless but sprinkles enough humor and color into his paintings to grab viewers' attention before delivering the knockout punch.
"Syracuse and the Everson played an important role in shaping who Frank is as an artist and human being … it has been extraordinary to watch this exhibition evolve into a major homecoming for a major artist," said Garth Johnson, the Paul Phillips and Sharon Sullivan Curator of Ceramics, at the Everson Museum of Art.
On March 3, 2023, the Smithsonian's Hirshhorn Museum and Sculpture Garden, in partnership with MTV and Paramount+, will launch a reality competition, The Exhibit: Finding the Next Great Artist, that will pit Buffalo Hyde against a diverse group of six other artists who compete for a prize that will include a solo exhibition at the Hirshhorn. With the evolution of Buffalo Hyde's practice and the attention that will come from the reality series, Native Americana comes at a watershed moment. The Exhibit: Finding the Next Great Artist premieres Friday, March 3, 2023, at 9:00pm on MTV following RuPaul's Drag Race; Smithsonian Channel will re-air it Tuesday, March 7, 2023 at 9:00pm.
Native Americana will be on view at the Everson Museum of Art from June 10, 2023 to September 17, 2023.