Long Awaited Sharif Bey Exhibition Opens April 30 at the Everson Museum of Art
SYRACUSE, NY (April 26, 2022): On Saturday, April 30, the Everson Museum of Art will open the much anticipated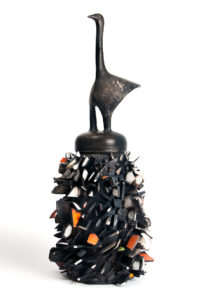 exhibition, Sharif Bey: Facets. With funding from a grant awarded by the National Endowment for the Arts (NEA), Sharif Bey: Facets is a two-decade retrospective of artist and educator Sharif Bey's body of work in ceramics and glass that explores the visual heritage of Africa and Oceania.
Much of Bey's work investigates the meaning of African symbols and artifacts and the ways in which colonialism stripped them of their original purpose and power. "I was raised in an anti-imperialist household – that was the culture," Bey explains, "a culture of asking, of questioning, of pushing back on the narratives that media has fed to us."
Since accepting a teaching position at Syracuse University in 2009, Bey has become a vital part of Syracuse's social fabric. Coming on the heels of an exhibition at the Carnegie Museum of Art in Pittsburgh, where he was born and raised, the Everson will present a survey of Bey's work, starting with the functional pottery that has served as a touchstone throughout his career, and continuing through his most recent body of large-scale figurative sculptures in clay.
"With Manhattan gallery representation from Albertz Benda Gallery in Chelsea and a recent exhibition at the Carnegie Museum, the rest of the world is finding out what we have long known in Syracuse—that Sharif is a generational talent with a rare combination of skill, intellect, and fearlessness," says Garth Johnson, the Everson's Curator of Ceramics. "We're grateful to the National Endowment of the Arts for recognizing Sharif's work and making it possible for the Everson to showcase it in the context of his own community."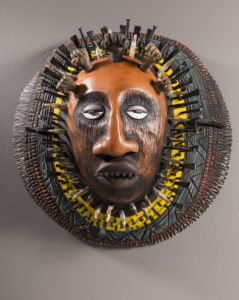 Borrowing works from across the country, including his first major statement, Assimilation? Destruction? (2000), to an early pot that dates back to his years as a teenage potter, Sharif Bey: Facets is a hometown celebration of Bey's immense swell of national and international acknowledgment and growing stature within contemporary art.
An Opening Night Reception will be held on Friday, April 29 from 6:00—8:00pm to celebrate and preview Sharif Bey: Facets and four other new exhibitions. This event is free for members, $15 for non-members and includes hors d'oeuvres, a cash bar, and artist appearances.
To learn more visit, everson.org/exhibitions.
Top Photo: Ceremonial Vessel VI, Earthenware/Mixed Media, 22″x9″x9″, Courtesy of Albertz Benda
Bottom Photo: Protest Shield #2, 2020, Earthenware, nails, and mixed media, 20 x 20 x 12 inches, Everson Museum of Art; Museum purchase, Deaccession Fund, 2020.14
About the Artist
Sharif Bey [b. 1974, Pittsburgh, PA] lives and works in Syracuse, NY, where in addition to this studio practice he is an associate professor in arts education and teaching and leadership in the College of Visual and Performing Arts and Syracuse University's School of Education. Bey earned his B.F.A. in ceramics from Slippery Rock University of Pennsylvania, an M.F.A. in studio art from the University of North Carolina and a Ph.D. in art education from Penn State University. He has participated in many artist-in-residencies and fellowships to hone his craft, and is included in numerous public collections including: The Carnegie Museum of Art, Pittsburgh, PA; Smithsonian American Art Museum and Renwick Gallery, Washington DC; the Columbus Museum of Art, OH; and the United States Embassies of Khartoum, Sudan; Kampala, Uganda; and Jakarta, Indonesia.
About the Everson Museum of Art
The Everson is a museum of firsts. It was the first museum to dedicate itself to the collection of American art, to create a permanent collection of ceramics, to collect video art, to create a docent program and to hire the now internationally-known architect I.M. Pei to design its building, a sculptural work of art in its own right. Located in Syracuse, NY, the Everson is home to over 10,000 works of art: American paintings, sculpture, drawings, video, graphics and one of the largest holdings of studio ceramics in the nation. Visit everson.org to learn more.
For further information or to request images, members of the media may contact Kristin Sheehan, e: [email protected], t: +1 (315) 474 6064 x323.
###