The Everson Remembers Noreen Falcone
The Everson honors the life of a devoted patron, supporter of the arts, and all-around wonderful person, Noreen Falcone. Noreen passed away on February 6, 2021, at nearly 84 years old. She was an honorary lifetime Board Member at the Everson and served on the New York State Council on the Arts Board.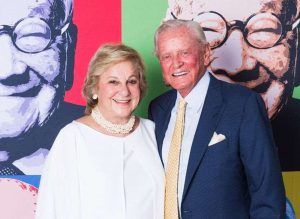 Her passion for education and the promise of young minds began with her work as an elementary school teacher. It would continue throughout her life, with over 30 years of involvement in various positions at her alma mater, Le Moyne College, including President of the Board of Governors and Regent Emeritus.
Here she is with her husband Michael J. Falcone at the Everson's 50th Anniversary Gala. Noreen was a native of Syracuse whose commitment and love for her community will never be forgotten. We are grateful for the energetic dedication she brought to our organization and many others in this area.
See Noreen Falcone's complete obituary published in Syracuse.com on February 12.