David MacDonald: Vessels For The Human Spirit
This week, we revisit this Everson Up-Close Artist Series video featuring David MacDonald called "Vessels of the Human Spirit." In it, he describes an encounter at one of his exhibitions, where a White woman approached him at the reception to compliment him on the quality of his work, and asked, "Is there anything positive about being Black in America, or is it just a series of frustrations, humiliations, and anger." Listen as MacDonald explains why this question nagged him for many months after the encounter and how it impacted his work.
The main lecture begins at 03:35 minutes in.
About David MacDonald
Born in Hackensack, New Jersey, David MacDonald (b. 1945) first experimented with ceramics in the late 1960s at the Hampton Institute in Virginia, where he earned a Bachelor of Arts degree in Art Education. As part of the Art Education curriculum, MacDonald was required to take a ceramics course, and he quickly found that working with clay satisfied a desire to create pieces with dimension, form, and functionality, something he could not do when working in other mediums. After graduating from the Hampton Institute, MacDonald attended graduate school at the University of Michigan in Ann Arbor, receiving his Master of Fine Arts in 1971. Later that year, MacDonald was appointed Professor of Art at Syracuse University, where he taught ceramics for thirty-seven years. MacDonald turned to his African heritage for inspiration early in his artistic career, exploring the patterns and decoration found within African textiles, body ornamentation, and architecture. MacDonald uses utilitarian plates, bowls, cups, jars, and other vessels as his point of departure to create aesthetically beautiful works of art with unique, intricate, and highly refined surface decoration. To create his distinctive line work and geometric patterns, MacDonald uses custom-made tools to carefully carve shallow parallel channels into the leather-hard clay one line at a time.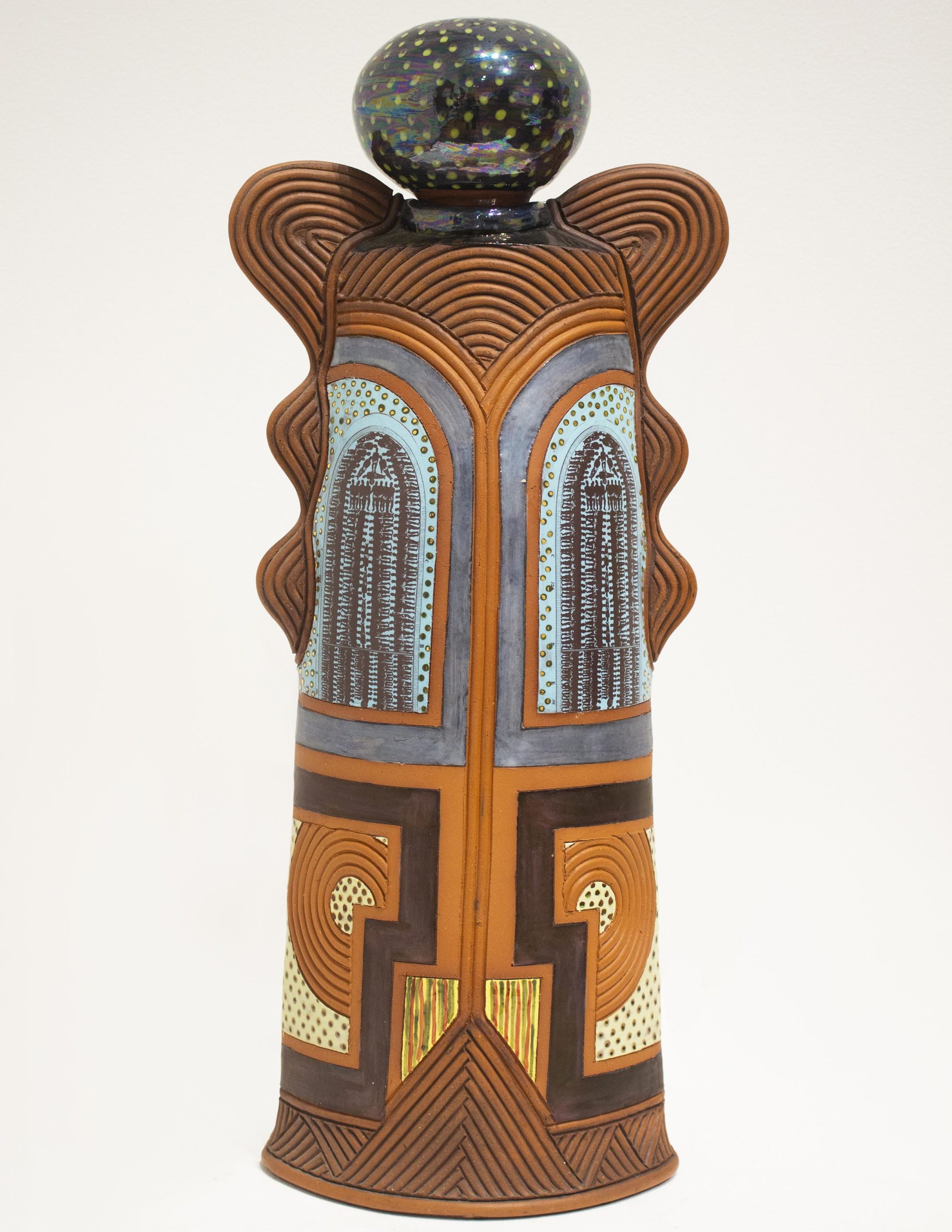 David MacDonald, American (b. 1945)
Middle Passage Series #3, 1996
Ceramic, 26 x 11 x 5 inches
Gift of Samuel Sage, 2019.35.3
Although utility was always a central concern, David MacDonald's early pottery served as a vessel for imagery related to the Civil Rights Movement and the injustice faced by Black Americans. At an exhibition in the mid-1970s, an elderly white woman complimented his work for its elegance and anger, but she asked why his work did not reflect the positive aspects of the Black experience. As impertinent as the question was, it made MacDonald reflect on his practice.
Over the following decades, MacDonald poured his passion and research into the creation of his signature work, which incorporates African symbols and material culture into a visual language driven by sinuous curves and geometric patterns. Concurrent with the 1991 beating of Rodney King by the Los Angeles police, MacDonald once again began infusing his work with the imagery of protest and historical injustice. The result was his landmark Middle Passage series, which incorporates imagery related to the perilous journey faced by enslaved Africans en route to the West Indies.
In particular, MacDonald adopts imagery from eighteenth century engravings showing aerial diagrams of enslaved peoples chained and wedged together below deck during the passage. In MacDonald's hands, these images are surrounded, and perhaps even overwhelmed by his deftly-rendered abstractions of African hair and body adornment. In the Middle Passage series, MacDonald acknowledges the stream of injustices faced by African-Americans, while continuing to remind viewers of the magnitude of their contributions to American culture.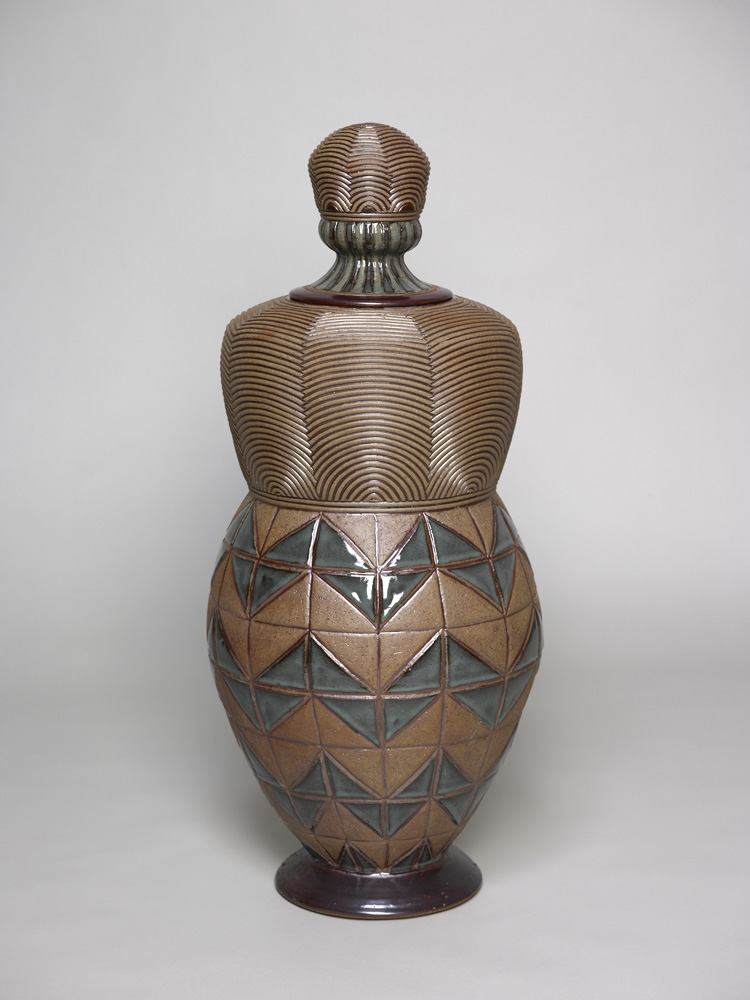 David MacDonald, Large Storage Jar, 2010, stoneware, 36 x 16 inches, Everson Museum of Art; Museum purchase with funds from the Social Art Club, 2011.2.a-b