Golden Splendor: Portrait of Alice Maud Allen Atwater by Abbott Handerson Thayer
Abbott Handerson Thayer (1849-1921) was a New England painter known for his ethereal angels, landscapes, and floral paintings, as well as traditional Gilded Age society portraits of women and children. He painted during the American Renaissance, a cultural movement in the late nineteenth and early twentieth centuries inspired by the Italian Renaissance and characterized by idealized figures and classical Greek and Roman influences.
Born in Boston to a prominent family, Thayer spent most of his childhood in rural New Hampshire. In 1865, at the age of fifteen, he enrolled in the Chauncy Hall School in Boston, and then spent several years at the Brooklyn Academy of Design between 1867 and 1874. In 1875, newly married, Thayer and his wife Kate relocated to Paris, where Thayer studied classic European painting techniques at the École des Beaux-Arts for four years. After returning to the United States in 1879, Thayer and his wife first briefly lived in Keene, New Hampshire, and then moved to Brooklyn where he established a portrait studio and began to build a reputation as a skilled portraitist.
Thayer received the commission to paint this wedding portrait of Alice Maud Allen at the time of her wedding to Charles Atwater. Alice was the youngest daughter of Thomas Allen, a former president of the Missouri Pacific Railroad, and at the time of her wedding lived with her mother Ann in a lavish home in Pittsfield, Massachusetts. Alice's husband-to-be, Charles Atwater, worked as a clerk and bookkeeper in Pittsfield. Their wedding was an extravagant affair, appropriate to Alice's family standing. The local newspapers reported on the details of the ceremony and reception, which included a thirty person choir singing the wedding march as Alice walked down the aisle and a full dinner catered by Delmonico's.
Thayer began his portrait by making a smaller study of Alice from life, and then completed this painting in his studio (the study resides in the collection of the Smithsonian Museum of American Art). He captured the opulence of the bride's wedding dress, a lavish gown made of Japanese gold cloth with a Belgian rose-point lace bodice.
The portrait eventually passed to Alice's daughter Alice Lorna, who bequeathed the painting to the Everson Museum upon her death in 1975. Portrait of Alice Maud Allen Atwater is currently on view in the exhibition Forever is Composed of Nows through December 31, 2022.
-Steffi Chappell, Assistant Curator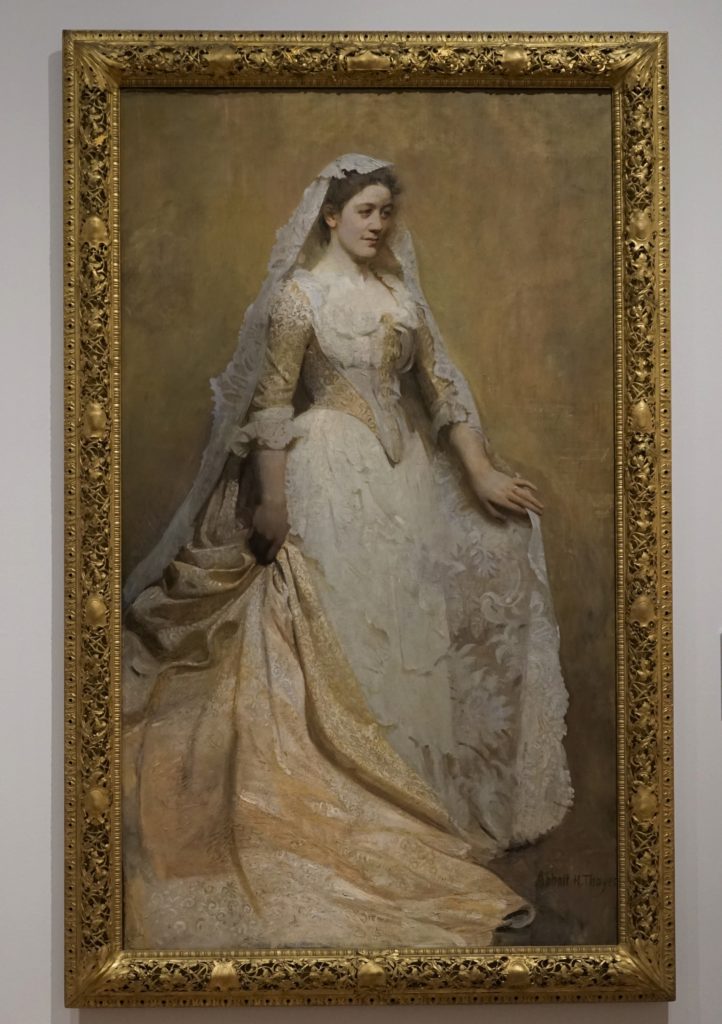 Sources:
"Abbott Thayer: The Nature of Art" in American Art Review Vol IX, No. 3, 1999 (180-85)
Ross C. Anderson, "Portrait of Alice Maud Allen Atwater," Everson Museum of Art Bulletin
James K. Kettlewell, "Abbott Handerson Thayer" in Transcendent Universe: The Paintings of Abbott Handerson Thayer, The Hyde Collection, Glens Falls, NY 1996 (4-11)