Object of the Week: Large Plate, by Myrton Purkiss
Myrton Purkiss moved from Canada to the United States at age twelve, and eventually attended the University of Southern California to study under master ceramist Glen Lukens, who influenced generations of ceramic students with his groundbreaking experimentation in materials and techniques. Purkiss completed his formal education at the Chouinard Art Institute in Los Angeles before being drafted into military service, where he used his design skills working as a cartographer, building scale models of the European landscape. He took advantage of this time abroad, studying ceramics and decorative arts across England and France. In 1941, Purkiss returned to California and opened a small ceramics studio in the backyard of his home in Fullerton. He immersed himself in his craft, throwing functional vessels that he hand painted with beautiful and complex geometric patterns.
In 1951, Purkiss entered Large Plate, along with two other works, into the Everson's 16th Ceramic National. Established at the Everson (then called the Syracuse Museum of Fine Arts) in 1932, the Ceramic Nationals were a series of juried exhibitions that attracted ceramic artists from across the country to display their works in Syracuse, sparking a national interest in the ceramic arts and changing the public's view of pottery from a craft to a respected art form. Purkiss glazed Large Plate with a soft yellow color, and then used the stanniferous painting technique to cover the surface with a quilt-like, interlocking pattern. Stanniferous painting requires extreme care, as the artist paints with underglaze colors directly onto raw glaze. By painting onto raw glaze, it is possible to fire the glaze and painted design simultaneously, which allowed Purkiss to create uniquely textured work. Purkiss received the Purchase Prize given by the Homer Laughlin China Company of Newell, West Virginia for this innovative design, which led to the acquisition of Large Plate for the Everson's collection. One juror noted that the plate was "interesting in abstract pattern and in color. [It had a] fresh concept of decoration in ceramics [with] the decoration possessing textural qualities."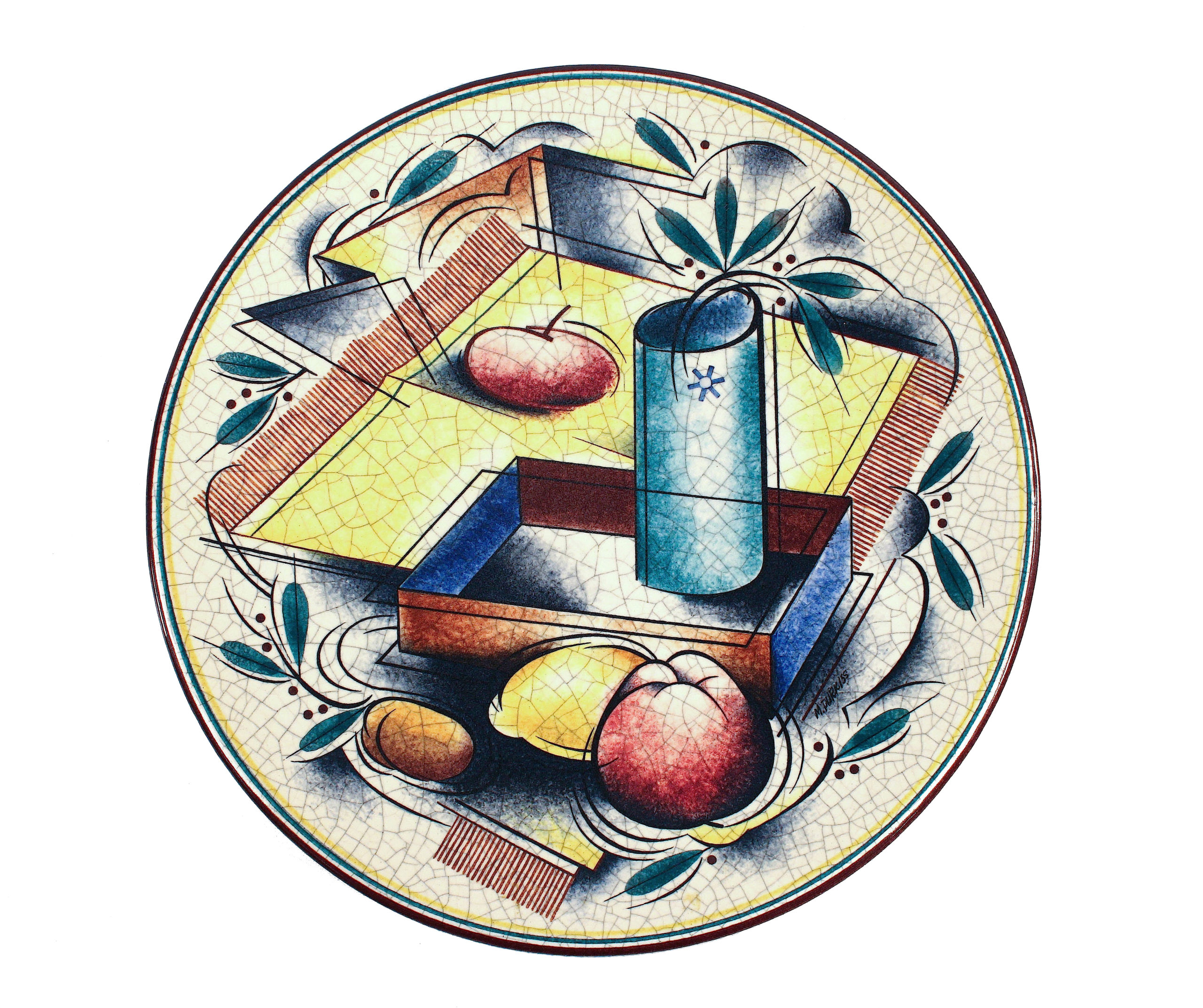 Purkiss had a long relationship with the Everson, participating in and jurying for several Ceramic Nationals, beginning with the 10th in 1941. He submitted three works to this exhibition, including Plate, which is also in the Museum's collection. While the subject of Plate is a still life, it contains the line work and bold colors that characterize the patterning in Purkiss's later work. Although Purkiss often used similar decorative motifs on his vessels, he never duplicated the same patterns or colors from one work onto another. Purkiss believed in allowing the surface and the shape of the object to dictate the design which, when paired with its ceramic form, created one seamless work of art.
In the mid-1950s, Purkiss permanently closed his studio and turned to a career in landscape architecture. Despite this career change, his work remains an important example of the way that twentieth century artists blended the elements of decorative arts, craft, and fine art.
Large Plate is on view in From Funk to Punk: Left Coast Ceramics through April 15, 2018.
Image Captions
Top: Myrton Purkiss, Large Plate, 1951, stoneware, 16 ½ inches diameter, Everson Museum of Art; Purchase Prize given by Homer Laughlin China Company, 16th Ceramic National, 1951, 52.629
Bottom: Myrton Purkiss, Plate, ca. 1941, stoneware, 15 ¾ inches diameter, Everson Museum of Art; Purchase Prize given by IBM Corporation, 10th Ceramic National, 1941, 63.37