Object of the Week: TR Ericsson's Urns
The ashes of family members are literally an integral component of artist TR Ericsson's work—he mixes the ashes with different mediums when screen-printing. As part of his current exhibition I Was Born To Bring You Into This World at the Everson, the artist worked with local ceramist and Syracuse University professor Margie Hughto and her ceramics student Kwan Jeong to design, throw, glaze, and fire several vessels inspired by the urns that house the funerary ashes of his mother, grandmother, and grandfather. Ericsson never felt satisfied with the original urns as the final containers for his loved ones' ashes, so designing these vessels was an opportunity to reimagine a more appropriate resting place.
Discussing the urns, Ericsson wrote:
There was never a place of significance to rest the original urns. And there was a dread sense of absurdity I attached to them. How could my family have been reduced in this way, held in these relatively cheap metal or wooden containers?The skillfully rendered ceramic form is now a thing of beauty and generosity and care. The necessary glaze required to complete the work was applied before the final firing by dipping my hands into the glaze and clutching at the urns to mimic the active and emotional way I handled them and carried them with me from place to place.
After almost two decades of uncertainty the form and place of significance have both been discovered.
These new urns bear the names and bone fragments of Ericsson's mother, grandmother, and grandfather, functioning as reliquaries for Susan O'Donnell, Jeanne Robinson, and Lynn Robinson, forever preserving both their bodies and their memory.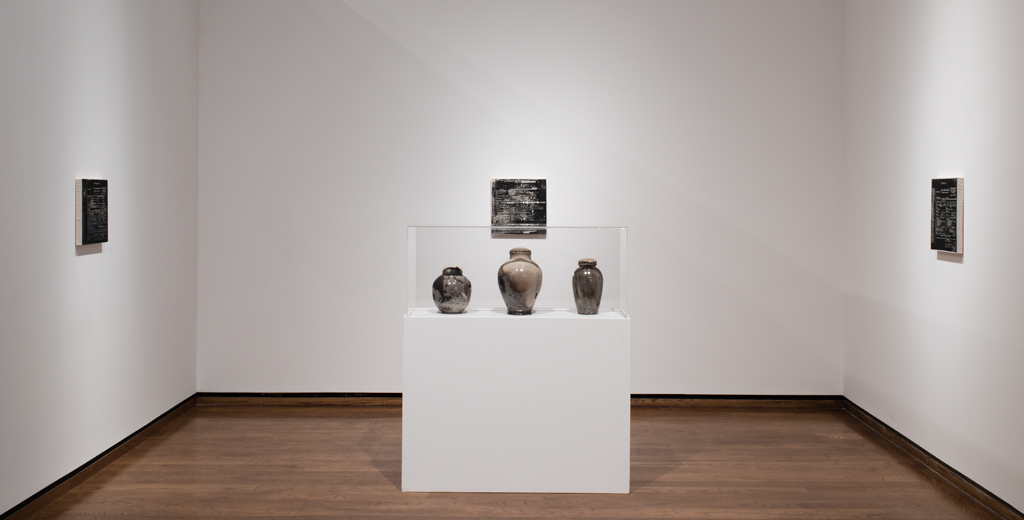 Installed alongside the urns in the exhibition are Susan Robinson (Birth Certificate), Jeanne Heil (Birth Certificate), and Lynn Robinson (Birth Certificate). Printed with graphite, resin, and funerary ash on muslin, these works are enlarged reinterpretations of the birth certificates issued for Ericsson's relatives. Displayed together, the objects reflect on the beginning and the end of each individual's life. The Everson recently acquired all six works for its collection, as well as Rose, a hand-blown glass vessel containing the breath of Ericsson's wife.
In I Was Born To Bring You Into This World, on view at the Everson through January 28, Ericsson uses the story of his mother to present a searing, soft, and complex portrait of post-industrial life in America. The exhibition is a specific reinterpretation of Crackle & Drag, an ongoing project Ericsson began in the years following his mother's suicide in 2003. Using traditional art materials such as canvas, photography, bronze casting, and clay, as well as video, found objects, and heirlooms taken from his family archive, Ericsson examines feelings of grief and remembrance. I Was Born To Bring You Into This World begins as an intimate encounter with an artist's family archive and becomes a potent opportunity to reflect and scrutinize the trials and tribulations of our own lives.
An artist's book, designed by Ericsson to accompany the exhibition, is available for purchase in the Museum Shop.
Content retrieved from: https://everson.org/blog/object-week-tr-ericssons-urns.