Repeated Forms: Three Cylinders by Bodil Manz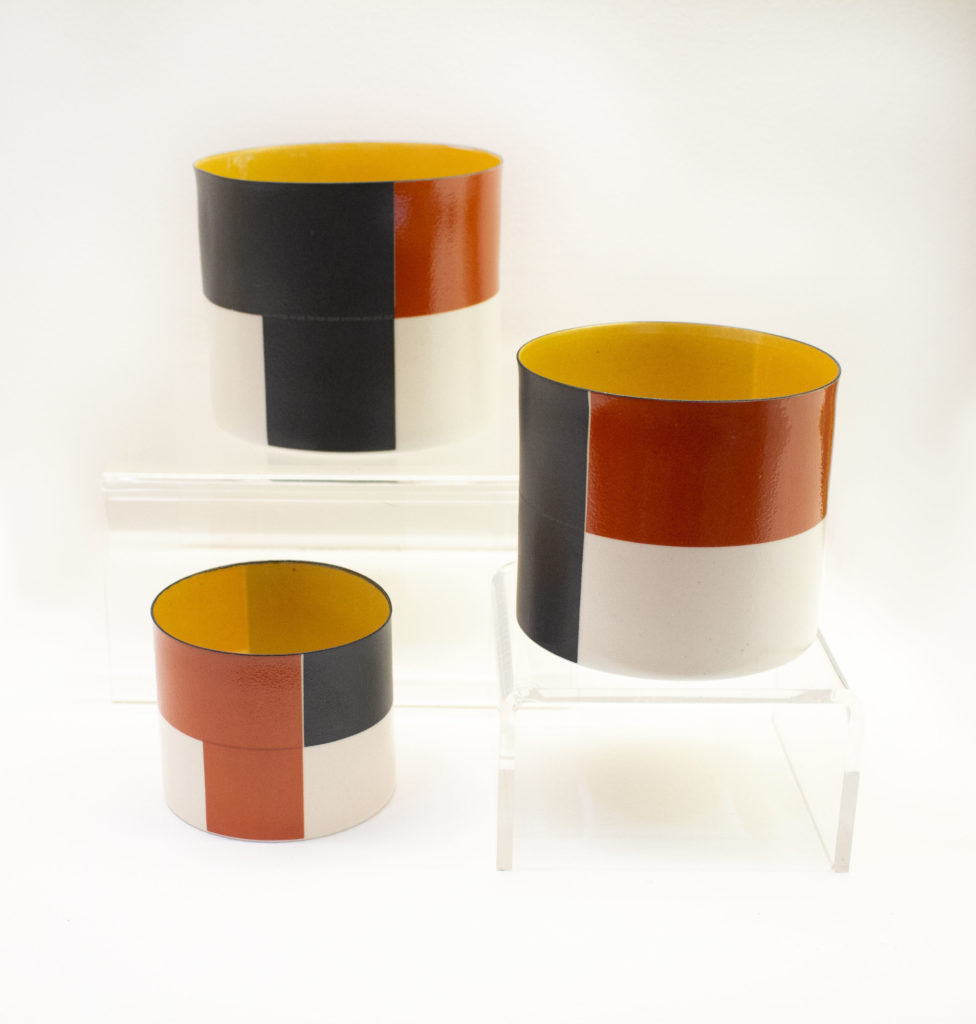 Born in Copenhagen, Denmark, Bodil Manz's (b.1943) career as a ceramist spans a lifetime. Manz fondly remembers her childhood summers in Vindekilde, Denmark, collecting clay by the cliffs on the beach, an activity that heavily influenced her infatuation and passion for ceramics. Together with friends, Manz shaped the clay into bowls, filled the vessels with water, and baked them in the sun. Manz eventually studied at the Danish School of Arts and Crafts in Copenhagen from 1961 to 1965, and in 1966, she traveled to the United States to study art at the University of California, Berkeley. Manz returned to Denmark in 1967 and opened a workshop with her late husband, Richard Manz (1933-1999), in the town of Hørve. Here, Manz began her ongoing exploration of the ceramic cylinder.
The cylinder is arguably one of the most common ceramic forms, yet Manz uses the cylinder to push her creative boundaries to the limits. By dissecting and reexploring the various aspects of the cylinder, Manz has spent a lifetime familiarizing herself with the shape while continuously challenging herself to create unique works. Manz's mastery of the form allows her to create graphically exceptional and technically astounding vessels that alter one's idea of what a ceramic cylinder can be. While the cylinder's limitations sometimes frustrate her, Manz says, "You just have to get back on the horse every time because it really is very interesting." Manz's constant curiosity drives her success. Her body of work over the last forty years contains hundreds of cylinders, each with their own distinctive design.
Three Cylinders features paper-thin porcelain vessels slip cast and decorated with geometric shapes on the exterior and interior. The thin walls of the vessels allow the bold black, red, and white geometric shapes on the exterior to blend with the flat yellow of the interior. This technique, deliberately executed by Manz, allows for multi-dimensional designs that interact beautifully with light and shadow. Manz says, "The way pots transform in light is something special to me because this reflects what we are as human beings, ordinary but with the possibility of joy." In her continued effort to explore the cylinder, Manz clearly demonstrates her lifelong joy and passion for ceramics.
Three Cylinders is currently on view in Beyond the Blue, an exhibition showcasing life-affirming works from the Everson's permanent collection that are filled with joy, humor, and color.
–Shannon Ferrari, Curatorial Intern
Sources:
JJ Film. "Bodil Manz – Four Days with Bodil." Vimeo, 2019, https://vimeo.com/356163378.
Manz, Bodil. "Info." https://bodilmanz.com/.
Whiting, David. "Bodil Manz." Oxford Ceramics Gallery, 2021, https://www.oxfordceramics.com/artists/52-bodil-manz/overview/.