Storytelling with Fabric: Waiting for Medgar, Jackson, MS 1963 by Dawn Williams Boyd
Born in Neptune, New Jersey and raised in Atlanta, Georgia, Dawn Williams Boyd (b. 1952) creates detailed cloth paintings that portray personal memories and both historic and current events to address the Black American experience. Boyd earned her BFA in studio art from Stephens College in Columbia, Missouri in 1974 and then relocated to Denver, Colorado. In Denver, she found inspiration in the works of fellow Black artists and felt compelled to begin creating her own works that address Black stories, past and present.
Inspired largely by quilts made by the artist Faith Ringgold, Boyd's cloth paintings combine her skills in acrylic painting and collage with the techniques of appliqué and sewing. Describing her work, Boyd says, "Through cutting, patching, surface enhancement and quilting, bits and pieces of fabric are transformed into modern visual storytelling." Boyd's ongoing series, The Sins of the Fathers, with over twenty acrylic paintings and cloth paintings, tells stories of racial violence committed against Black Americans. With scenes ranging from the four hundred year-long atrocities of the slave trade to the twenty-first century rise of the Black Lives Matter Movement, Boyd's work captures pivotal moments from the history of Black America. Boyd says, "Because I am a visual person and realizing that a lot of people don't read, I used pictures to tell just enough of a true story to pique your interest so that you are motivated to do your own research into the facts."
Waiting for Medgar, Jackson, MS 1963 addresses the assassination of civil rights activist and World War II veteran Medgar Evers on June 12, 1963, at his home in Jackson, Mississippi. Through her use of appliqué, beading, embroidery, and quilting, Boyd depicts assassin Byron de la Beckwith standing in the moonlight beneath a honeysuckle tree, gripping his rifle moments before murdering Evers. The title, as with others in the series, provides only the location and date of an event, which Boyd hopes viewers will use to further educate themselves. Using her work as a means of sharing underrepresented stories is important to Boyd, who says, "We, as humans, as the proprietors of this ball of dirt we are clinging to as we hurtle through the unbreathable ether are on the cusp of determining how our future as a species unfolds." Boyd believes that we must tell these stories to prevent similar events from recurring.
Boyd currently resides in Atlanta, Georgia, where she is the president of African Americans for the Arts (AAFTA) and continues to create cloth paintings. Her most recent series, The Trump Era, addresses cultural and political issues prior to and during the Donald Trump administration.
Waiting for Medgar, Jackson, MS 1963 is currently on view in Who What When Where, an exhibition that uses Carrie Mae Weems' photographic series of the same name as a framing device to investigate how subjective lenses of identity shift the interpretation of images.
-Shannon Ferrari, Curatorial Intern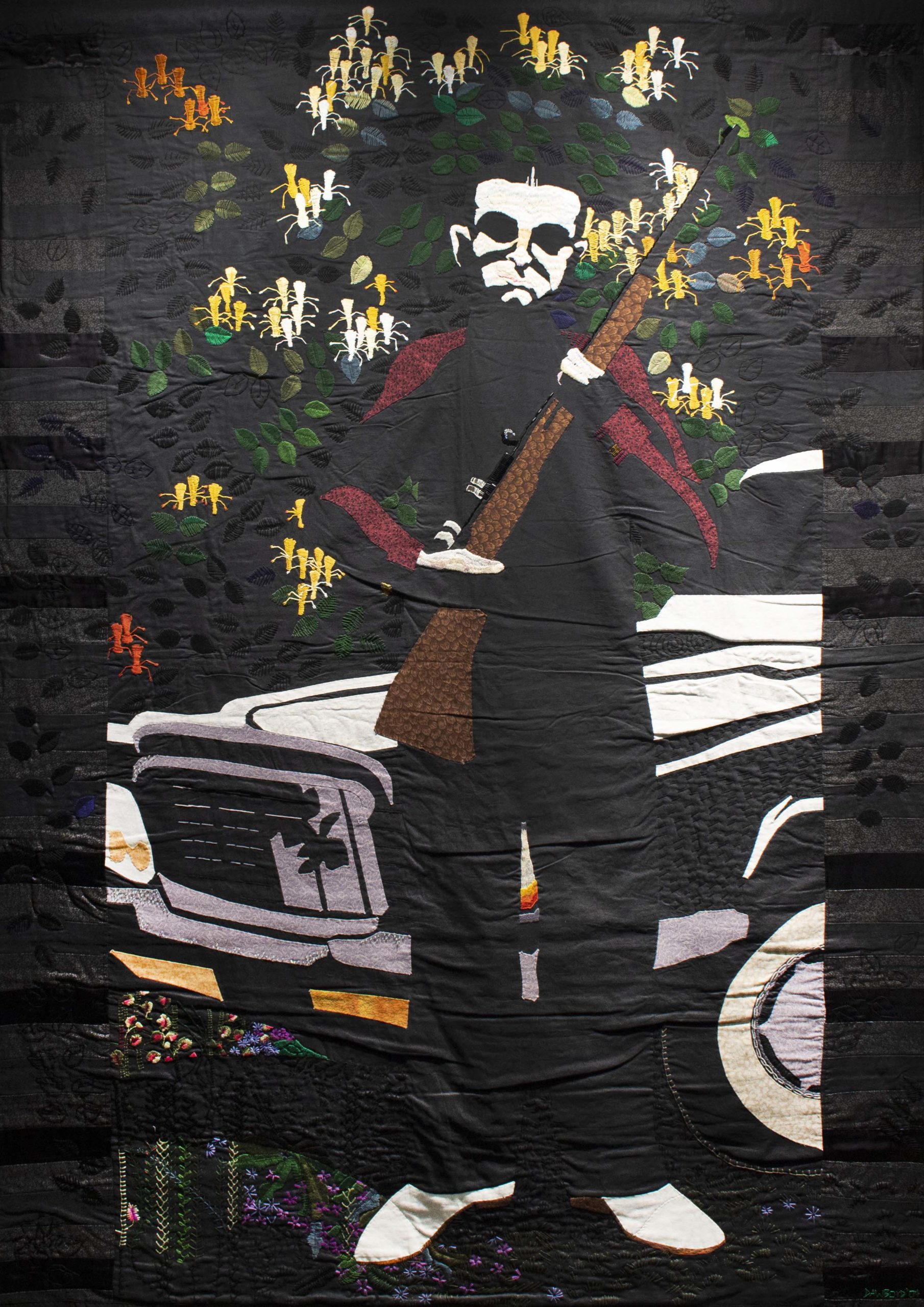 Sources:
Boyd, Dawn Williams. "About the Artist." 2021, https://www.dawnwilliamsboyd.com/artist-statement-and-resume.
Harle, Emily. "Dawn Williams Boyd – Stitching America's Story." Metal Magazine, December 21, 2021, https://metalmagazine.eu/en/post/interview/dawn-williams-boyd.
"Medgar Evers." NAACP, 2021, https://naacp.org/find-resources/history-explained/civil-rights-leaders/medgar-evers.