Parade Worthy: Confetti Tea Set by Dorothy Hafner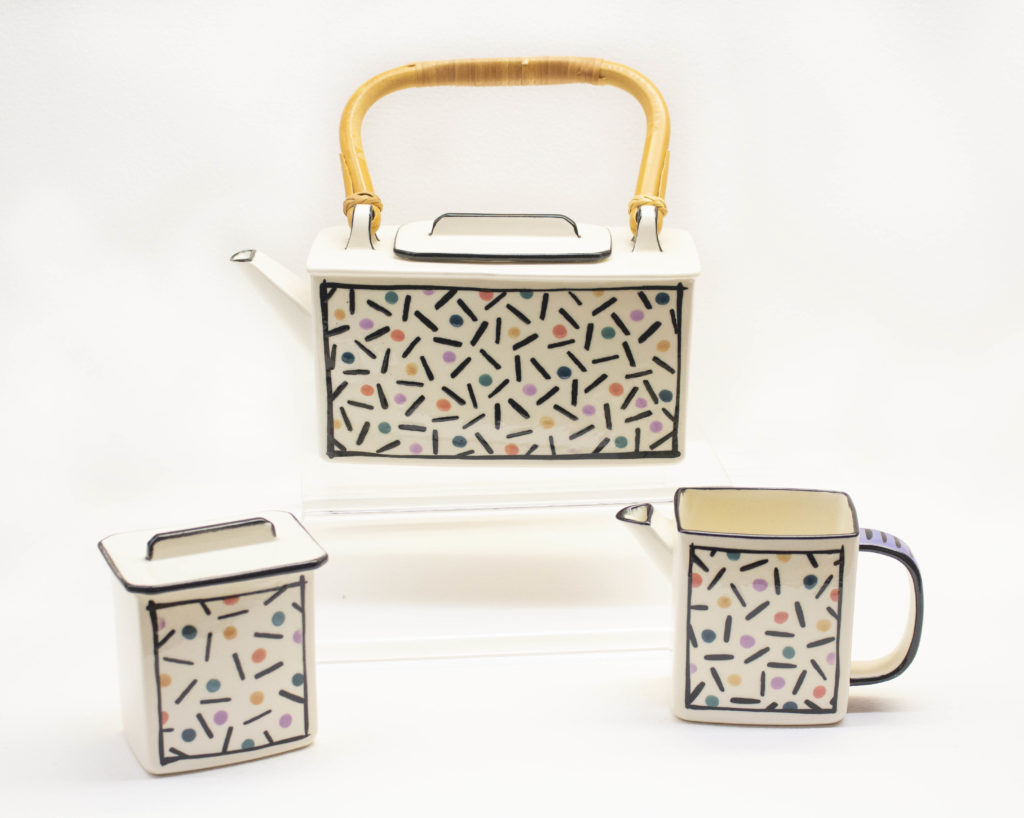 Artist and designer Dorothy Hafner (b. 1952) was born in Woodbridge, Connecticut. She received her BA from Skidmore College in Saratoga Springs, New York, in 1974. After completing her BA, Hafner moved to New York City to open a ceramics and painting studio. Trained as a painter and sculptor, Hafner first tried her hand at functional and sculptural ceramics in 1973. In 1976, Hafner joined her loves of painting and ceramics by experimenting with painting on porcelain. In the ensuing fifteen years she created over twelve lines of tableware, both hand crafted and industrially produced, for firms like Tiffany & Co. in New York and Rosenthal in Germany. Hafner's exuberant collection of ceramics showcases the signature patterns and shapes of the artist's revolutionary style, which continues to impact and influence the boundaries of ceramics today.
Hafner found herself dissatisfied with the popular mass-produced blue and white dinnerware, and began creating her own dishes. Word of Hafner's dinnerware traveled between friends and family and in 1979, she became the first American artist commissioned by Tiffany & Co. to design and produce handmade porcelain dinnerware. Each set contains a variety of pieces including plates, cups, saucers, and pitchers, and is carefully crafted and constructed by hand using thin slabs of clay and decorated with painted glaze designs. The sharpness of Hafner's designs could suggest use of digitally printed decals, but in reality, Hafner painted each crisp line and circular dot by hand. While each set is functional, Hafner's use of color and form showcases her commitment to impeccable design. Hafner claims, "Functionality is only one concern. I also strive to create forms and decorations that reflect my personal responses and the times in which I work. I always want each [piece] to be having a party on its own, even when not in use."
Her first series, Markings, displayed the "bright, pop-graphic" designs of Hafner's artistic style, which strongly contrast the subtler, restrained aesthetic of earlier ceramic traditions. In 1981, Hafner collaborated with Tiffany and Co. for the second time to create her tea set series Confetti. From 1981 to 1991, each Confetti set was produced by hand in the artist's New York City studio. Each object in Confetti Tea Set is hand-painted with a postmodern use of pattern and color inspired by the flashing lights of New York City, late-night discos, and gobs of bubblegum squished in the sidewalks. Hafner decorated the teapot, creamer, and sugar bowl with orange, pink, turquoise, and yellow circles surrounded by short streaks of black glaze to mimic the fluttering of confetti she remembers flying through the sky at a downtown tickertape parade. While the teapot's handle is made of wood, all other elements are made using thin porcelain slabs constructed into basic geometric forms reflective of the rectangular buildings and urban environment of Hafner's city home and studio. The stark white of the porcelain, in contrast with the bright confetti, epitomizes the cheerful, colorful style of Hafner's work. Hafner has said, "Conveying a sense of joy is a mainstay of my work regardless of medium."
In 1991, Hafner took a rest from her bustling career and pursued her dream of traveling in order to reconnect with her artistic practice. After a scuba diving excursion in the Great Barrier Reef in Australia, she turned to glass fusing to explore combining her painterly and sculptural aesthetic. Currently, Hafner works primarily with glass, both two-dimensionally and three-dimensionally, but in a recent interview, the artist revealed she recently reconnected with her ceramic studio practice amidst COVID-19 to rediscover the joy she felt while creating her dinnerware series. Hafner's private studio and the Hafner Creative Space are located in Norwalk, Connecticut, where she teaches glass workshops.
Confetti Tea Set is currently on view in Beyond the Blue, an exhibition showcasing the life-affirming works from the Everson's permanent collection that are filled with joy, humor, and color.
-Shannon Ferrari, Curatorial Intern
Image Caption:
Dorothy Hafner, Confetti Tea Set, ca. 1980-89, porcelain, Everson Museum of Art; Gift of Christopher Darling and Frank Sherman, 89.50.1-3
Sources:
Dietz, Ulysses Grant. Great Pots: Contemporary Ceramics from Function to Fantasy. The Newark Museum, 2003, 62, 119, 132.
Hafner, Dorothy. "About the Artist", http://www.dorothyhafner.com/inq_op.htm.
Hafner, Dorothy. "Ceramics", http://www.dorothyhafner.com/inq_op.htm.
Hafner, Dorothy. Personal interview. 9 June 2021.