Recent Acquisitions: The Selwyn Collection of Ceramic Teapots
Today we introduce a new blog series, Recent Acquisitions, which will highlight recently acquired works in the Everson's collection. More than just a repository for the preservation of objects, the Everson is committed to creating dynamic and meaningful encounters with modern and contemporary American art through its collections. As such, the Museum acquires works that engage diverse communities, inspire curiosity and lifelong learning, and encourage community-wide conversations that promote a more vital and inclusive society. Whether generous gifts from donors and artists or purchases using the Museum's dedicated acquisition funds, new acquisitions represent the Everson's long-standing commitment to collecting, exhibiting, and interpreting the best of modern and contemporary American art.In 2017, Rochester-based collectors Karen and Philip Selwyn began donating selections from their collection of ceramic teapots to the Everson. To date, they have gifted twenty-one teapots for the collection and lent another thirty-four as promised gifts.When it comes to mastering pottery forms, the teapot is arguably the most challenging. For a potter, creating a teapot is like juggling—they must balance the handle, lid, and spout with the shape of the body. Every curve and edge must relate to each other to bring a sense of harmony. Function also comes into play, as the teapot has to pour well, the spout should not drip, and the lid should not fall off when pouring.As the line between functional pottery and conceptual art blurred in the 1970s, ceramic artists began using the teapot as a purely sculptural vehicle. Functional potters responded by creating ever-more Baroque forms that favored formal concerns or whimsy over the pot's function. Over time, a network of galleries and collectors evolved to support this creative outpouring, and bragging rights over the best teapot became the ultimate prize.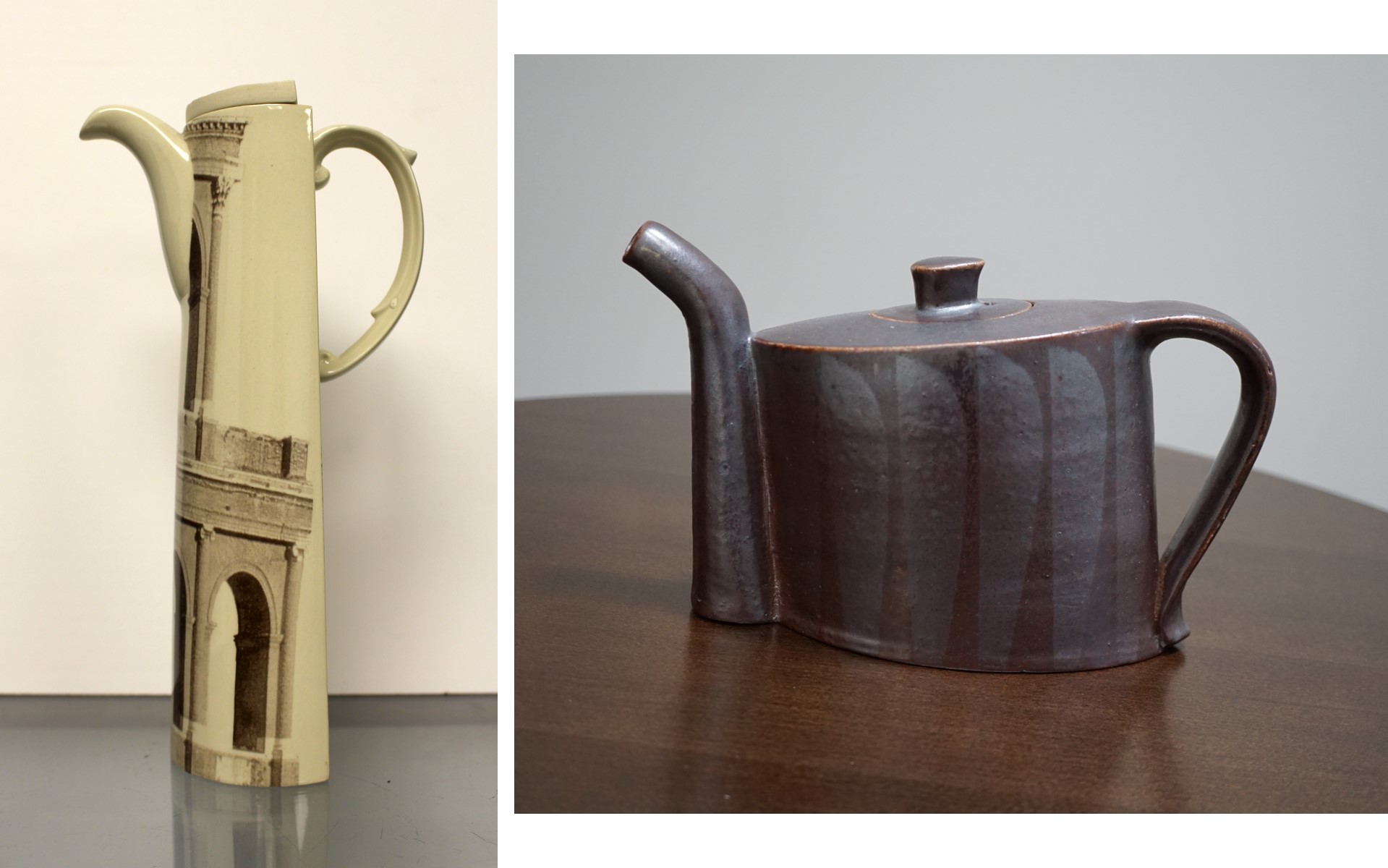 The Selwyns bore witness to this revolution and became avid teapot collectors. Rather than pursuing trendy names and the "hottest" new artists, Karen and Philip trusted their intuition and built a stellar collection reflecting a wide variety of styles and techniques. These pots range from wild and expressive to masterful and controlled. What unifies this collection, however, is the creativity of the artists in their exploration of form, surface, and content. Although the teapots range vastly in style and size, one common feature that they all share is the manipulation of clay. Karen, in particular, is attracted to the artist bringing the clay to its most logical conclusion, whether that be the rough encrustations of a wood-fired piece or the glossy, refined surface of a classical Taiwanese teapot.Karen's intuition also helped her discover artists early in their career. One prominent example is Eric Serritella, an artist that she began collecting when he sold his functional pots at regional craft shows. Today Serritella is represented by a prominent New York gallery, has work in many important museum collections, and his works sell for tens of thousands of dollars. Many recent exhibitions at the Everson have featured teapots from the Selwyn's collection, most recently A Legacy of Firsts: The Everson Collects.
Stay tuned for future blog posts that highlight specific teapots from the Selwyn's donation.
-Garth Johnson, Paul Phillips & Sharon Sullivan Curator of Ceramics and Steffi Chappell, Assistant Curator Image captions:1) Eric Seritella, Asian Handle Teapot on Log, 2009, ceramic, 7 x 18 x 6 inches, Everson Museum of Art; Promised Gift of Karen Peller Selwyn and Philip Alan Selwyn, EL 1.29.20192) James Lawton, Included Handle Teapot, 2006, terracotta, 10¾ x 11 x 3¼ inches, Everson Museum of Art; Gift of Karen Peller Selwyn and Philip Alan Selwyn, 2018.30.4.a-b3) Marek Cecula, Teapot with Columns, 2003, slipcast porcelain with decals, 11 x 6 x 3 inches, Everson Museum of Art; Gift of Karen Peller Selwyn and Philip Alan Selwyn, 2018.30.1.a-b4) Randy Carlson, Teapot, not dated, ceramic, 5 x 8¾ x 3 inches, Everson Museum of Art; Promised Gift of Karen Peller Selwyn and Philip Alan Selwyn, EL 1.4.2019