March & April 2022
Syracuse University Library & Onondaga County Public Libraries
Artist Dawn Williams Boyd has curated a list of book recommendations that have inspired many of the pieces in her recent exhibition Dawn Williams Boyd: Woe and now she wants to share them with you!
Much of Boyd's work explores historical and contemporary instances of social injustice. For Boyd, artworks are tools for educating viewers on the history of racial violence and abuse of power. Through her cloth paintings, Boyd is working to raise awareness, preserve a legacy, and prevent history from repeating.
To learn more about the stories referenced in her artworks, and to join Boyd's efforts to support history education, the Syracuse University Library and branches of the Onondaga County Public Libraries will each display eight books that informed Boyd's research.
Each book will be available for loan through the end of April at the Syracuse University Library and Onondaga County Public Libraries.
This program was made possible through a grant from The Coby Foundation, Ltd. and the Lenore G. Tawney Foundation.
That's Not All!
Don't miss Boyd's Virtual Talk and conversation with Harry T. Moore's grandson, Drapher "Skip" Pagan, and author Ben Green, who wrote Before His Time: The Untold Story of Harry T. Moore, America's First Civil Rights Martyr on March 30. Click below to register!
Dawn Williams Boyd Book List:
"Before His Time: The Untold Story of Harry T. Moore" by Ben Green

"The Negro in America" by Larry Cuban

"Ghosts of Mississippi: The Murder of Medgar Evers, the Trials of Byron De La Beckwith, and the Haunting of the New South" by Maryanne Vollers

"Without Sanctuary: Lynching Photography in America" by James Allen, et al.

"White Violence and Black Response: From Reconstruction to Montgomery" by Herbert Shapiro

"A Time of Terror: A Survivor's Story" by James Cameron

"Those Bones Are Not My Child" by Toni Cade Bambara

"Scott's Official History of the American Negro in the World War" by Emmett J. Scott
"I was ignorant of my own history as a Black American. That led me to the public library and my mother's personal library. It led me to people who knew more about African American history than I did. Once I found that section in the library, a new world opened up to me. As I travel through that world, snatches of text or music, or an image will catch my eye and engage my interest, and eventually, inspire my work."
-Dawn Williams Boyd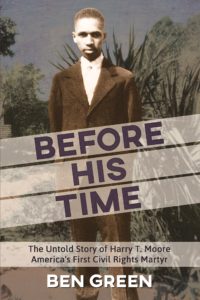 Before His Time: The Untold Story of Harry T. Moore, America's First Civil Rights Martyr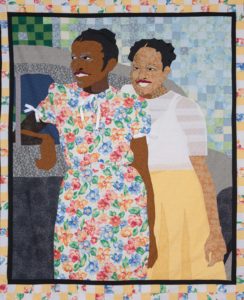 Dawn Williams Boyd, Peaches and Evangeline, Bibbs County. FL 1942, 2004, Mixed media, Courtesy of the artist and Fort Gansevoort