Angela Fraleigh: Between Tongue and Teeth
September 24, 2016 to December 31, 2016
Between Tongue and Teeth, Angela Fraleigh's first major museum exhibition, brings together over a decade of the artist's works which question and reimagine women's roles in art history, literature, and contemporary media. In a bravura style that weaves together realism and abstraction, Fraleigh creates striking works ranging from intimate portraits to monumental figure paintings. The exhibition features more than 30 pieces, including several new paintings and sculptures inspired by women activists, artists, and designers, as well as previous works based on historical paintings.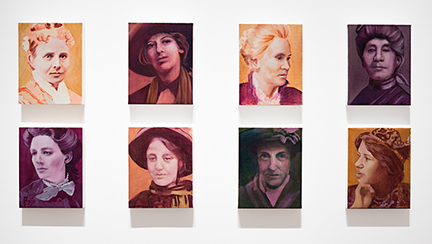 Angela Fraleigh: Between Tongue and Teeth exhibition includes portraits depicting often under-recognized suffragettes and others who fought for equal rights.
Since the mid-2000s, Fraleigh has explored power dynamics related to gender, sexuality, and class through depictions of mythical and historical female figures. Fraleigh's heroines, set within abstract, dream-like settings, frequently hail from centuries-old European paintings or other male-dominated sources where they have been relegated to the margins or shadows. Fraleigh liberates these peripheral characters and re-casts them as daring protagonists within newly-constructed narratives, thereby restoring their autonomy, agency, and power.
Fraleigh's environments couple the seen with the unseen: swirling abstract spaces combine with bold voids of color; thick pours of paint or lustrous metallic leafing obscure fleshy forms; turned heads and cropped faces reject the viewer's gaze. The ambiguity of these richly painted worlds, and the secretive nature of the females who inhabit them, create an unmistakable sense of allure. However, the resistance of Fraleigh's female protagonists to submission, helplessness, or passive visual consumption, challenges the roles women have traditionally occupied within artistic space.
Angela Fraleigh: Between Tongue and Teeth is curated by Elizabeth Dunbar, Director and CEO of the Everson Museum of Art. The exhibition is accompanied by a fully illustrated publication that includes essays by Kelly Baum, Curator of Post War and Contemporary Art at the Metropolitan Museum of Art and Jennifer Tyburczy, author of Sex Museums: The Politics and Performance of Display, as well as an interview with the artist conducted by Dunbar.
Between Tongue and Teeth is sponsored by Nicole & Michael P. Falcone, with support from Aminy Audi, Susan A. Estabrook, Bonnie & Gary Grossman, and Bobbi & Clifford Malzman. Catalog support from Cecily E. Horton. Additional support by Lucia B. Whisenand; Ellen & David Hardy; Elinor Spring-Mills & Darvin Varon; Jessica & Pat Danial; Margaret Smyth; Barbara Ferro; Carol S. Decker; Grace & Michael Flusche; Sandra Hurd & Joel Potash; Sandra & Eugene Kaplan; Dorothy & Harvey Pearl; Marilyn Pinsky; and Maryann Zeppetello.
About Angela Fraleigh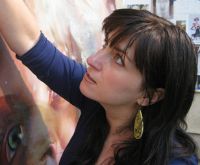 Fraleigh was born in 1976 in Beaufort, SC, and raised in rural New York. She received her BFA in painting from Boston University and her MFA in painting from the Yale University School of Art, then spent two years in Houston as a Core Artist in Residence. Fraleigh's solo exhibitions include Lost in the Light at the Vanderbilt Mansion in Hyde Park, NY (2015), Ghosts in the Sunlight at the Inman Gallery in Houston, TX (2014), and far as my eyes could see at the University of the Arts in Philadelphia, PA (2011), among others.
Among her awarded grants, residencies, and other recognitions are the Alice Kimball English Traveling Fellowship; the CORE Artist in Residence Program at the Glassell School of Art, Museum of Fine Arts; the Eliza Randall Prize at the Glassell School of Art, Museum of Fine Arts; the CACHH, Individual Artist Grant Fellowship, Houston, TX; the Faculty Research and Development Grant at Moravian College, Bethlehem, PA; Artist in Residence at the Kemper Museum of Contemporary Art, Kansas City, MO; Artist in Residence at Frans Masereel Centrum, Beligum; Artist in Residence at Can Serrat, El Bruc, Spain; Artist in Residence at the Bemis Center for Contemporary Arts, Omaha, NE; and studio membership at the Elizabeth Foundation for the Arts, New York, NY.
Fraleigh is a professor and the department chairperson of the Moravian College art department. She is represented by Inman Gallery in Houston, TX.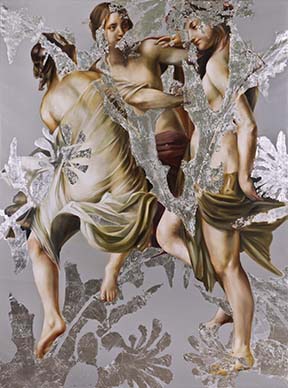 Angela Fraleigh. The breezes at dawn have secrets to tell, 2015. Oil and silver metal leaf on linen. 90 x 66 inches, Courtesy of the artist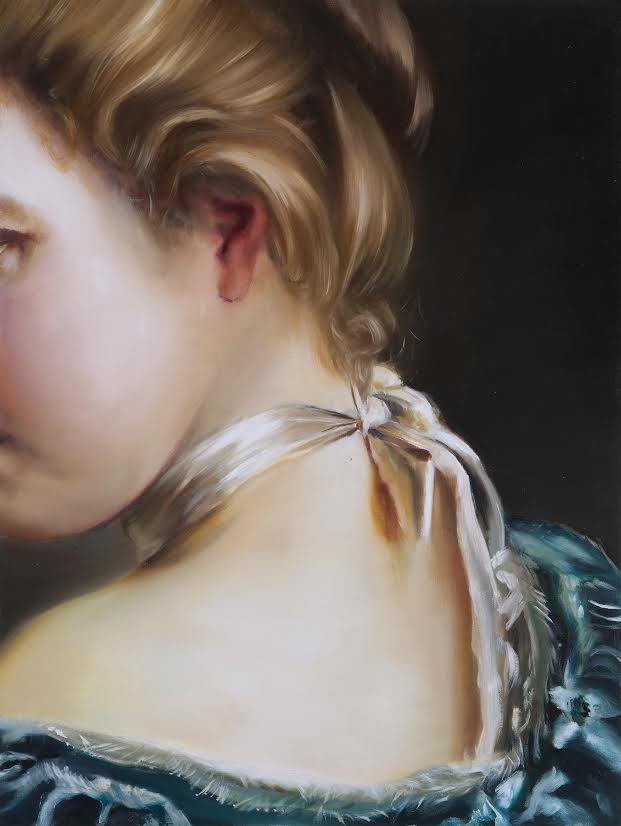 Angela Fraleigh, Constellation, 2016, oil on canvas.
Related Events
Art Connections! Educator Workshop
September 22, 4:30pm–7:30pm
$20 Members, $25 Non-Members
Pre-registration Required.
Be the first to experience Angela Fraleigh: Between Tongue and Teeth. Join the Education Department in a private viewing and tour with the artist. Fraleigh will discuss her work, lead a hands-on art-making workshop and provide ample opportunity for the exchange of ideas. This workshop will feed your artistic soul and serve as a catalyst for classroom project ideas. Light refreshments provided.
Download Angela Fraleigh Educator Resource Guide ›
Opening Night Reception
September 23, 2016
6:30–8:00pm
Free for Everson Members / $15 Non-Members
Celebrate the opening of all Fall exhibitions, meet the artists and enjoy live music, hors d'oeuvres and a cash bar.
Gallery Walk: Meet the Artist
October 13, 2016
6:30pm
Free with Museum admission
Artist Angela Fraleigh will offer a guided gallery walk of her and discuss selected works.
Family Guide
Fun facts about Angela Fraleigh and her inspiration for works at the Everson. A great tool for family interaction.