Super Bowls to Celebrate Super Bowl Sunday
While much of the country cheers on the Philadelphia Eagles and the Kansas City Chiefs at Super Bowl LVII, at the Everson we are celebrating in our own way — by taking a look at some super bowls in our collection. We probably won't put chips and dip in these bowls during the game, but this team of players is still worthy of the Vince Lombardi Trophy. For those who are fans of ceramic art, here's a lineup of super bowls selected from our collection for you to cheer on!
On display in the exhibition, The Ceramic Nationals: 1932-1972, this brown earthenware bowl is a large-scale work created in 1955 by Gertrud and Otto Natzler. The coarse, lava-glazed bowl measures in at a 12-inch diameter, slightly longer than a standard NFL football when measured from tip to tip. The artists, whose work greatly impacted American studio art in the second half of the 20th Century, are known for typically smaller and jewel-toned ceramic pieces with complex, drool-worthy glazes.
Another collection highlight is a bowl made in 1958 by Lucie Rie, a potter known as an unparalleled master of mid-century modern design. Rie plays with innovative forms to create ceramic works with signature tall feet, thin walls, and bold sgraffito design. The interior of this bowl, embellished with tightly etched geometric lines and splattered with specks of iron-rich stain, displays the potter's keen eye for design. Its deep cherry brown exterior beautifully juxtaposes the light color and complexity of its interior. An 11-inch diameter makes this bowl a star player in the Everson's collection, considering the agility needed to throw a vessel of this size.
Bringing vivid color into the lineup is a bowl created by Colleen McCall, a potter who applies a contemporary vintage aesthetic to her ceramic work. McCall makes pottery that excites its users, and this squiggly-brimmed bowl is an exemplar to her artistic vision. The bowl's yellow polka dot interior is filled with pastel florals, and when held in hand, its users are delighted with a bubble-like texture that is visually evocative of honey comb. As part of the Rosenfield Collection, this super bowl will be used in the Everson's café, Louise, opening soon.
Another winner in the Rosenfield Collection is a bowl created by Shoko Teruyama, a ceramicist whose work is inspired by tradition, sacred spaces, and ceremonial objects. The sgraffito designs of Teruyama's red earthenware ceramics give a whimsical feel and often include patterns and characters inspired by the artist's own experiences and human interactions. Teruyama's watercolor bowl has a warm, floral-patterned interior that juxtaposes a cooler, flattened outer rim. Its twisting blue and lilac vines are decorated with cloud-like forms that almost convince the eye that Teruyama's design is alive and moving. Now this is a super bowl!
— Natalie Rieth, Writing & Communications Intern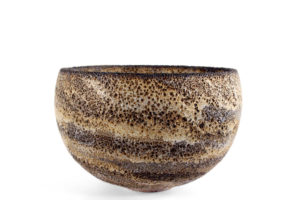 Gertrud and Otto Natzler, Bowl, ca. 1955, earthenware, 8⅜ x 12¼ inches, Everson Museum of Art; Purchase Prize given by United States Potters Association, 19th Ceramic National, 1956, 59.26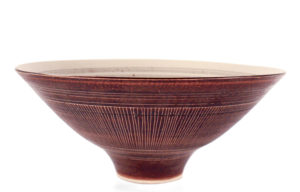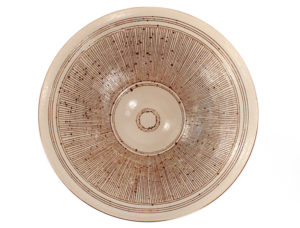 Lucie Rie, Bowl, ca. 1958, porcelain, 4½ x 11 inches, Everson Museum of Art; Museum purchase, 20th Ceramic International, 1958, 60.30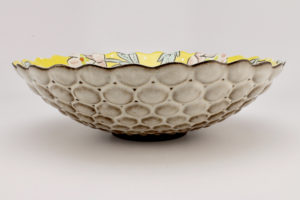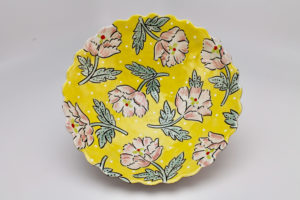 Colleen McCall, Large Bowl, ceramic, 11 x 4 inches, Rosenfield Collection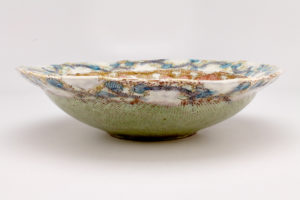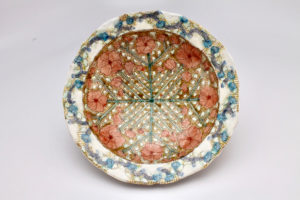 Shoko Teruyama, Large Bowl, ceramic, 10 x 3 inches, Rosenfield Collection