Haudenosaunee Pottery Workshop
Haudenosaunee Pottery Workshop
Taught by Natasha Smoke Santiago
Saturday, November 4, 2023 10:30am–12:00pm
$48 Member | $60 Non-Member  
All participants will join in on a hands-on traditional Haudenosaunee Pottery Workshop.
The Everson's Artist-in-Residence—Natasha Smoke Santiago—will demonstrate the historical components, including: the structure of a pot, building techniques, utilitarian purposes, and interpretation of designs. A variety of historical and modern tools will also be provided.
Reproduction and original archaeological pottery shards will be available for visual reference. Each participant will build and complete their own small pot. 
 
Meet the Everson's Artist-in-Residence—Natasha Smoke Santiago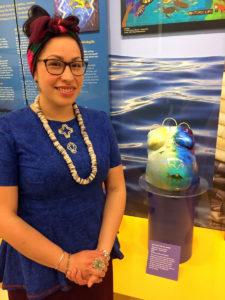 With the funding from Creatives Rebuild New York, the Everson has engaged Haudenosaunee artist Natasha Smoke Santiago for a two-year residency. 
During this tenure, Smoke Santiago will have the opportunity to expand her catalog and implement community partnerships, programming, special events, and art-making opportunities that will center on Haudenosaunee art and culture. Her work with the Everson will also dovetail with her efforts to explore and preserve Haudenosaunee food culture by collaborating with Indigenous chefs, farmers, seed-keepers, and healers. 
A Rochester-native brought up within Haudenosaunee culture, Smoke Santiago's work explores her native culture, contemporary life, the miracle of pregnancy, and the beauty of the natural world through mainly ceramic forms. Selected from an initial pool of over 2,700 applicants, Smoke Santiago is one of very few artists practicing today whose work attempts to resurrect and elevate the Iroquoian style of pottery.