Paper Clay Holiday Planters with Rebecca Hutchinson: Virtual & In-Person
Wednesday, December 14, 2022
5:30–8:30pm
In-Person: $64 Members | $80 Non-Member
Virtual: $40 Members | $50 Non-Member
This workshop is offered both in-person and virtually. Please use the correct link when registering.

Rebecca Hutchinson's exhibition Re-Generation features large, unfired paperclay vessels that display her paintings of rare orchids that thrive on local remediation sites around Onondaga Lake. Join us for a hands-on workshop with Rebecca Hutchinson that will demonstrate her creative process.
Participants will research holiday plants such as poinsettia, amaryllis, and box wood, and then build customized paper clay planters to showcase their winter florals. All levels welcome.
*Kiln-fired holiday planters need to be picked up the following week by participants.*
Register Now for In-Person Class
Register Now for Virtual Class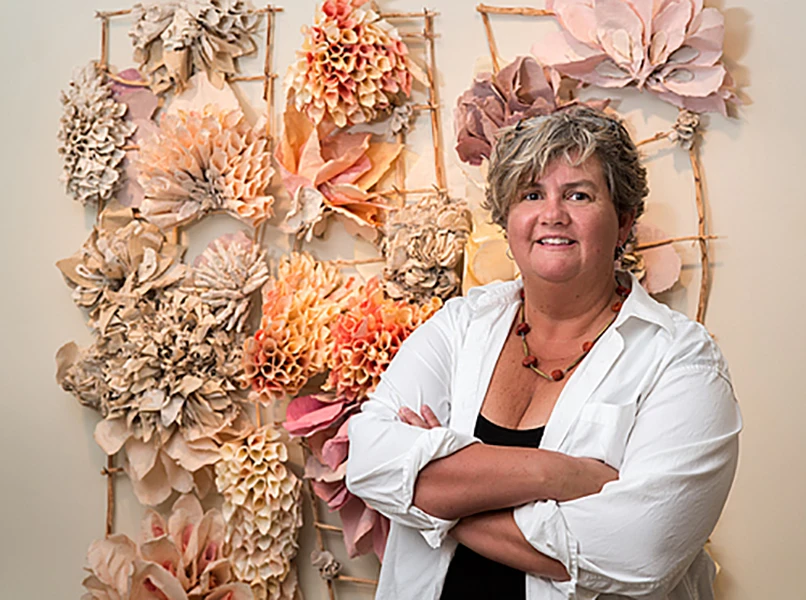 About the Artist
Rebecca Hutchinson received her MFA from the University of Georgia (Athens) and her BFA from Berea College. An award-winning sculptor, she was one of 12 recipients of the 2015 "Women to Watch" award from the National Museum of Women in the Arts in Washington, DC. A dedicated educator of over 20 years, she currently serves as full professor at the University of Massachusetts Dartmouth teaching undergraduate and graduate ceramics.
Hutchinson's sculptural work is informed by observations of the natural world, drawing inspiration from what she sees as its resilience and resourcefulness. Ranging in scale from site-installation museum projects to gallery sculpture, the work is a profusion of color harmonies, floral textures and absorbing detail. Found embedded in her work are locally sourced materials—native and natural as well as industrial and domestic cast-offs. The work is attentive to the emerging concerns of the Anthropocene: sustainability as an ethos, hybridity as a strategy, and growth as a set of negotiations. Her current work explores the theme of navigating boundaries both conceptually and aesthetically.
To learn more about Hutchinson, visit umassd.edu/directory/rhutchinson.