May 23, 2023
6:00 – 7:00 pm 
Everson's Book Club welcomes readers to its virtual discussions of books about art, artists and the art world. Fiction and non-fiction titles are chosen from a list of current and recently published writers. There are no tests or quizzes. The discussion leader encourages participants to share ideas and insights about the book. Book Club meetings start at 6:00pm and will occur approximately every eight weeks. A zoom link will be sent on the date of the discussion to all who are registered.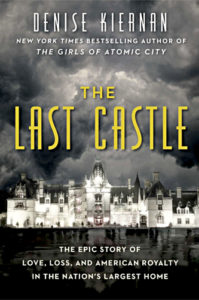 The Last Castle: The Epic Story of Love, Loss, and American Royalty in the Nation's Largest Home, by Denise Kiernan   
Orphaned at a young age, Edith Stuyvesant Dresser claimed lineage from one of New York's best known families. She grew up in Newport and Paris, and her engagement and marriage to George Vanderbilt was one of the most watched events of Gilded Age society. But none of this prepared her to be mistress of Biltmore House.
The story of Biltmore spans World Wars, the Jazz Age, the Depression, and generations of the famous Vanderbilt family, and features a captivating cast of real-life characters, including F. Scott Fitzgerald, Thomas Wolfe, Teddy Roosevelt, John Singer Sargent, James Whistler, Henry James, and Edith Wharton.
The Last Castle is the unique American story of how the largest house in America flourished, faltered, and ultimately endured to this day.
Feel free to bring your favorite choice of beverage on the Zoom call whether it's beer, wine, coffee, or tea. We look forward to a lively discussion! 
 
Books are available from the OCPL catalog. Please see link.  
If you are willing and able to support the author, copies can be purchased online or in person wherever fine books are sold. Audio copies of the book can be found on OCPL catalog and Audible.
Created in partnership with Onondaga County Public Libraries: Central Library. 
About Denise Kiernan
Denise Kiernan is an author, journalist and producer and has been working as a writer for more than 20 years. Her work has been published in The New York Times, Wall Street Journal, Village Voice, Ms. Magazine, Reader's Digest, Discover and many more publications.
Her  two books—The Last Castle and The Girls of Atomic City—were both New York Times bestsellers in hardcover and paperback. The Last Castle was a Wall Street Journal bestseller, a finalist for the 2018 Thomas Wolfe Memorial Literary Award and a finalist for the Southern Book Prize.