Syracuse Arts & Crafts Festival—Activities for Kids!
July 29—31
10:00am—3:00pm
Free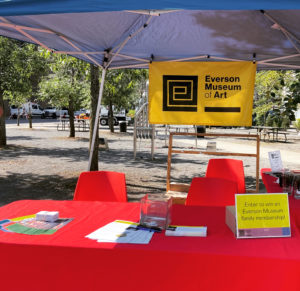 Stop by the Everson's booth at this year's Arts & Crafts Festival! On Saturday, July 30 from 10am—3pm, kids are invited to become architects for the day! Next to the "The Mission" building we'll be hosting an architecture activity where kids can draw and/or build replicas of some of Syracuse's most iconic architectural gems using re-purposed materials (provided). They will learn about different architectural styles and elements and how to incorporate sustainability and re-purposed materials in future craft projects.
The Fingerboard Skate Park Orchestra will also be set up near our booth for an Open Community Skate Session on Saturday from 10am—Noon!
What is the Fingerboard Skate Park Orchestra?
The Fingerboard Skate Park Orchestra is a nomadic socially engaged project that brings together local skateboarders to fingerboard and simultaneously perform a live outdoor sound work.
Learn More