The Jackie Warren-Moore Monologue & Poetry Festival
Sunday, July 17, 2022
8:00–9:15pm
Everson Museum of Art (Outdoor Community Plaza)
Rain location/time: Everson Hosmer Auditorium, 7:00pm
Enjoy a special video projection of the late author, activist, and columnist Jackie Warren-Moore reading her passionate poem, "Dear Martin." Also featuring performances by young "Word Warrior" artists including Alaa Laila, 17, and Warren-Moore's granddaughter, 14-year-old Nya Jordan, music by the Syracuse Choir, dance, a raffle of the poet's books by the Black Artist Collective.
Chairs and blankets are encouraged.
Presented by the Everson Museum of Art and Light Work UVP, sponsored by M&T Bank.
Festival support provided by the Central New York Community Foundation – Black Equity & Excellence grant, and Tier Three Program Support, a regrant program of Onondaga County with the support of the County Executive and administered by CNY Arts.
About Jackie Warren-Moore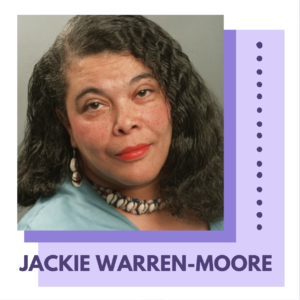 Jackie Warren-Moore (1950-2021) was a poet, playwright, theatrical director, activist, teacher, and freelance writer. Her work has been published nationally and internationally.
In 2021, Warren-Moore was named Onondaga County's first poet laureate for her many contributions to the Syracuse community. She was a welcome and necessary force for good in this community, as an advocate for the arts, and in troubling times, for healing and communing together in creative ways.
The role of the Onondaga County poet laureate is to celebrate the poetic voices in this county, contribute to the growth, access, and awareness of poetry throughout the county, encourage the reading and writing of literature and use the art of poetry to enlighten, educate, entertain, transform and inspire established and emerging generations of literary artists and readers of literature. Ms. Warren-Moore did all that and more in her lifetime.
"She described herself as a Survivor, a woman who survived racism, sexism, sexual abuse, and physical abuse. She regarded her poetic voice as the roadmap of her survival, a way of healing herself and of speaking to the souls of others."
– Stephen Butler, Director CNY Arts