Welcome to Kutsher's: The Last Catskills Resort
Welcome to Kutsher's: The Last Catskills Resort
Screening and Director Q&A
October 27, 2022
6:00–8:00pm
Free with price of Museum admission
Join us for a screening of the documentary "Welcome to Kutsher's: The Last Catskills Resort," which follows one of the last surviving Jewish resorts in the Catskills. One of the legendary Borscht Belt hotels during its heyday, Kutsher's has been family-owned and operated for over 100 years. Exploring the full Dirty Dancing-era Catskills experience, and how it changed American pop culture in the comedy, sports, and vacation industries
Join us for a screening of the documentary "Welcome to Kutsher's: The Last Catskills Resort," which follows one of the last surviving Jewish resorts in the Catskills. One of the legendary Borscht Belt hotels during its heyday, Kutsher's has been family-owned and operated for over 100 years. Exploring the full Dirty Dancing-era Catskills experience and how it changed American pop culture in the comedy, sports, and vacation industries—this documentary captures a last glimpse of a lost world as it disappears before our eyes.
Immediately following the screening, join the film's creators Caroline Laskow and Ian Rosenberg, virtually on zoom for a Q&A.
Make time before the screening to explore the current and related exhibition Raymon Elozua: Structure/Dissonance. In 2005, Raymon Elozua moved from New York City to Mountain Dale, a tiny hamlet in the Catskills where the "Borscht Belt" resorts, many of which were Jewish resorts, flourished from the 1920s through the 1970s. By the time Elozua arrived, Mountain Dale had become a ghost town, with empty storefronts filling its main street. Elozua immediately grabbed his camera and began to explore the area's decaying bungalows, camps, resorts, houses, and synagogues. The monumental outcome of this period is Vanishing Catskills, a set of six self-published books accompanied by a website (www.VanhishingCatskills.us) laden with photography, maps, writings, and research. Some of the iconic photographs from Elozua's series Vanishing Catskills are included in the film.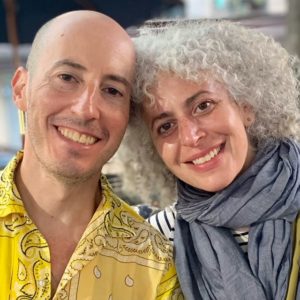 Caroline Laskow & Ian Rosenberg directed and produced Welcome to Kutsher's: The Last Catskills Resort (2012 New York Jewish Film Festival at Lincoln Center, Closing Night Selection; Best Documentary Audience Award, Miami Jewish Film Festival), which was released in 2015 by Menemsha Films after a theatrical run in New York, California and Florida. Together they also directed and produced Wilt Chamberlain: Borscht Belt Bellhop for ESPN Films' Emmy-winning 30 for 30 Shorts series (2013 Tribeca Film Festival premiere). The short documentary reached over a million views online in a series record time, played at more than 20 film festivals internationally, and was broadcast on ESPN.
Caroline also directed (with Mary Wigmore) Ashtanga, NY a yoga documentary, which premiered at the 2003 Tribeca Film Festival, and won Best Documentary at IndieFest in Chicago. Ashtanga, NY (featuring Pattabhi Jois, Sharath Rangaswami, Gwyneth Paltrow, Mike D, Willem Dafoe) is distributed by First Run Features and has been broadcast on Discovery and internationally. She is the co-author of The Soup Club Cookbook, published by Random House in 2014, and is a Democratic District Leader in New York City.
Ian was nominated for an Emmy for producing the documentary Finishing Heaven, directed by Mark Mann, which premiered at the 2008 Los Angeles Film Festival and was broadcast on HBO in 2009. He is also a media lawyer, and the author of The Fight for Free Speech (NYU Press) and the non-fiction graphic novel Free Speech Handbook (Macmillan/First Second).