March 18 – April 30, 2023
Alison Altafi uses hand-spun and hand-dyed yarns in unexpected ways to create abstract, colorful fiber works. A self-taught artist, Altafi explored traditional weaving techniques before developing her unique method for weaving in the round.
Unlike traditional weaving, where the finished piece is removed from the loom, in Altafi's work the loom remains as the internal structure of the weaving, allowing the artist more freedom for experimentation. The resulting vibrant, textured weavings appear magical and otherworldly, microcosms for the universe or portals to other worlds.
Above all, Altafi's works are grounded in a cathartic and meditative practice that provides an enchanting escape for both artist and viewer.
Alison Altafi: Reverie is part of the Everson CNY Artist Initiative, an exhibition program that celebrates the multi-faceted talents of regional artists. The CNY Artist Initiative has been made possible with support from Terry and Bill Delavan.
Alison Altafi is a self-taught fiber artist based in Syracuse, New York. She explores fibers in unexpected ways, creating weavings-in-the-round that appear to be portals to other worlds. Their magical, otherworldly, textured, and fantastical abstract surfaces could be microcosms for the universe.
Altafi's unique process involves transforming metal frames into looms, which she then weaves onto. Unlike traditional weaving, where the tapestry is removed from the loom upon completion, with Altafi's process, the loom becomes a part of the internal structure of the work, providing both a frame and a structure. She uses the loom like a canvas, and the yarn becomes her paint.
For Altafi, the weaving process is just as important as the final work. It functions as a form of escapism, and is cathartic and meditative.
A Conversation with Alison Altafi
by Natalie Rieth, Writing and Communications Intern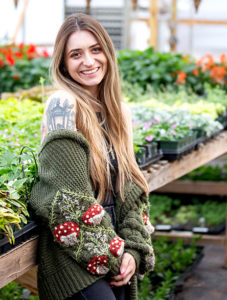 When Alison Altafi weaves she lets her intuition help her determine the color and design of her whimsical works. Altafi thinks of her fiber art as portals into other worlds — places she hopes viewers can escape into as they glance at her multi-colored and textured woven creations. Altafi is a non-traditional weaver who started creating standard tapestries in her twenties. Now, Altafi mostly weaves in the round, a self-meditative process that she's adapted and explored in recent years. Altafi is enthusiastic about creating works with sustainably sourced fibers, hand-spun and dyed yarns, and recycled textiles. In some of her larger works, Altafi will weave with yarns sourced by more than 50 independent, and oftentimes, CNY-local, spinners.
Tell us about your use of color. How do you decide the color palette you use for a project, and what are your favorite colors to work with?
Color plays a huge role in my work and I often let my materials guide me. Almost all of the yarn I use is hand-spun and hand-dyed, which means they are unique and one of a kind. I usually start with a single skein (or length) of yarn that I love and use the colors within that skein as a jumping-off point for the larger tapestry. And, I enjoy "melting" colors together, especially colors that may not seem complimentary at first glance. I achieve this by blending different colors of wool in my drum carder and using that blend to create new yarn or a "fiber bomb."
What inspired your "fiber bombing" technique? In what other ways do you incorporate texture into your weaving?
My "fiber bombs" are cocoon-like structures I spin up and weave into my work to achieve that big, bubbly texture. I started making fiber bombs a few years ago to help me achieve a bigger texture in my work. I actually broke my spinning wheel the first time I tried to make one, but with a lot of trial and error I finally figured it out. I love the depth they add to my pieces.
What are you thinking about while you create your fiber art, and how do you hope your work makes its viewers feel?
I weave with intention which to me means channeling my feelings into my work. I feel that weaving in the round is very methodical and cathartic and working with handspun fibers gives me a soft space to sit with myself and my thoughts. I hope my work can provide the same thing for others — a safe and soft space to get lost in.
How does your choice to weave on metal frames influence the stylistic outcome of your fiber art?
The metal frames I weave within perpetually hold the tension of my warp strings. While this does mean the weaving is never removed from the frame, it gives me so much more room to get creative with texture because I do not have to worry about tension issues. The frames I weave within allow me to get lost in my work without having to worry about the technicalities of traditional tapestry weaving.
Can you tell us about your involvement in the fiber art community and dedication to using sustainable materials?
The fiber art community is such a special place. I've forged friendships with other fiber artists and spinners all around the world as well as right here in my backyard. Being present and active within this community has opened so many doors for me and I am forever thankful for my fiber friends. In terms of sustainability, I personally haven't thrown away any scrap or loose fibers in years — it can all be repurposed. I save my scraps to be spun back into yarn or to weave back into my tapestries. The extremely small pieces I save to weave into my tiny lucky horseshoes (a few will be for sale in the Everson gift shop).
Altafi's work is on view at the Everson from March 18 to April 30, 2023.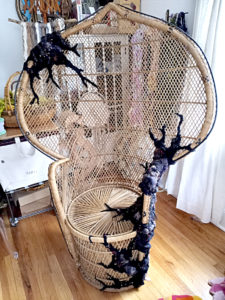 What have we done? 2022
Mixed fibers and glass beads on a wicker chair, 58 x 42 x 21 inches
Courtesy of the artist