From Funk To Punk: Left Coast Ceramics
November 11, 2017 to April 15, 2018
From Funk to Punk: Left Coast Ceramics brings together an eclectic group of artists whose varied aesthetic and conceptual styles capture the evolution of ceramics in California, Oregon, and Washington. The exhibition is organized by Peter Held, a longtime curator in the field and acknowledged expert in West Coast ceramics. According to Held, this survey aspires "to track the real and perceived discrepancies between work on opposite coasts of the United States; provide opportunities to experience works by artists who lack broad exposure in the East; and lastly, share his passion for the pioneering and revolutionary artists in the field who challenge prevailing preconceptions stifling the potential of the medium."
This exhibition features a number of pieces from the Everson's historical collection—the Funk—alongside works by 24 contemporary artists who are inspired by personal artistic vision while cognizant of their region's history—the Punk. Their examination of place explores an aggregate of geographical, cultural, and familial histories past and present, embedded and examined in contemporary culture. These artists work with unfettered freedom, curiosity, and passion much like their predecessors, paving the way to redefining 21st century ceramics.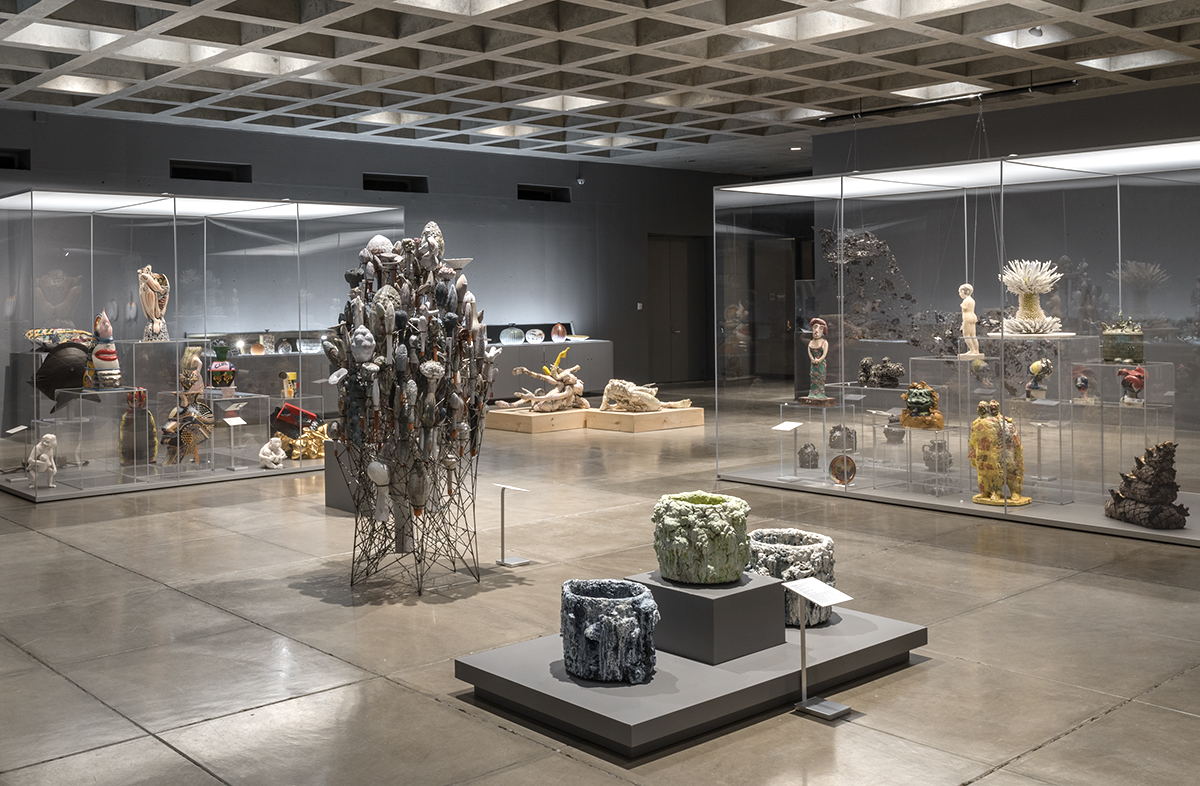 Held writes: "The Funk Art movement reflected the deeply held personal, political, and spiritual beliefs of its makers. The counter-culture revolution of the sixties spawned more than anti-war protests, long hair, and flower power. It also impacted all art forms, where rebellion against the status quo manifested new art forms and modes of expression. This movement defined a dynamic period in social, political, and artistic upheaval that was influential in the development of contemporary American ceramics. With roots in Dada, Surrealism, and the Beat ethos of the 1950s, the Funk ceramists shared aesthetic tendencies with parallel movements, including the cooler Pop artists, the California Assemblagists, Neo-Dadaists like Robert Rauschenberg and Jasper Johns, and the Chicago Imagists.
My use of Punk in the exhibition title alludes to the attitudes of successive generations that followed the pioneering Funk artist that continued to challenge authority in the same manner that punk rock birthed in the 1970s. Punk rock and its associated lifestyles criticized the status quo and challenged prevailing cultural and social mores. Punk lyrics were in your face; loud, unapologetic, fearless, and subversive in nature. This rebelliousness was not isolated to music alone; it spawned the DIY, zine, and craftivism movements, alternatives that spawned a new visual aesthetic such as Graffiti art, Neo-Expressionist painting, and graphic design, some which is evidenced in From Funk to Punk."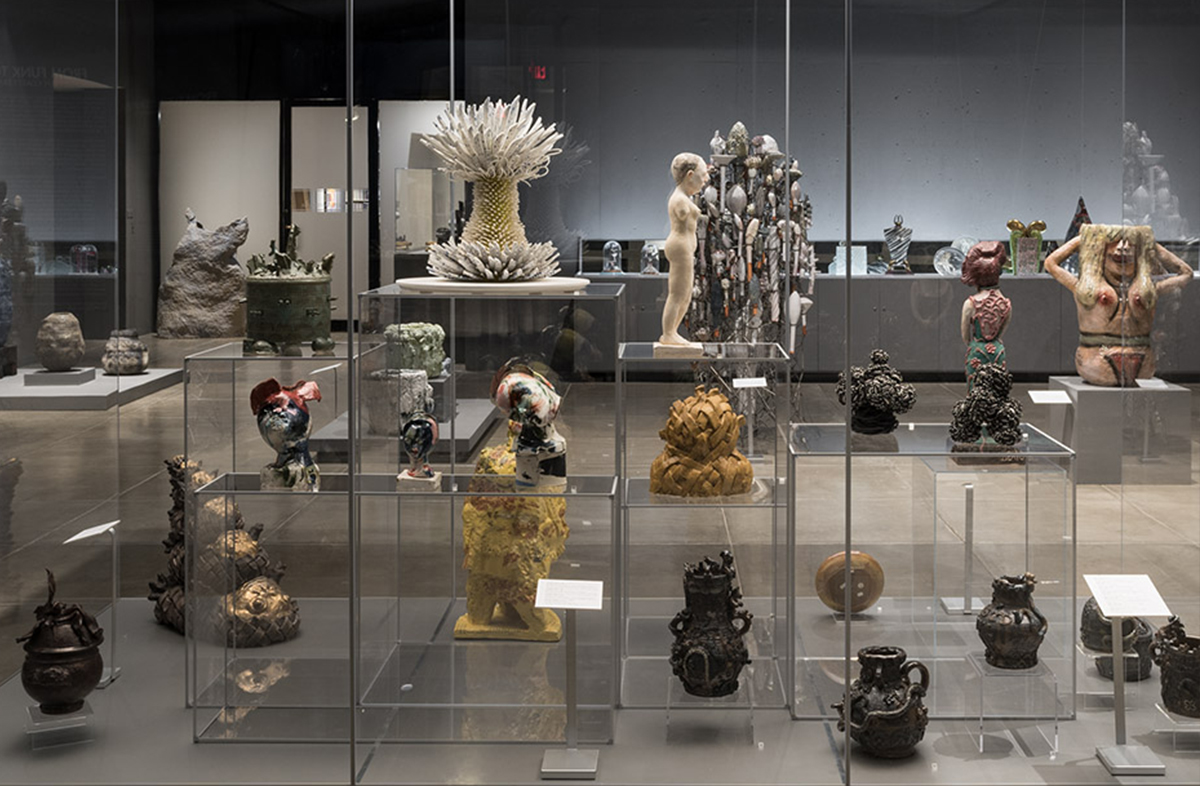 With work dating from 1936 through 2017, From Funk to Punk: Left Coast Ceramics documents an 81 year span of West Coast ceramic production, allowing us to examine the significant contributions artists on the "left coast" have made as each successive generation found innovative ways to navigate dramatic swings in studio practice, the marketplace, academia, collecting, and exhibition.
From Funk to Punk: Left Coast Ceramics is made possible through support from the Richard Mather Fund.
From Funk to Punk: West Coast Ceramics Artist List:
Robert Arneson, Ralph Bacerra, Carlton Ball, Tanya Batura, Sascha Brastoff, Patsy Cox, Stephen De Staebler, Viola Frey, David Gilhooly, Vivika & Otto Heino, David Hicks, Ben Jackel, Doug Jeck, Anabel Juárez, Jennie Jieun Lee, Howard Kottler, James Lovera, Glen Lukens, Tony Marsh, John Mason , Kate MacDowell, Harrison McIntosh, Jeffry Mitchell, Kristen Morgan, Ron Nagle, Gertrude & Otto Natzler, Ruby Neri, Richard Notkin, Zemer Peled, Ken Price, Antonio Prieto, Myrton Purkiss, Brian Rochefort, Jerry Rothman, Adrian Saxe, Anna Sew Hoy, Richard Shaw, Peter Shire, Adam Shiverdecker, Adam Silverman, Meghan Smythe, Robert Sperry, Akio Takamori, Henry Takemoto, Ehren Tool, Peter Voulkos, Patti Warashina, Beatrice Wood, and Wanxin Zhang.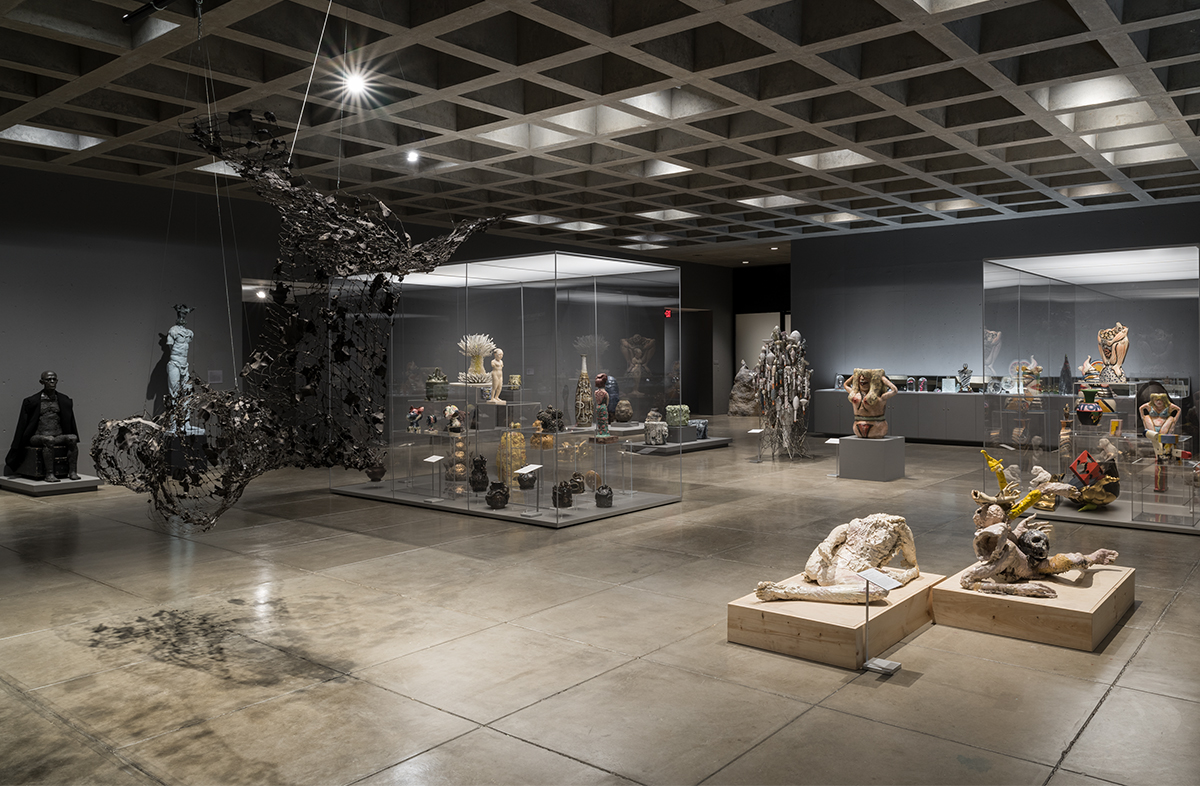 Peter Held, Guest Curator
In the course of Peter Held's impressive three-decade career as a museum director and contemporary art curator, he has organized more than 200 exhibitions, including seven national traveling shows. Acknowledged as a national authority on modern and contemporary studio ceramics, he has received three of the highest accolades possible within the field: the Ceramic Lifetime Achievement Award from the Friends of Contemporary Ceramics (2007); the Smithsonian's James Renwick Alliance Distinguished Educator Award (2014); and the National Council for Education on the Ceramic Arts Honorary Member Award (2014).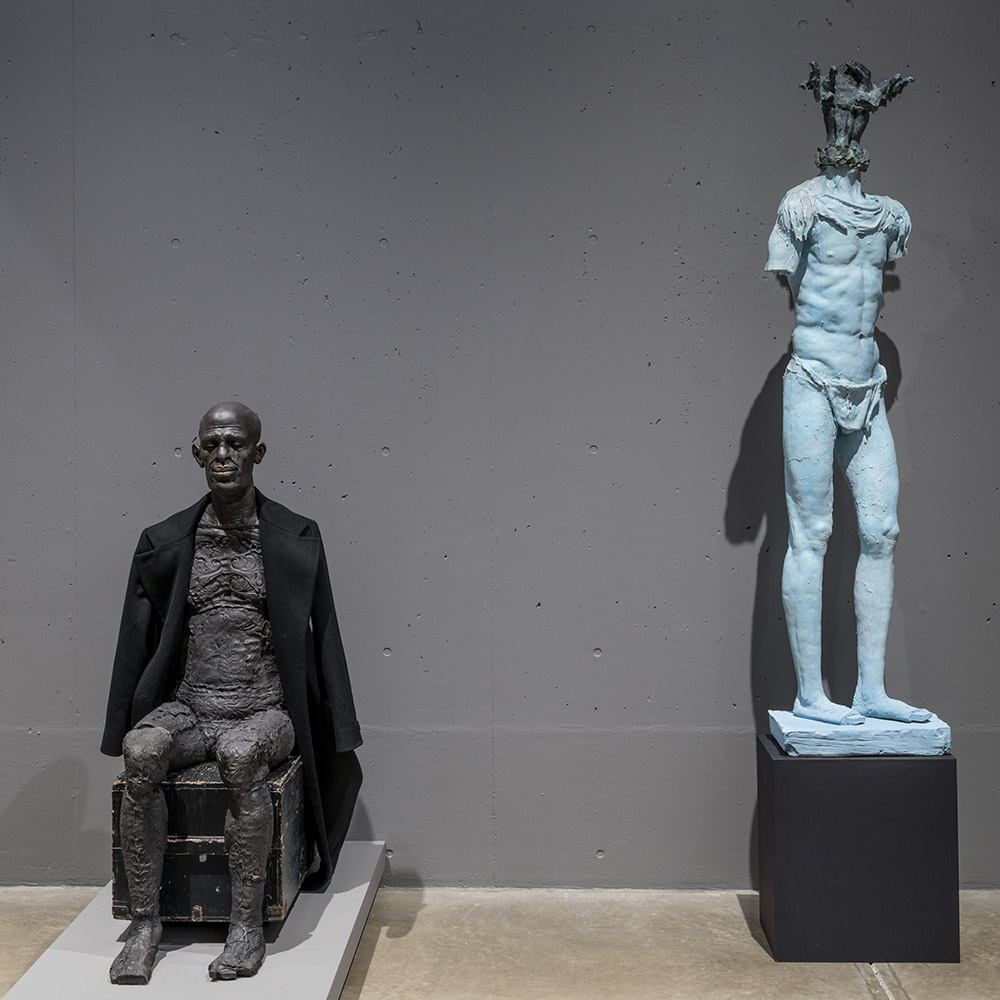 Left: Doug Jeck
Deacon, 2016
Stoneware, graphite, wood, and wool, 50 ½ x 24 x 41 inches
Courtesy of Traver Gallery, Seattle
Right: Doug Jeck
Disciple, 2015
Clay, aqueous patina, paint, wood, and cement, 93 x 24 x 16 inches
Courtesy of Traver Gallery, Seattle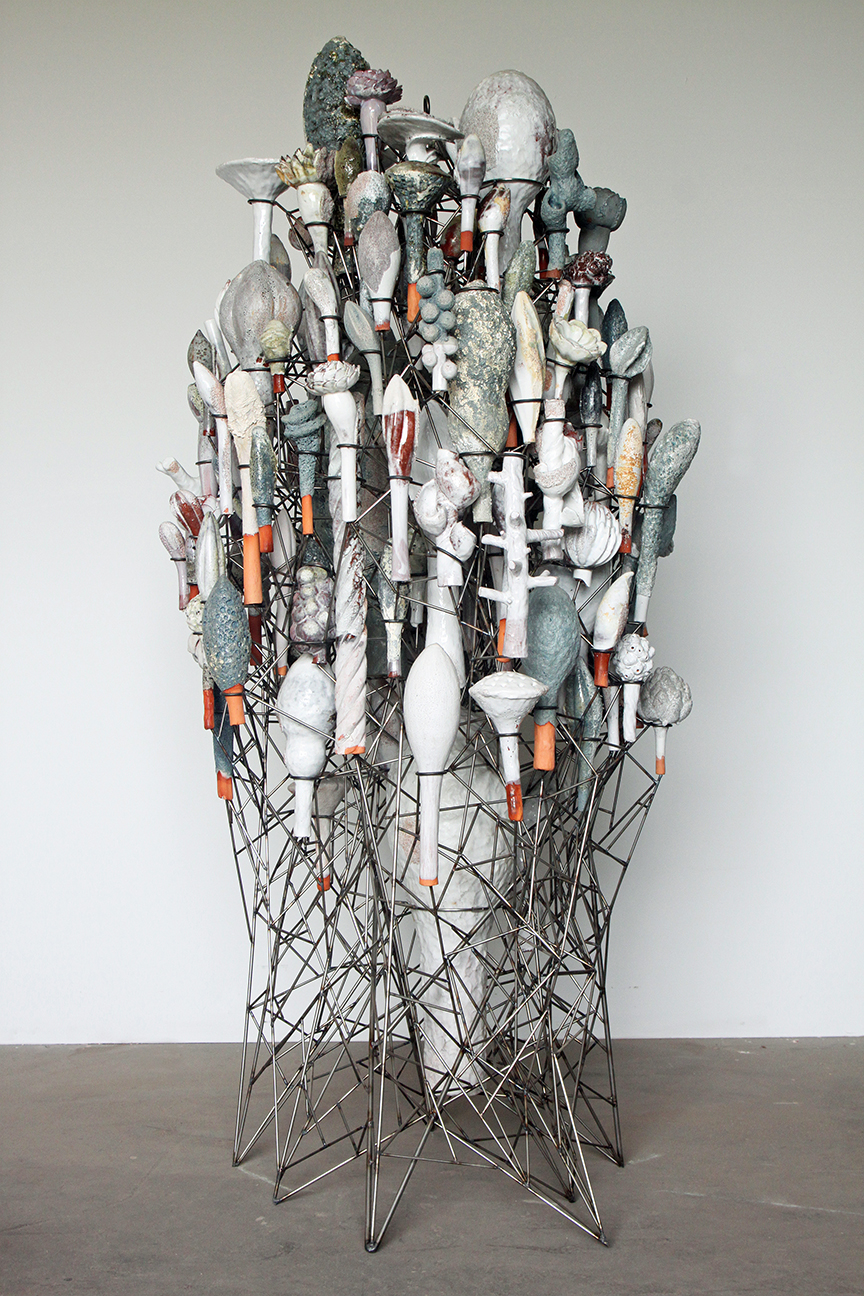 David Hicks. Pale Shrub, 2015. Glazed earthenware and stainless steel, 80 x 41 x 38 inches. Courtesy of the artist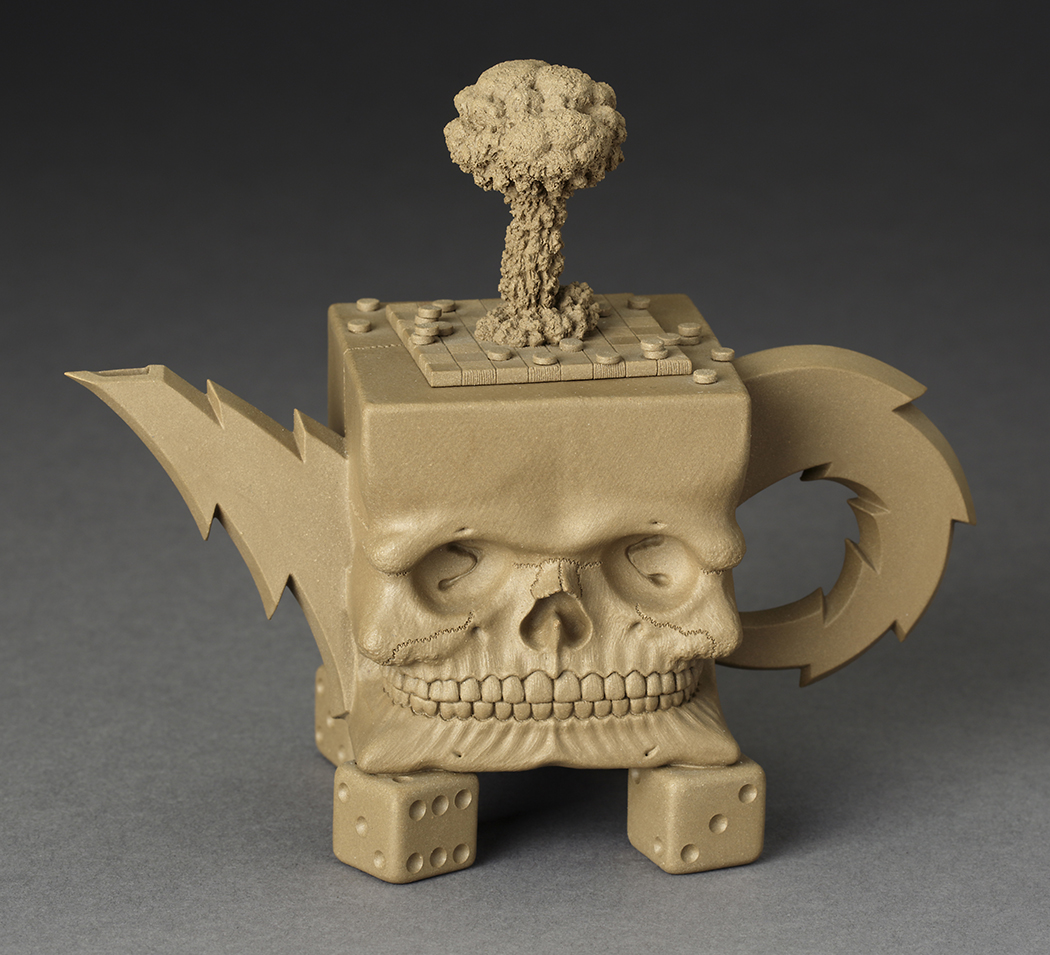 Richard Notkin. American (b. 1948). Cube Skull Teapot (Variation #6, Yixing Series), 1985. Stoneware. 5.25" x 6" x 2.75". Purchase Prize given by the Robert and Dorothy Riester Fund, 27th Ceramic National, 1987. PC 87.37.7.a-b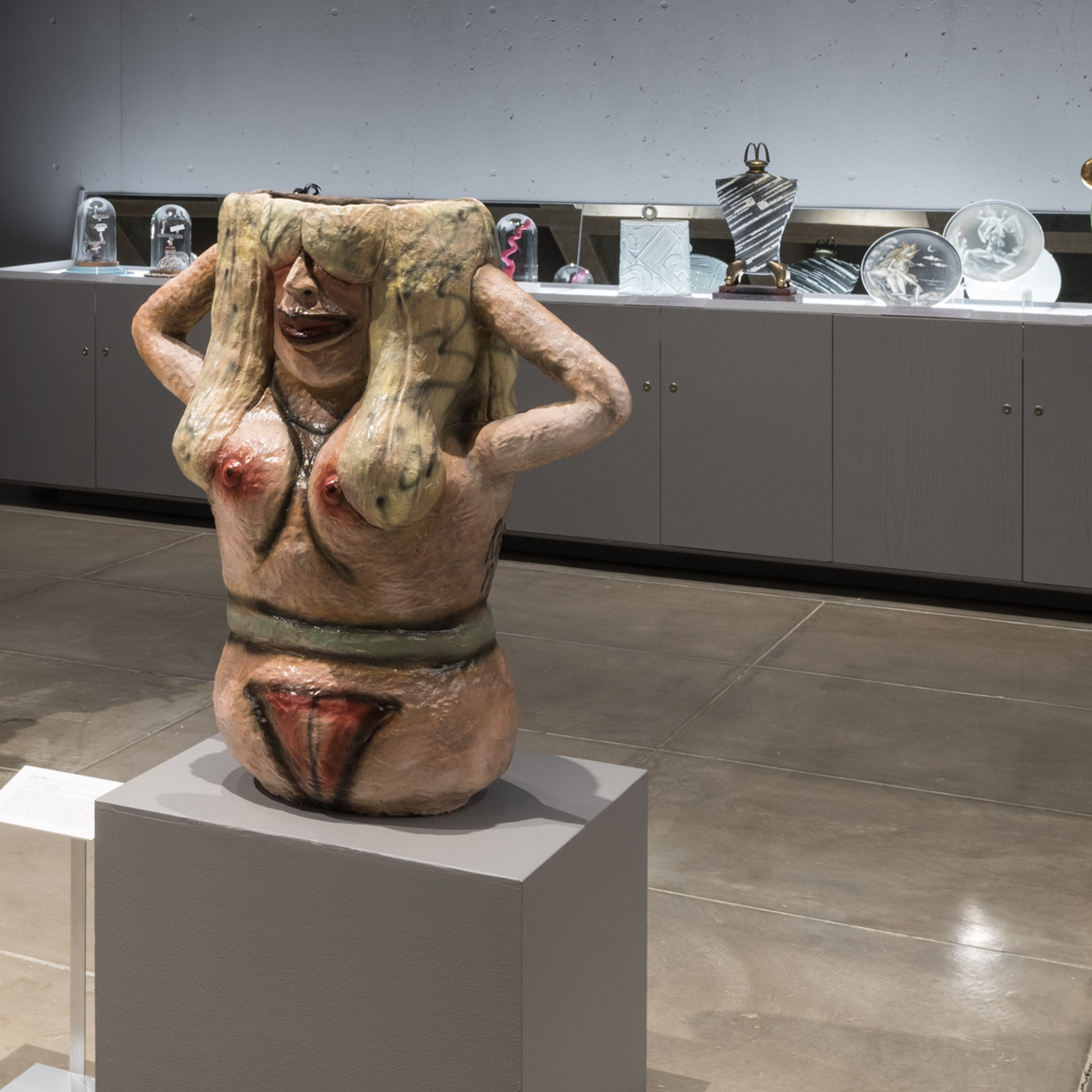 Ruby Neri. Untitled, 2015. Ceramic with glaze, 35 x 32 x 18 inches. Courtesy of the artist and David Kordansky Gallery, Los Angeles
Related Events
Ceramics Symposium 2017
November 10–12, 2017
Celebrate the opening of our new ceramics exhibition, "From Funk to Punk: Left Coast Ceramics". Symposium includes a series of conversations, lectures, and gallery tours, discussion about our current dynamic artistic landscape with an emphasis on capturing the spirit and innovation of West Coast art and the Everson's history of collecting and supporting this cross-continental dialogue.
Docent-Led Tour: From Funk to Punk
November 16, 6:00pm
Free Third Thursday
Lunch And Learn: Lunch And Learn: From Funk To Punk: Left Coast Ceramics
November 29, 12:15 –1:00pm
Pay-What-You-Wish-Wednesday
Discussion led by Elizabeth Dunbar, Everson Museum Director & CEO
Eighth Annual Ceramic Arts Lecture: Featuring Visiting Artist Roberto Lugo
January 18, 2018
6:30pm | Everson Hosmer Auditorium
Free and open to the public
Presented in conjunction with Syracuse University Department of Art and the CAC Foundation