From the Earth: Contemporary Haudenosaunee Clay and Stone
December 1, 2016 to October 22, 2017
Artists and crafts people from cultures around the world make ceramic pots and vessels using methods and techniques passed down from one generation to the next. The Haudenosaunee, an alliance of the Mohawk, Oneida, Onondaga, Cayuga, Seneca, and Tuscarora Nations, follow their own ceramic traditions, which date back for centuries. Prior to European contact, Haudenosaunee pots and containers were made from raw clay dug out of the ground, which was then rolled into snake-like coils, shaped into forms, and smoothed by hand. These vessels were often decorated with incised designs or patterns and always served a functional purpose, whether for cooking or storage. In the 17th century, European contact eradicated these long-held traditions. The introduction of metal pots quickly replaced old-style clay cooking pots and vessels, due in part to their durability and the ease of acquiring the pots through trade. It was not until the latter half of the 20th century that Haudenosaunee artists began to recover their traditional ceramic methods, which they are now teaching to a younger generation. Carving in stone also became popular in the late 20th century as an additional form of artistic expression.
This exhibition features the work of five contemporary Haudenosaunee artists represented in the Everson's collection—Tom Huff, Ada Jacques, Peter B. Jones, Tammy Tarbell-Boehning, and Steve Smith—whose work signifies a revival of earlier Haudenosaunee traditions. These five artists draw upon their cultural heritage and blend traditional artistic methods with modern techniques to make pots, jars, vases, and figurative sculpture that speak to the past and resonate with the present.
Tom Huff
Tom Huff is a sculptor who primarily works with stone, although he also creates mixed media works and installations. Huff began carving stone, wood, and antler at a young age and later attended the Institute of American Indian Arts in Santa Fe, New Mexico, where he learned traditional stone carving methods, and later at the Rhode Island School of Design, where he expanded his education by learning alternative carving methods. The artist's stone and mixed media sculptures often address both the cultural history and present-day life of Native Americans and reference a blend of cultural, stereotypical, political, and autobiographical elements.
Ada Jacques
Throughout her life, Ada Jacques experimented with various art forms, including painting and beadwork, but she did not learn pottery until age 68, when she enrolled in a ceramics class at Onondaga Community College. After this course, and several at Syracuse University, Jacques established a studio at her home on the Onondaga Nation. She purposefully worked in several different clay media and used a variety of firing methods, wanting to become fluent with all types of pottery. Jacques drew upon both traditional and contemporary influences for her designs, often referencing the history of her family and clan.
Peter B. Jones
Peter B. Jones uses ancient forms and contemporary techniques in works that interpret and provide social critique of contemporary Native American life. At age sixteen, Jones moved to Santa Fe, New Mexico to attend the Institute of American Indian Arts, where he studied under legendary Hopi ceramist Otellie Loloma and was influenced by the diverse backgrounds of his classmates. Throughout his decades-long career, Jones has produced works of pottery and sculpture using traditional Haudenosaunee methods of construction, maintaining a connection to the aesthetics and values of his heritage. Using materials inspired by ancient traditions and methods, Jones' work records his people's way of life and negotiates the status of native peoples in contemporary society. Jones is credited with reinvigorating traditional pottery practice among the Haudenosaunee, and he is recognized as one of the most accomplished Haudenosaunee artists working today.
Tammy Tarbell
Tammy Tarbell-Boehning first developed her passion for working with clay while studying as an undergraduate at Syracuse University and today is known for her ceramic vessels and sculptures. Her vessels are influenced by the shapes and designs of historic Haudenosaunee pottery and she frequently incorporates traditional materials such as feathers, hide, and glass beads into her work. Tarbell-Boehning's sculpture is often figurative, showing a representation of Native American women, and combines traditional methods of construction with more modern techniques and materials.
Steve Smith
Steve Smith was born and raised on the Six Nations Reserve in Ontario, Canada, and originally learned pottery from his mother, who devoted her life to reviving traditional Haudenosaunee styles and methods. Due to this influence, Smith typically creates vessels using old Haudenosaunee forms, which he then decorates with geometric designs and patterns, inspired by images of clan animals, plant life, and other symbols representing the natural world. Smith engraves his designs into un-fired clay by hand, and while he follows traditional methods, the decorations are typically more elaborate than those made by his ancestors. Smith's work is also heavily influenced by southwestern Native American pottery, as well as Mayan and Aztec designs.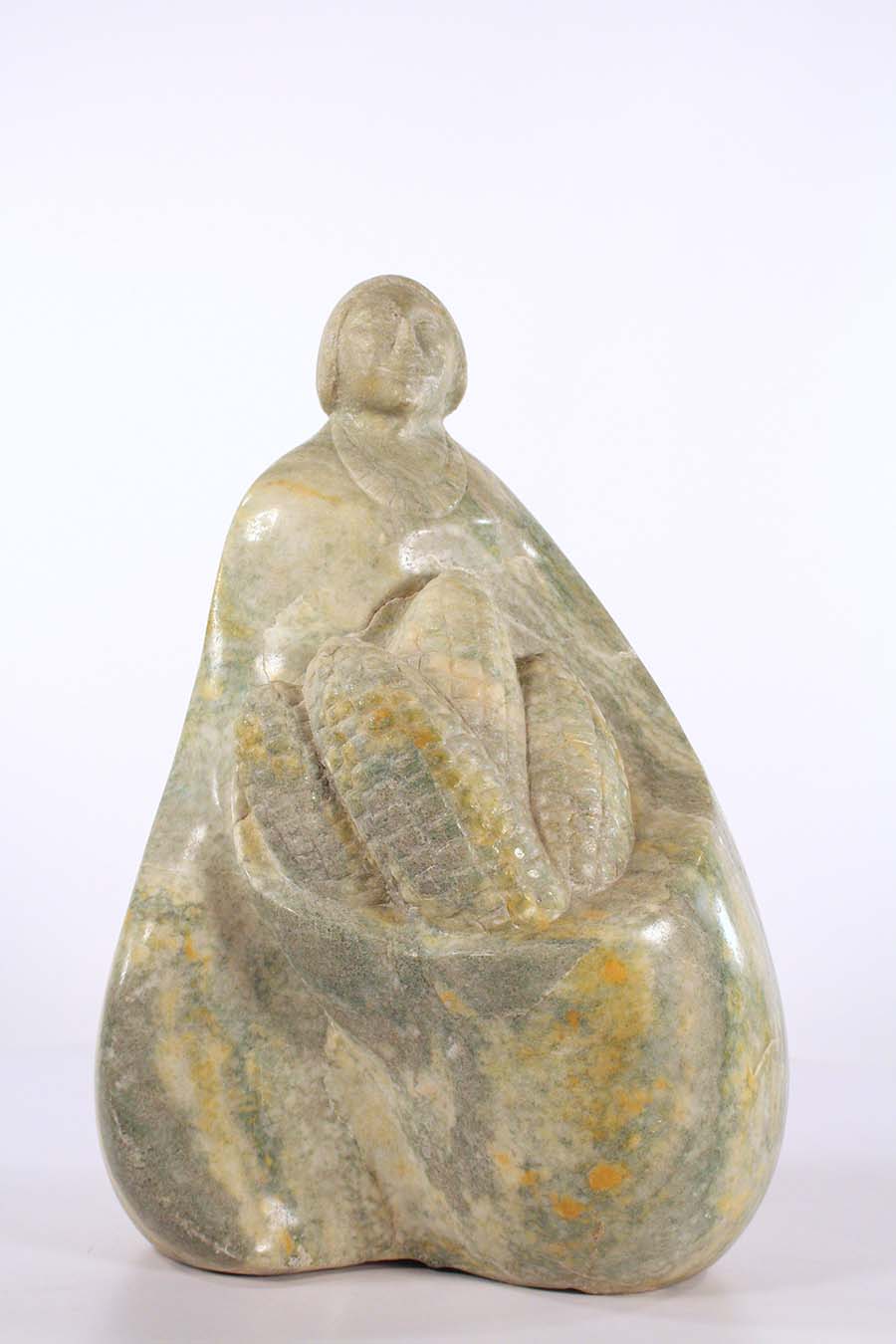 Tom Huff. Seneca-Cayuga, Deer Clan (b. 1952). Early Harvest, or Green Corn, ca. 1980s. Alabaster. 13 1/8 x 9 1/2 x 7 1/4 inches. Gift of the Dorothy and Marshall M. Reitman Foundation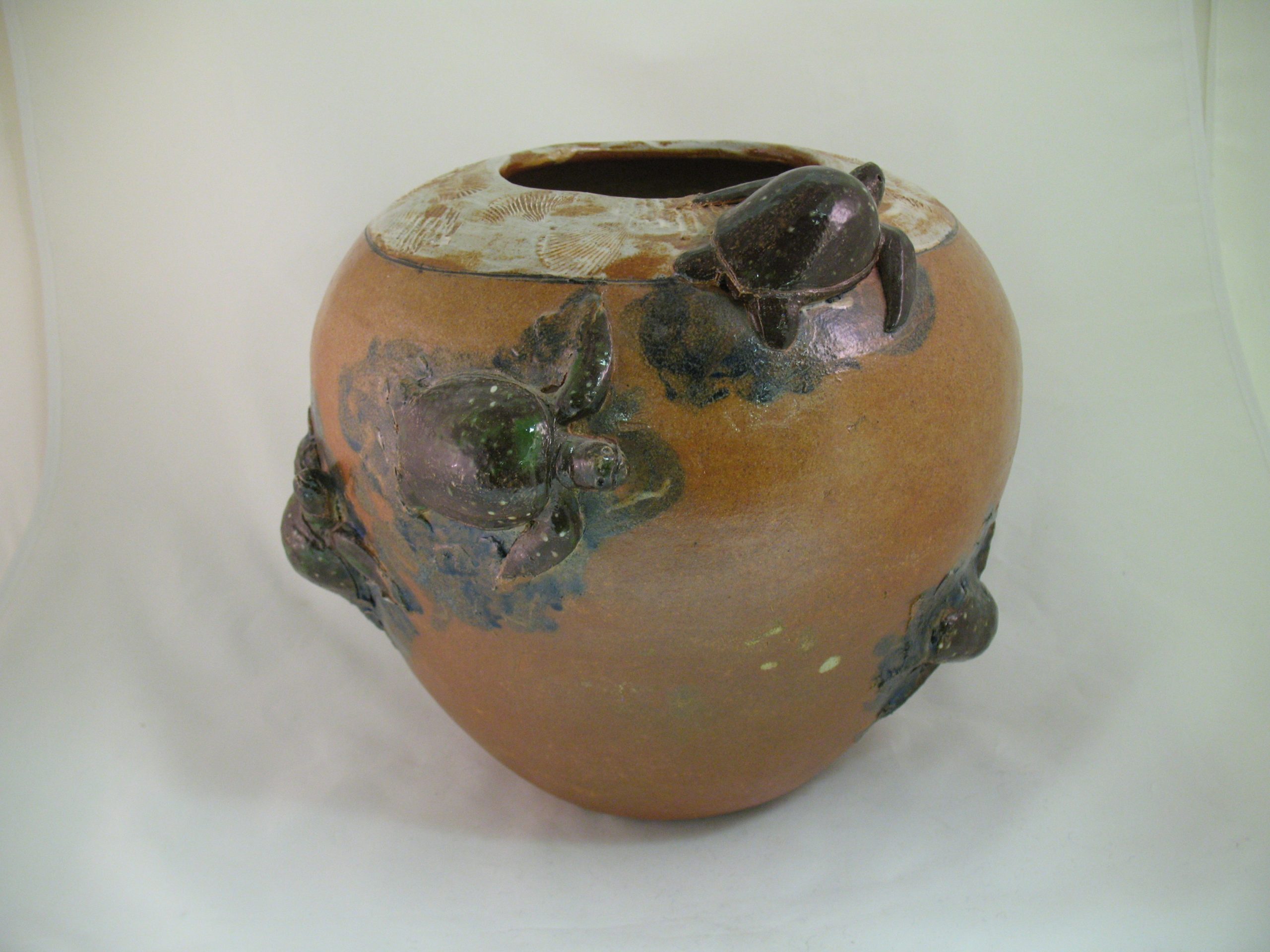 Ada Jacques, Onondaga, Turtle Clan. Turtle Pot, Museum purchase with funds from the Social Art Club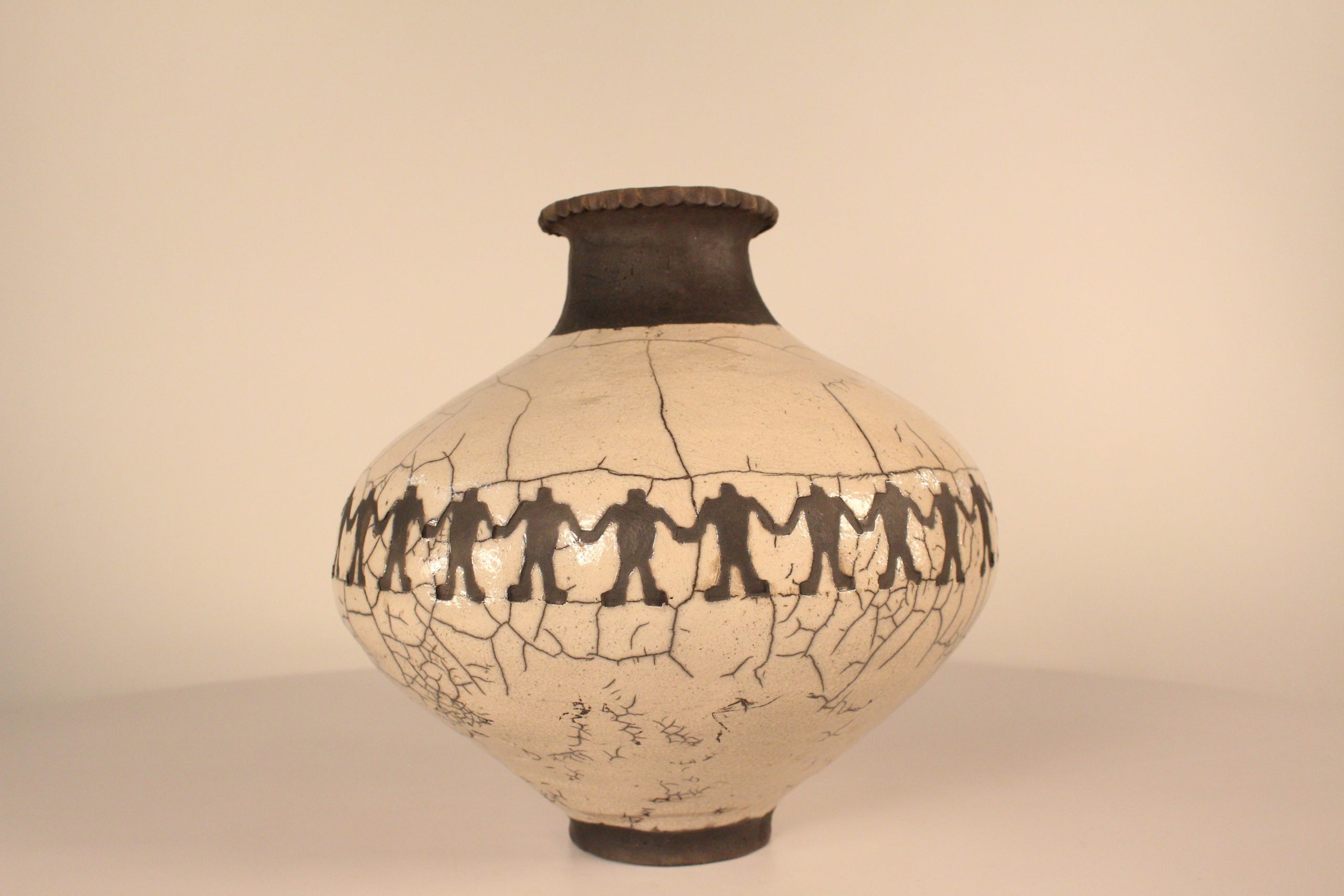 Tammy Tarbell. Mohawk, Turtle Clan (b. 1950) The Unity Pot, 2012. Raku. Gift of Friends of Clayscapes Pottery, Inc.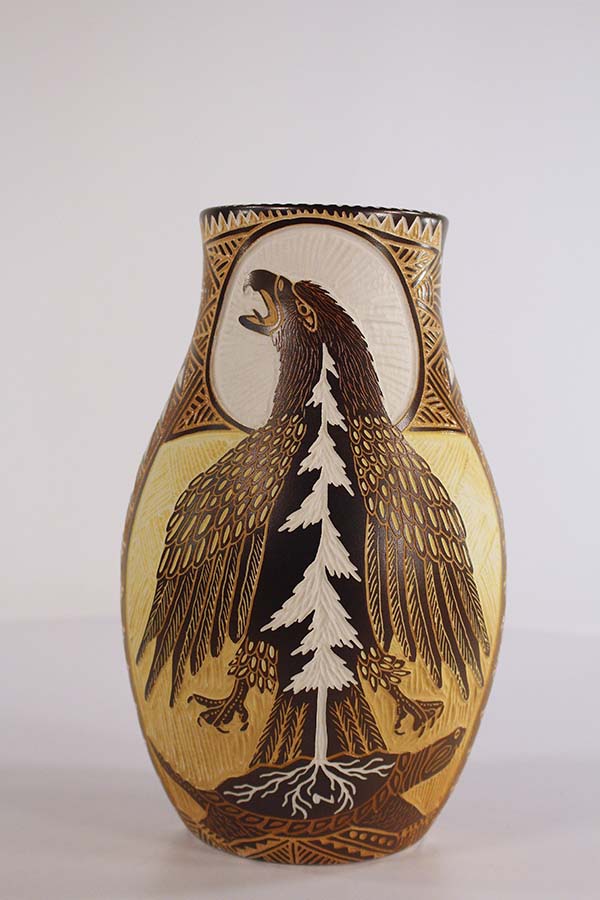 Steve Smith. Mohawk, Turtle Clan (b. 1948). Talking Earth, 1993. Porcelain. 9 3/4 x 6 1/2 inches. Gift of Mary Jean and Thomas Deaver