Growing Up: Everson Teen Arts Council
Growing Up
Curated by the Everson Teen Arts Council
Presented by

June 8 – July 2, 2023 
Teen Night and Opening Reception: June 8, 6:00 – 8:00pm 
The Everson Teen Arts Council is a partnership between the Everson and teens from local school districts, offering a safe platform for teens to share their voice, work with their peers, and engage with the greater community.
The Everson Teen Arts Council provides dynamic leadership opportunities to create meaningful and relevant programs and exhibitions, while giving teens space to explore identity, build skills, and prepare for college and careers.
The Everson Teen Arts Council has curated an exhibition that displays the growth we experience in the world, through struggle or strength. Growth can be seen around us and within us, whether its flowers blooming in May or a teenager landing their first job.
The exhibition showcases artwork of Central New York teens through the lens of what growing up means to them, and how they express this concept through a variety of artistic mediums.
Growing Up and accompanying programming are generously underwritten by National Grid.
The Everson Teen Arts Council is made possible by the John Ben Snow Memorial Trust.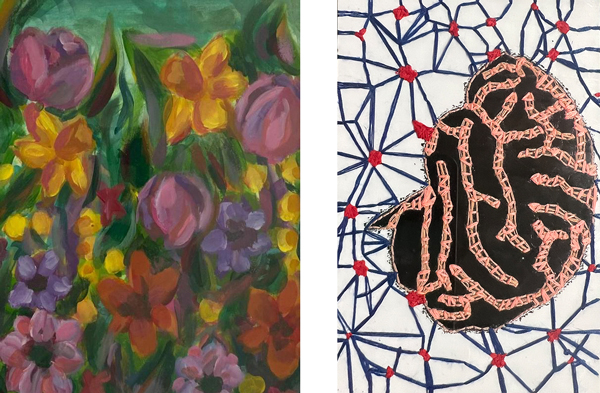 Artwork by Minerva Miller and Hannah Salvagni, Everson Teen Arts Council