On View July 27 – September 15, 2019
The #MeToo and #TimesUp movements are driven by a group of women opposing the silence surrounding sexual harassment and sexual violence. These women use their voice and platforms to unify survivors and empower women everywhere to speak up and speak out. #LegaSHE features a diverse group of local artists who create work to support this campaign, to drive conversations about this formerly taboo topic, and to show the community that we no longer need to be silent. From depictions of stories of victimized women in ancient biblical times to art about women's roles in World War II to images of contemporary protesters and survivors on the local and national stage, we want our community to know that a legacy of sisterhood persists, and no one needs to feel alone in this community.
-Jessica Svoboda and Megan Luton, exhibition curators
#LegaSHE is presented through the Everson's Community Exhibition Program, which provides opportunities for Central New York organizations to present the work of area artists.
The Everson's Community Exhibition Program is generously supported by Community Bank, N.A.

If you or someone you know is the victim of domestic or sexual violence or other forms of abuse, please reach out to one of the many resources in our community. You are not alone.
Vera House 24-Hour Crisis and Support Line: (315) 468-3260
Vera House TTYL (for the Deaf community): (315) 484-7263
National Domestic Violence Lifeline: (800) 799-7233
New York State Domestic and Sexual Violence Hotline: (800) 942-6906
Domestic Violence Program at the Spanish Action League of Onondaga County
(La Liga): (315) 410-0945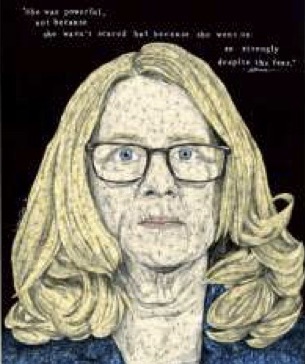 Lisa LaMontagne (Liza Coco Art)
"Courage", 2018
Colored Pencil, Acrylic paint, ink