That Day Now: Shadows Cast by Hiroshima
August 23, 2017 to November 25, 2017
Changing Project Room Of Curated Objects And Original Works
Yutaka Sho, Susannah Sayler, and Edward Morris + Students in a collaborative studioSyracuse University, Departments of Architecture and Transmedia, and the Everson Museum of Art
"It is not that what is past casts its light on what is present, or what is present its light on what is past; rather, image is that wherein what has been comes together in a flash with the now to form a constellation." -Walter Benjamin
On August 6, 1945, the United States dropped an atomic bomb on Hiroshima, Japan, killing as many as 200,000 people, severely injuring countless more and immediately raising the specter, still with us, of total annihilation. Three days later Nagasaki, Japan suffered the same fate. The impact of these bombings on the way we view the world cannot be understated. Historian Robert Jay Lifton has written: "You cannot understand the twentieth century without Hiroshima."
Yet, how exactly do we regard Hiroshima (understood not only as referring collectively to both the bombings of Hiroshima and Nagasaki, but also all such possible catastrophes to come), particularly as it fades in cultural memory? How can we find its present urgency? This exhibition is one humble attempt to grapple with this difficult question. It takes the form of a project room that will undergo three transformations between August 19 and November 26.
For the first phase of the exhibition (August 19-October 18), Syracuse University Professors Yutaka Sho, Susannah Sayler, and Edward Morris have curated images and objects from Syracuse University and Everson collections that were created in 1945, the year that bombs were dropped on Hiroshima and Nagasaki. None of these images and objects were made with Hiroshima specifically in mind. Some of them relate directly to the war; some of them do not. Together, however, they form a montage made from the artifacts of history and bear upon the spirit of the times in a way that could not be accomplished by a direct or literal treatment. The montage needs to be activated with reflection. These images and objects are paired with a panoramic image of Hiroshima in ruins, a clock that only runs when visitors are in the gallery (activated by a motion sensor), an image of one of the many permanent so-called nuclear shadows, and a reproduction of one of the monumental Hiroshima Panels (painted by Iri and Toshi Maruki, collaborative husband and wife artists who lost many relatives in the attack). Together, these materials form the sort of constellation that Benjamin articulates in the quotation above.
Students in a studio class taught by Professors Sho and Morris will continue to transform the exhibition in two additional phases, opening on October 18 and November 16 respectively.
The exhibition is part of a larger program at Syracuse University and other locations in the city that centers around a visit in October of one survivor from Hiroshima, Keiko Ogura. Ms. Ogura was eight years old when the bomb fell, and she has since become the official A-bomb storyteller for the city of Hiroshima and tireless advocate for peace and nuclear nonproliferation—issues that have gained an unexpected urgency in recent months.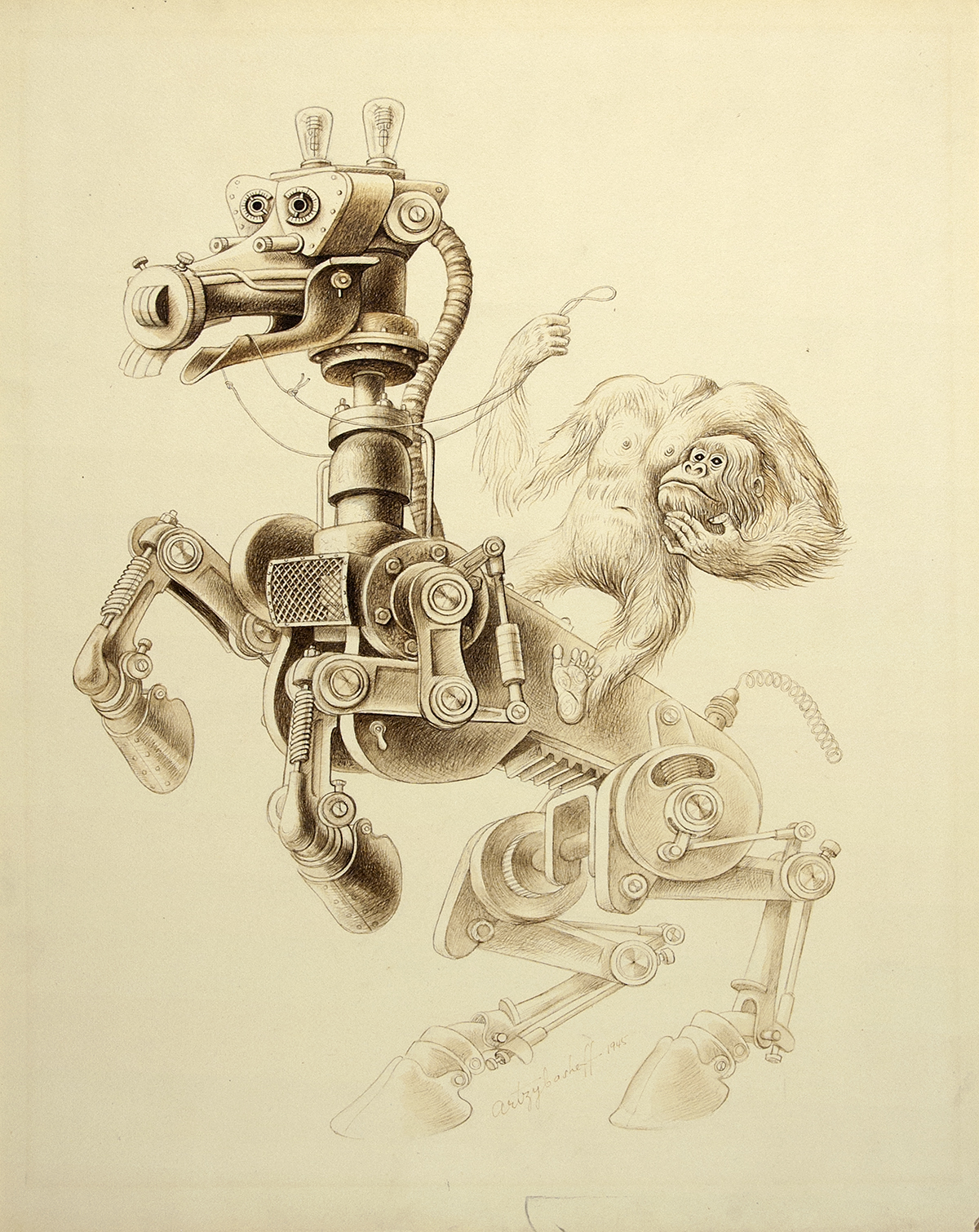 Boris Artzybasheff. The Headless Horseman, 1945. Gouache on illustration board18 ¼ x 13 ¾ inches. Courtesy of the SU Art Galleries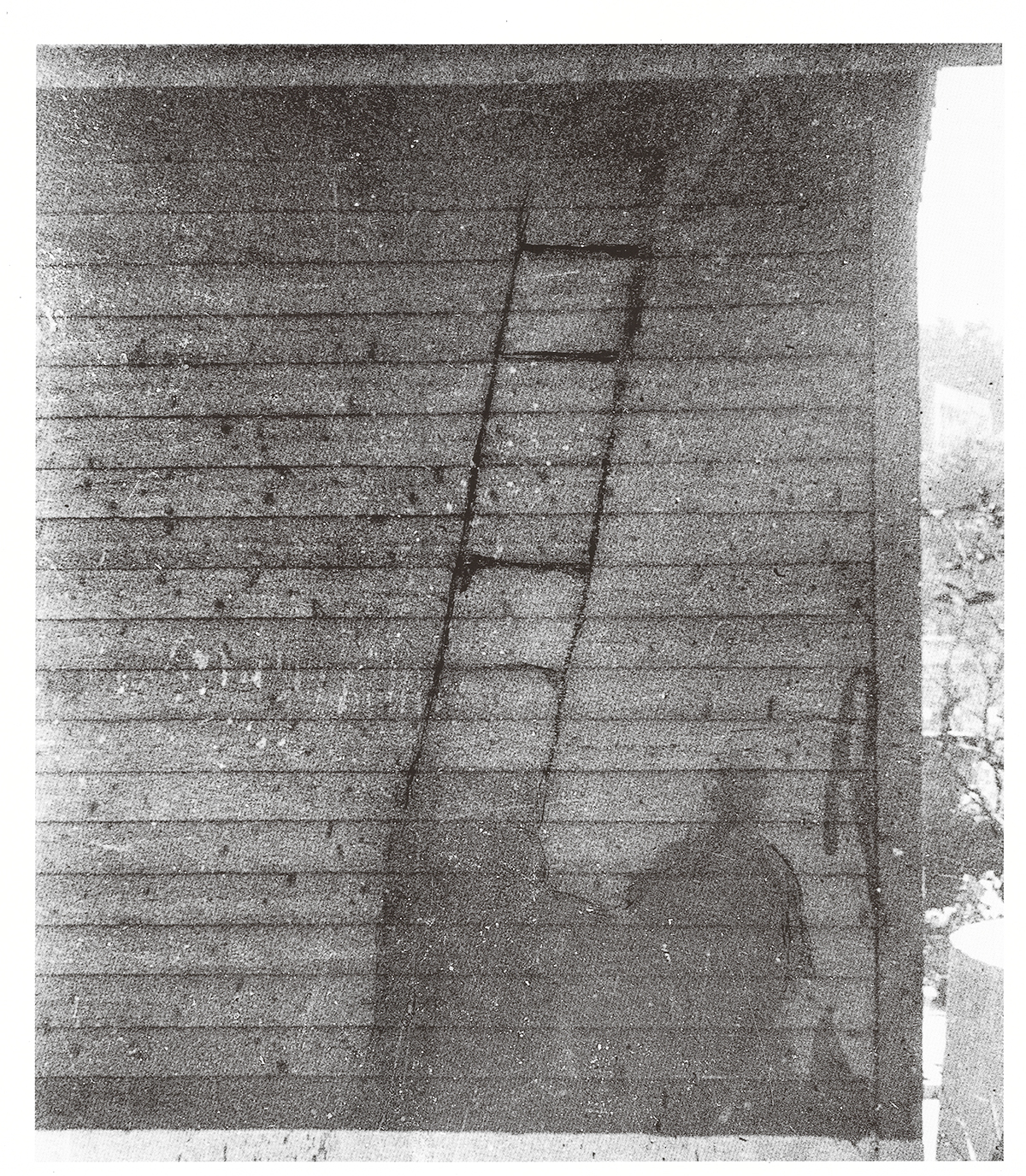 Ei'ichi Matsumoto. Shadow of Solidier and Ladder on a Wooden Wall (Nagasaki—4,400m from the hyopocenter), 1945. Photograph. Image adapted by Sayler / Morris and Yutaka Sho. Courtesy of the Hiroshima Peace Memorial Museum and Asahi Shimbun
Related Events
That Day Now: Open Conversation with Ms. Keiko Ogura
October 26, 5:30 – 6:30pm
Free with Museum Admission
Members' Council Gallery
Join us for a discussion with public speaker and Hiroshima survivor Ms. Keiko Ogura.