From the Archives: Beatrice Wose-Smith and the Golden Gate International Exposition
Syracuse native Beatrice Wose-Smith (1908-1971) rose to prominence as a skilled painter in Central New York in the 1930s and 1940s. She studied painting at Syracuse University, and after graduating in 1930, Wose-Smith spent two years in New York City as a student of realist painter George Luks, joining a group for lessons every week in his studio. She returned to Syracuse in 1932 and set up a studio in a Victorian home on East Genesee Street on the south side of Fayette Park (today known as Fayette Firefighter's Memorial Park). Over the next decade, Wose-Smith developed a unique style that combined the urban realism she learned from Luks with her personal aesthetic, in which she painted simplified and stylized forms often in warm, saturated colors.
In 1933, Wose-Smith painted Roof Tops, a snowy scene showing the southern-facing view from her studio. The Syracuse Museum of Fine Arts (today the Everson Museum) acquired Roof Tops in 1938, and that same year Wose-Smith submitted the painting to the Golden Gate International Exposition, a World's Fair in San Francisco planned for the following year. World's Fairs were massive international events designed to highlight the recent accomplishments of nations. They began in the mid-1800s in Europe, and showcased everything from new scientific or mechanical inventions to achievements in fine arts. World's Fairs in the twentieth century often featured entire buildings dedicated to fine arts, both of the host nation and of countries around the world.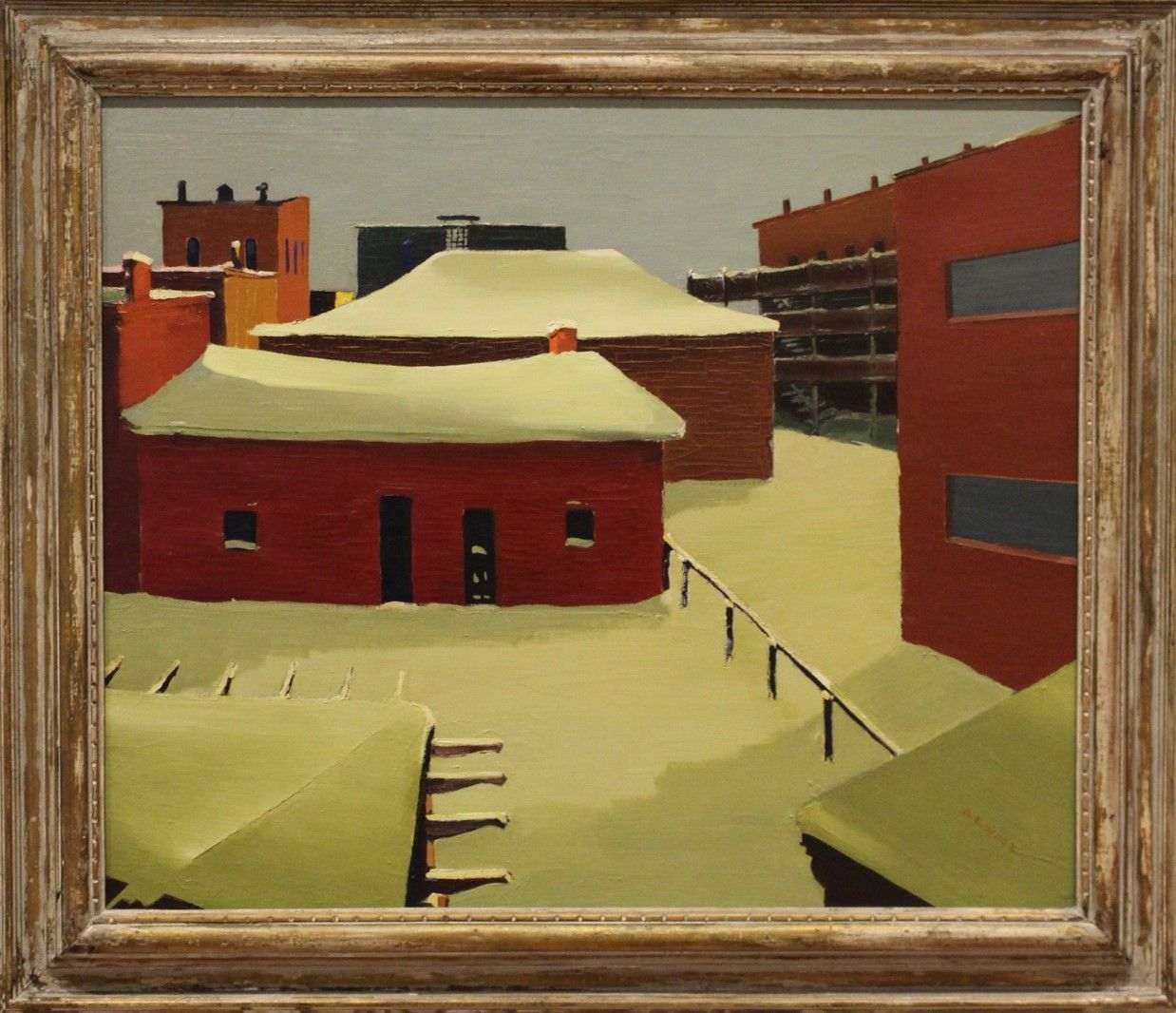 Opening on February 18, 1939, the Golden Gate International Exposition was the seventh World's Fair in the United States and the second World's Fair held in San Francisco. The arts building, named the Palace of Fine and Decorative Arts, featured work by artists from around the world, including 750 paintings by American artists living all over the country. For 25 cents, visitors to the fair could wander through expansive art exhibitions that represented the best of modern day American art.
In a letter dated October 29, 1938, Roland J. McKinney, Director of the Division of American Painting for the Golden Gate International Exposition, informed Wose-Smith that Roof Tops had been accepted into the fair's exhibition of American paintings. Addressed to "Miss Woose" (McKinney misspelled Wose; she hyphenated her name to Wose-Smith after her marriage in 1952), the letter discusses shipping arrangements and thanks Wose-Smith for her participation in the exhibition. The letter arrived to Wose-Smith care of Anna Olmsted, director of the Syracuse Museum of Fine Arts. Olmsted was a constant and vocal champion of Syracuse-based artists, especially those in the Museum's collection, and she may have submitted Roof Tops on Wose-Smith's behalf. A painting in the Museum's collection by another local artist, Lee Brown Coye, was also selected for the fair that year.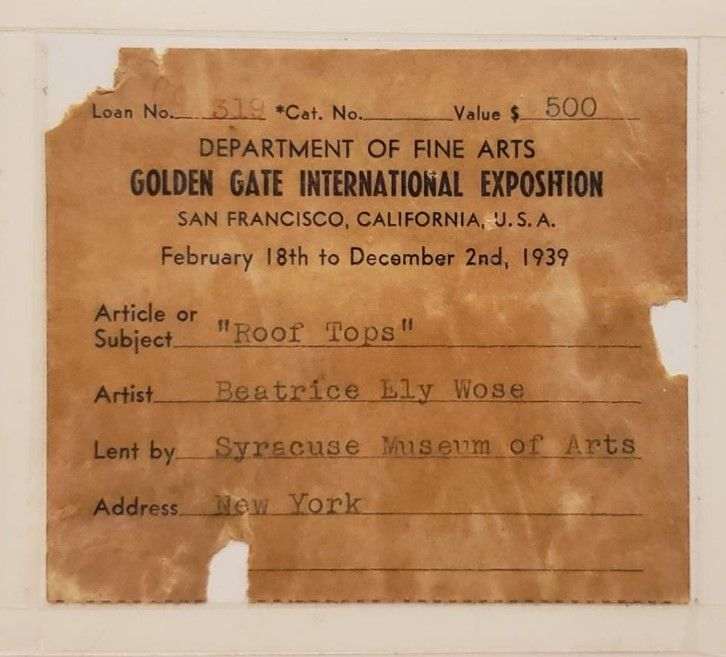 Displaying her work in such a prominent exhibition was a great achievement for Wose-Smith, whose typical audience likely did not extend outside of Central New York.
-Steffi Chappell, Assistant Curator
Image captions:
Letter from Roland J. McKinney to Beatrice Wose-Smith, October 29, 1938, Everson Museum of Art archives
Beatrice Wose-Smith, Roof Tops, oil on canvas, 1933, 37½ x 43¼ inches, Everson Museum of Art; Anonymous gift, 38.301
Golden Gate International Exposition label, affixed to back of Roof Tops
Source:
Official Guidebook: Golden Gate International Exposition, 1939