The First Festival of Trees
On December 4, 1985, the Festival of Trees debuted at the Everson.
Organized by the Everson Members' Council, a dedicated group of museum volunteers, the Festival featured 47 decorated trees donated by area businesses, organizations, and individuals. The seven-day festival included holiday themed performances and craft demonstrations, and the trees were available for visitors to purchase. Ultimately, more than 8,000 people attended the Festival, which raised $27,000, making it the Museum's largest fundraiser of the year.
The Festival's success in 1985 encouraged the Everson to make it an annual event. In 1986, the Festival featured 50 trees and expanded to include decorated front doors, table centerpieces, and wreaths, all of which were displayed throughout the three levels of the Museum. That year  featured more activities and events for children, including films, face painting, magic shows, and an appearance by Santa Claus.
Over the course of one week, the Festival brought 9,000 visitors to the Museum, proving that while it was still a new event, Festival of Trees had quickly become one of Central New York's favorite holiday traditions.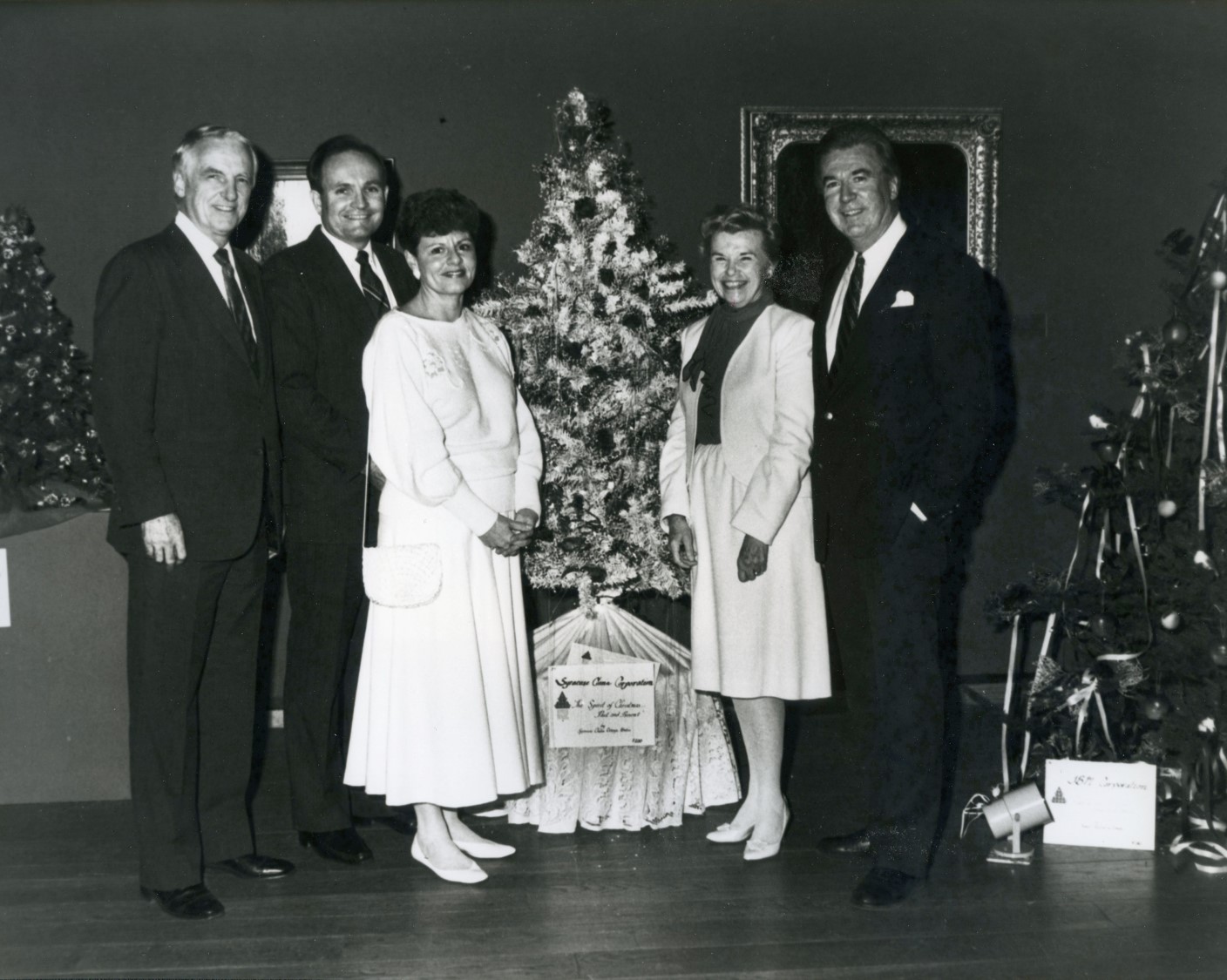 The Festival continued to grow and evolve each subsequent year, often featuring unique eye-catching displays. In 1987, OnBank contributed the first of many multi-tiered poinsettia trees, installed in the Everson's Rosamond Gifford Sculpture Court. Over two stories tall, the display contained hundreds of red poinsettias arranged in a cone shape to resemble a large Christmas tree. In 1999, Dan McCann of Five Seasons Florists, designed a gravity defying twenty-four foot display for the Sculpture Court that featured two trees, one inverted over the other. These large trees remain favorites of visitors and volunteers who remember past Festivals.
This year, the Members' Council invites you to visit the Everson for the thirty-fourth annual Festival of Trees, on view through December 15. Over 130 trees, wreathes, and unique holiday displays are available for purchase, and many of the trees were designed to correspond with artworks in the Museum's collection, which are also on display. Visit https://everson.org/connect/events/FOT19 for a schedule of Festival events, and we hope to see you at the Museum soon!
-Steffi Chappell, Assistant Curator
Image captions
Undated photograph of Chet Amond, Tom Young, Gloria Young, Lee Amond, and Everson Director Ronald Kuchta at Festival of Trees
Linda Anderson, Lee Amon, Rosalind Schwartz (Festival of Trees Chairwoman), and Pat Humpleby (Members' Council President) review the program for the second annual Festival of Trees, 1986
Undated photograph of volunteers constructing OnBank's poinsettia tree
Photograph of 1999 Festival of Trees installation in the Rosamond Gifford Sculpture Court