From the Archives: John Mason's Sliding Cube
Founded in 1932, the Everson's Ceramic National exhibitions ultimately sparked a major national interest in ceramic art and paved the way for museums around the country to collect and exhibit functional pottery and ceramic sculpture. Beginning with the Third Ceramic National in 1934, each exhibition toured nationally, and sometimes internationally, to as many as a dozen other museums and galleries. The Ceramic Nationals continued annually until 1952 (with a short break due to World War II), at which time they became biennials due to the number of participating artists and their expense. By 1972, however, the National had reached unwieldy proportions. After several days of reviewing slides for more than 4,500 entries, the jurors rejected all submissions and announced that the 1972 National would be replaced with a four-part exhibition that included a slideshow of the best slide entries, an invitational, a survey of prior National works curated by Olmsted, and a display of Adelaide Alsop Robineau's work from the Museum's collection.John Mason was one of fourteen artists asked to participate in the invitational component of the exhibition. Mason's boundary-pushing approach to ceramics helped redefine the field in the late 1950s, and in the 1970s, he began constructing site-specific sculptures out of fire bricks (used to build kilns and furnaces) borrowed or rented from brick manufacturers. Mason submitted one of these sculptures, Sliding Cube , to the 1972 National . Weighing more than 14,000 pounds and made of 1,672 bricks, Sliding Cube consists of eleven levels of overlapping squares that grow from a single layer of bricks. The direction the bricks are laid alternates with each later, creating a dynamic pattern that gives the appearance of each successive cube sliding into the next.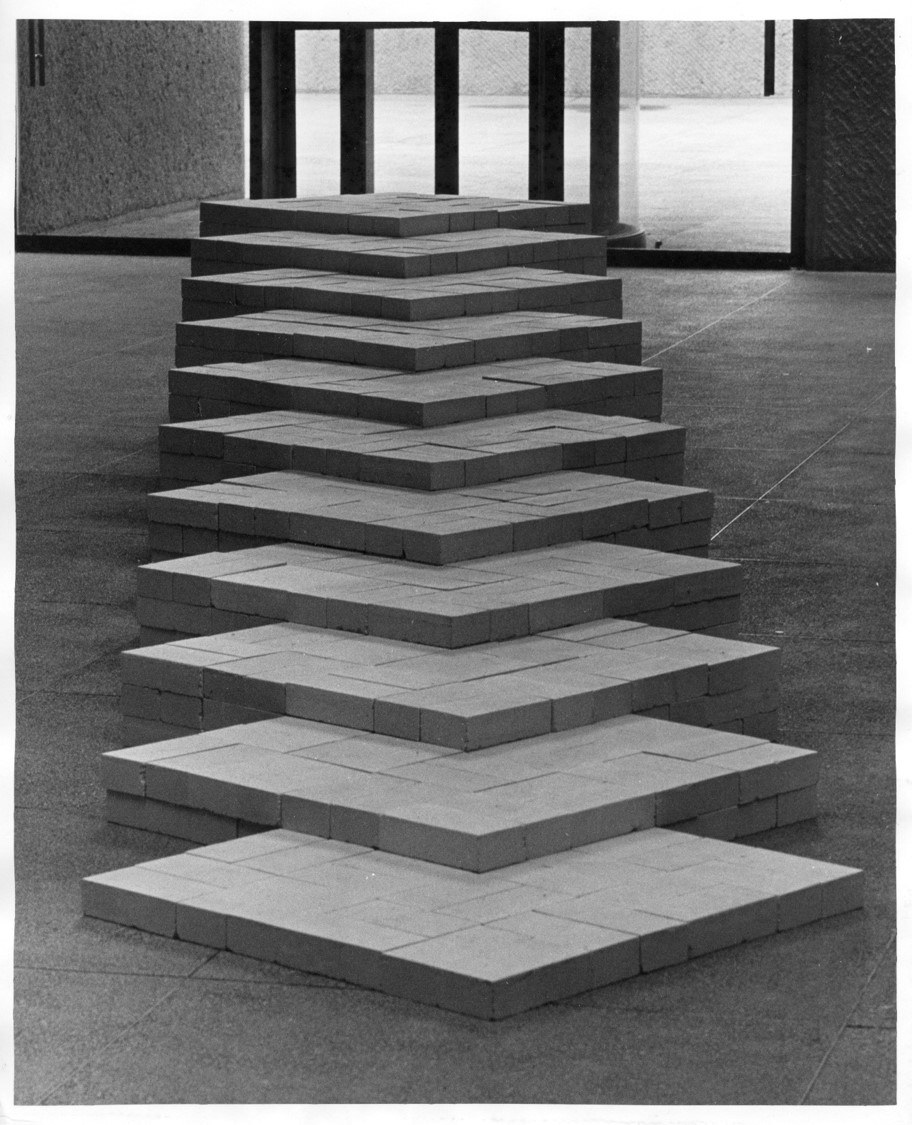 For the 1972 National , Sliding Cube was installed in the Everson's Rosamond Gifford Sculpture Court, the large sculpture comfortably contending with I.M. Pei's soaring architecture. Today you can see Sliding Cube installed in the exhibition Earth Piece, on view through January 5, 2020.
-Steffi Chappell, Assistant Curator
Photo credit: Kerby C. Smith / Lii News Service