Detail-Oriented: Walnut by Tom Mazzullo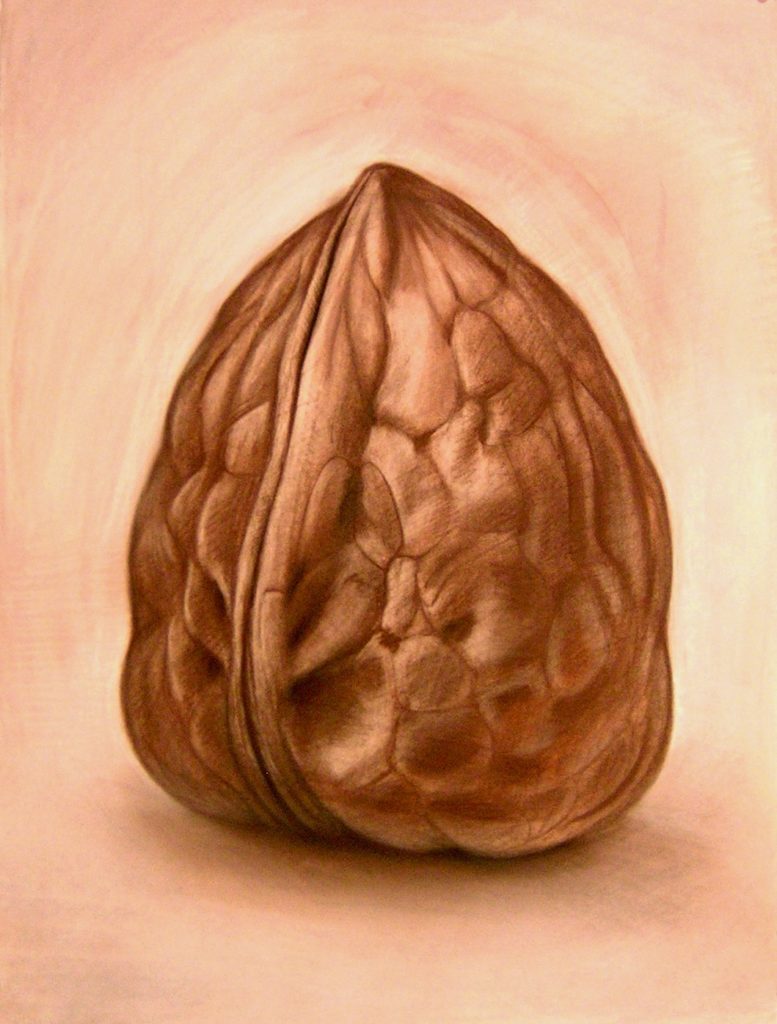 Denver-based artist Tom Mazzullo (b. 1968) specializes in metalpoint drawing, a medieval technique that uses soft metals to create meticulous line drawings that resemble graphite. Mazzullo earned his Bachelor of Fine Arts in Printmaking from Temple University's Tyler School of Art in 1990 and a Master of Fine Arts in Printmaking from Syracuse University in 1993. He has exhibited his works at competitions, galleries, and museums across the United States, including the Everson Museum of Art, which hosted his first solo exhibition in 2007. Mazzullo is the co-author of Silverpoint and Metalpoint Drawing: A Complete Guide to the Medium, published in 2019 by Routledge Press. He has taught at Hamilton College, the University of Denver, and the Art Students League of Denver, in addition to leading workshops and lectures in the Central New York and greater Denver areas.
Interested in the spare and precise arrangement of singular objects instead of the traditional cluttered still life, Mazzullo's work is perfectly suited to his chosen medium. Using a stylus made from sterling silver wire and a mechanical lead holder, Mazzullo can draw the metal point across an abrasive surface to create thin, delicate lines. This technique allows metalpoint artists to deposit fine lines of metal particles that maintain a light gray color until they begin to tarnish and take on a warm, sepia hue. The methodical and painstaking process of metal point demands sustained patience, attention, and observation, allowing Mazzullo to render not just the subject, but its character.
While meticulously constructed metalpoint drawings make up the bulk of Mazzullo's work, his attention to detail is equally as visible his large-scale conté crayon works, such as Walnut. Every marking or shift in surface texture is made visible as Mazzullo elevates his lone subject to a grander scale, capturing a stunning likeness more characteristic of an intimate portrait than a traditional still life. Mazzullo undeniably succeeds in capturing the essence of objects, confronting the viewer with the monumental task of concentrating on one subject at a time in a modern world defined by constant distraction.
Walnut is currently on view in From Soup to Nuts, an exhibition of works from the Everson's collection that illuminate the connection between food and community. From Soup to Nuts is on view through January 2, 2022.
-Jaden Dagenais, Curatorial Intern
Sources:
Herron, Frank. "Silverpoint Drawings Take Decades to Look Their Best." The Post-Standard (Syracuse, NY), July 22, 2004: E1. NewsBank: Access World News.
Rushworth, Katherine. "Artist Tom Mazzullo Proves Less is More – The Utica-Based Artist Creates Quiet Conversation Between Diverse Media." The Post-Standard (Syracuse, NY), July 15, 2007: 14. NewsBank: Access World News.
Schwalb, Susan, and Tom Mazzullo. Silverpoint and Metalpoint Drawing: A Complete Guide to the Medium. New York: Routledge, 2019. Digital file.