Object of the Week: Put Me Down Gently, by Sheila Pepe
Recently, the Everson acquired several important works for the permanent collection, including Put Me Down Gently, a monumental fiber installation by artist Sheila Pepe. Put Me Down Gently is currently on display in Sheila Pepe: Hot Mess Formalism, a mid-career survey exhibition which examines how Pepe plays with feminist and craft traditions through drawing, sculpture, and installation.
Pepe is best known for her fiber-based, site-specific installations that intrude upon architectural spaces and galleries, creating shapes, lines, and shadows that are always subject to the changing conditions and environments they occupy. Constructed out of domestic and industrial fibrous materials, such as yarn, string, shoelaces, rope, and cord, these installations challenge preconceived notions of domestic craft forms, or "women's work," and embody an intersection of fine art and craft.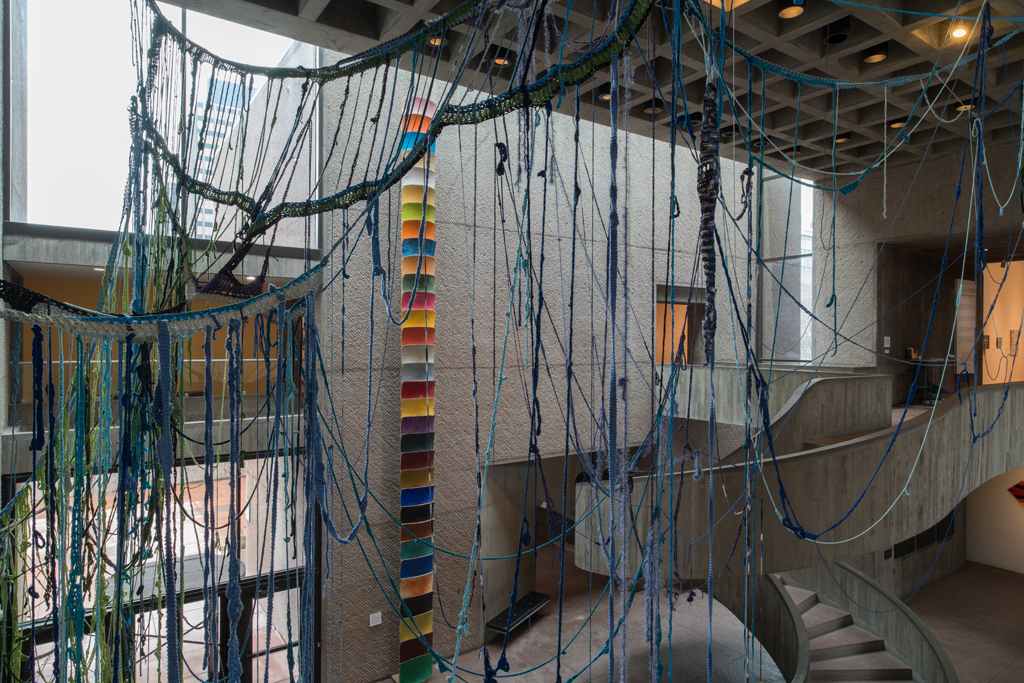 Pepe's fiber installations are never presented the same way twice, with each new venue allowing the artist to reinterpret the display of the work according to the space it occupies. The Institute of Contemporary Art in Boston commissioned Put Me Down Gently for the exhibition Fiber: Sculpture 1960-present in 2014, where it was installed in a multi-story glass atrium. For the installation at the Everson, Pepe made use of the Everson's unique architectural elements, designed by I.M. Pei. Hanging from the forty-foot tall ceiling in the Rosamond Gifford Sculpture Court, Put Me Down Gently follows the curve of Pei's iconic poured-in-place concrete staircase, and expands to take advantage of the vast space. Pepe's installation also responds to the paintings hung on the walls in the Sculpture Court. The drips of yarn, cord, and lace mimic the drips of paint on Morris Louis's painting Alpha-Delta, and the suspended arc reverses the scoop forms in Ron Gorchov's painting/sculpture Strand. Describing the installation, Pepe said,
"What you see at the Everson is a truly jubilant response to the architecture; the height of the ceilings and the expansive gallery spaces allowed the sculptures to spread and take on shapes I have never seen before."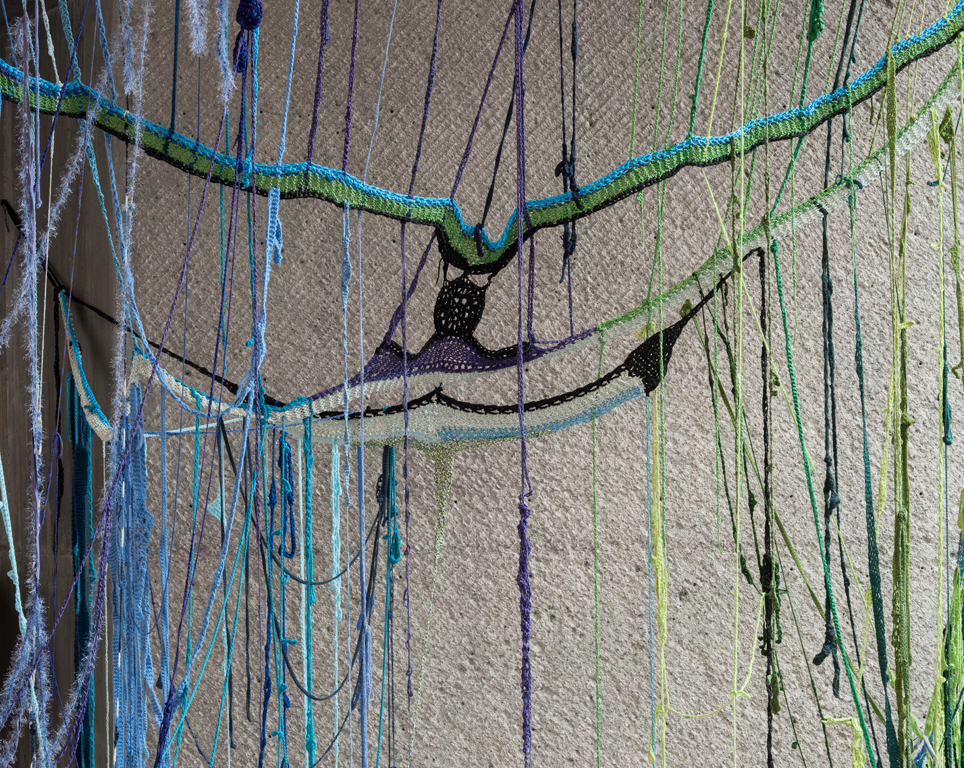 To learn more about Pepe's work and artistic practice, check out "Five Questions with Sheila Pepe." Put Me Down Gently is on display in Sheila Pepe: Hot Mess Formalism through May 13, 2018.
-Steffi Chappell, Curatorial Assistant