Still Life Drama: Teapot, Egg Carton by Reginald Case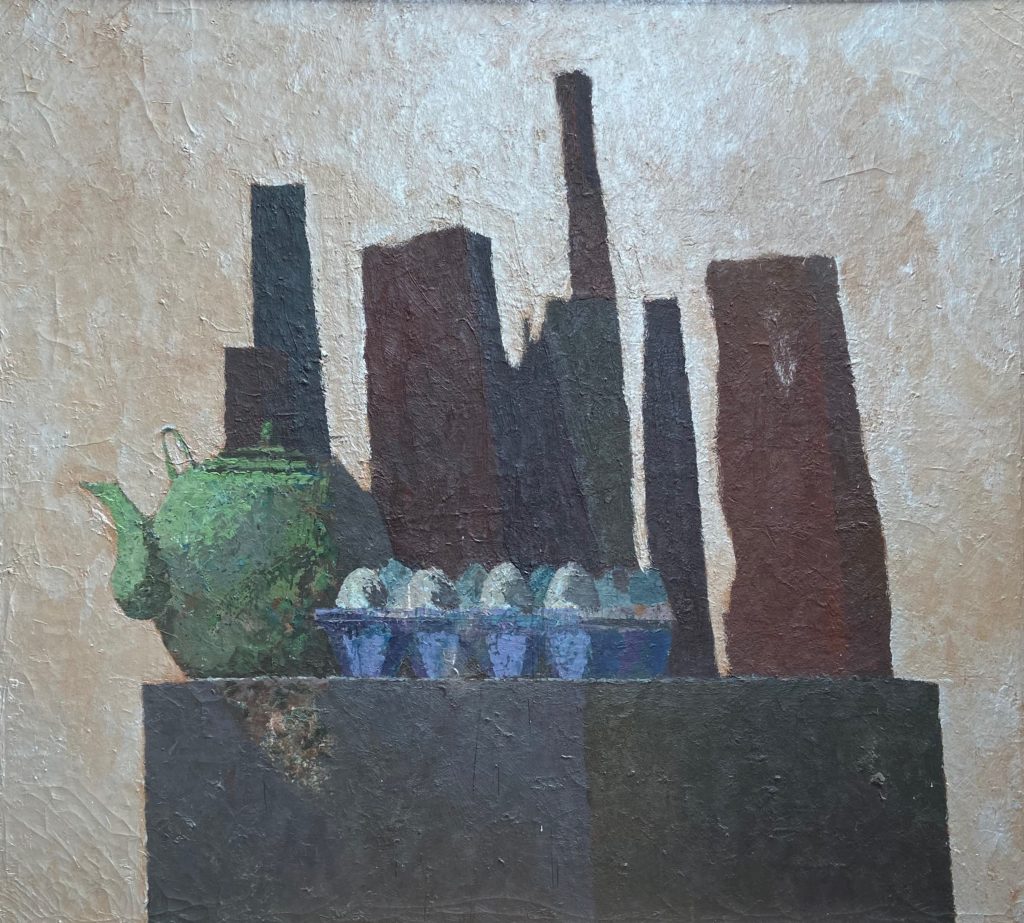 Born in Watertown, New York, Reginald Case (1937-2009) was a multi-disciplinary artist who rooted his works in popular culture or social, political, and international events. Case became an artist after to studying with the New York School artist Peter Busa while earning a Bachelor of Science from SUNY Buffalo. Busa, an explorer of Abstract Expressionism and Surrealism no doubt influenced Case's early abstract and large-scale paintings and collages. Additionally, Case's teachers at Boston University, social realist Robert Gwathmey and the still life specialist Walter Tandy Murch, further shaped Case's oeuvre of paintings, assemblages, collages, sculptures, and photographs.
The influence of Busa, Gwathmey, and Murch is easily found in Case's earliest series of paintings, which include a collection of still lifes featuring teapots, food, and other common kitchen objects. The still life is a staple of western art and academic practice, but Case makes an interesting intervention into the genre by scaling his paintings up, using large canvases, upon which he paints abstracted and discolored, mundane objects. The size of the canvas gives a sense of importance to objects that most people take for granted due to their ubiquity, and the abstractness and discoloration prompts the viewer to question how well they really know the items their daily routine relies upon.
Case remarked on his still lifes, "In freely changing the natural size, scale, color, and relationship of things, I am able to arrive at a new and different relationship. It's this new and different relationship, with its poetic possibilities, that interests me and is what I attempt to paint." Teapot, Egg Carton epitomizes Case's effort to create a new and different type of still life painting. Within the painting's large, rectangular canvas, an emerald-green teapot and a light cobalt egg carton full of grey and teal eggs sit atop a cubic, black pedestal. Unrecognizable rectangular objects lie in the background. The titular jeweled-toned objects of the painting stand out among the earthy browns, greens, and blacks of the rest of the composition, emphasizing the "poetic possibilities" of these everyday objects.
A native of Upstate New York, Case lived and worked in Syracuse for several years, developing a close relationship with the Everson Museum and its director and curators. It was during his time living in Syracuse that the artist gifted Teapot, Egg Carton to the Everson's collection. Case's five-decade long art career, which lasted from the late 1960s until his death in 2009, expands beyond just this one series. He worked in a variety of art styles and themes, including collages that processed the artist's fear of the Holocaust, sculptures of nationally iconic architecture, and a series on Marilyn Monroe. Nevertheless, Teapot, Egg Carton remains a strong example of Case's ability to transform his art into theater through compositional drama.
Teapot, Egg Carton is currently on view in From Soups to Nuts, an exhibition of works from the Everson's collection that illuminate the connection between food and community. From Soup to Nuts is on view through January 2, 2022.
—Mariah Ribeiro, Curatorial Intern
Sources:
Case, Bonnie, Letter to the Everson's Assistant Curator, March 25, 2002.
Case, Reginald. "Artist Statement," sent to the Everson Museum of Art in 1978.
Case, Reginald. Reginald Case: Paintings. 1976. Published in conjunction with the exhibition "Reginald Case: Paintings" shown at the Munson-Williams-Proctor Art Institute, Utica, New York.
Reginald Case. "Biography." Accessed October 15, 2021. http://reginaldcase.com/biography/