Frank Gillette: Excavations and Banquets
February 9, 2019 to April 21, 2019
The work of pioneering video artist Frank Gillette focuses on humans' experience of natural phenomena. Using multi-channel video installations with image feedback, time delay, and closed-circuit systems, Gillette is of a generation of artists who defined the way video technologies would be used as an art form. Gillette has become increasingly fascinated with the potential of digital media to subvert our obsession with speed, and creates work that embraces a Zen-inspired experience of slow time. Creating multi-channel installations that are always shifting, contain no beginning or end, and juxtapose traditional modes of art making (such as still life, landscape, and symbolic interaction,) Gillette continues to deepen a career-long investigation into the intersections of technology, ecology, and cognition.
Excavations and Banquets is an unearthing of lesser known facets of Gillette's work as well as a celebration of his entire career. Featuring a selection of work spanning forty-five years, the exhibition combines sculptures included in Gillette's first exhibition at the Everson in 1971 along with digital prints, drawings from Gillette's daily sketch notebooks, and selected writings and objects.
Read Hyperallergic's review of the exhibition.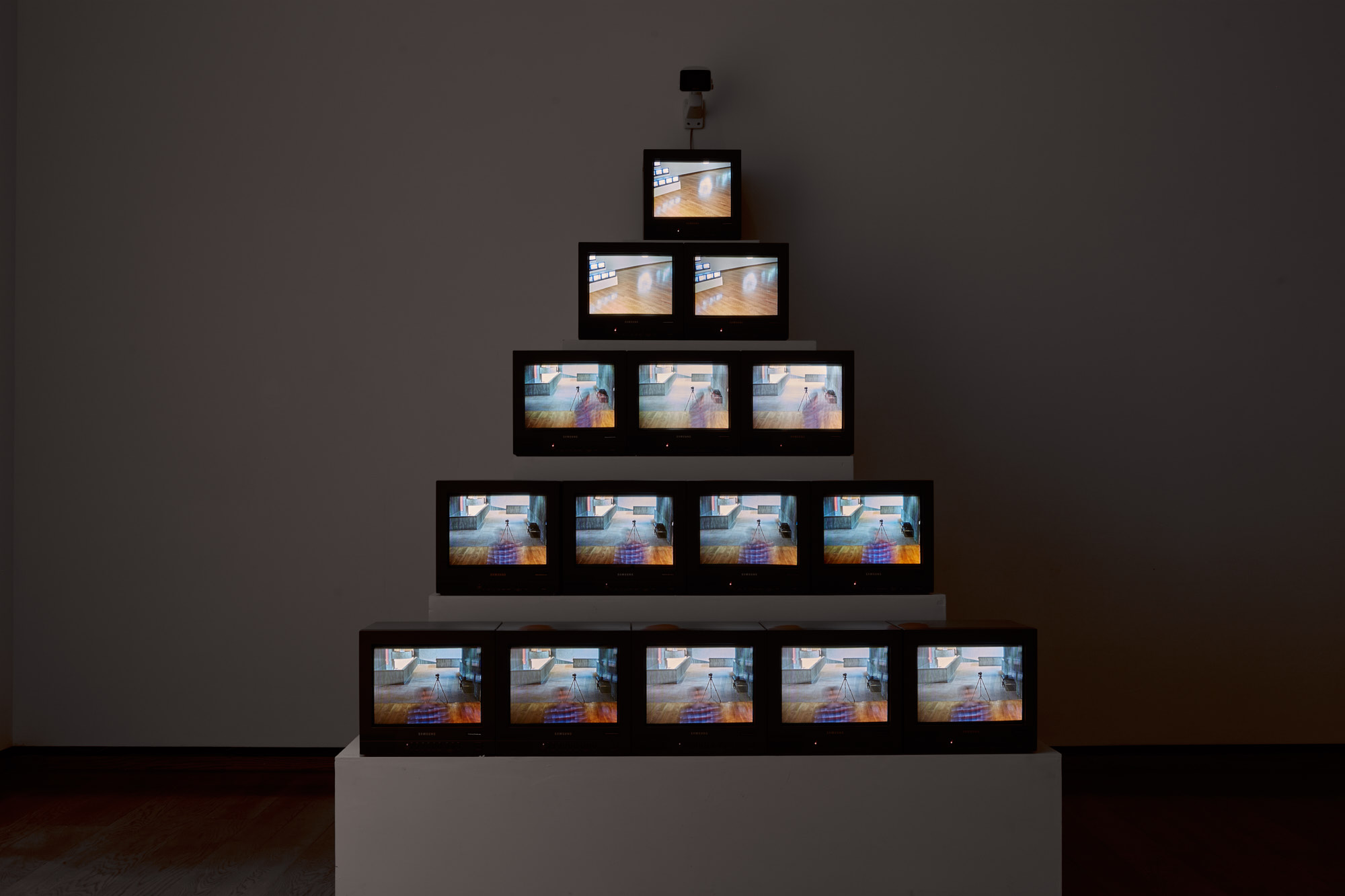 Track/Trace, 1972, 15 monitors, 3 CCTV cameras, Everson Museum of Art, 2019
Related Events
Docent-led Tour: Frank Gillette: Excavations & Banquets
April 18, 2019, 6:00pm
Free Third Thursday Admission
Free Docent-led tour of Frank Gillette: Excavations & Banquets.
Youth Art Class: Art Outdoors
April 27- May 8, Saturdays 10:30am–12:30pm
$65 Members | $85 Non-Members
Create art inspired by nature, animals, outdoor sculpture, and more.
Suzanne Anker & Frank Gillette Family Guide
Get the whole family involved in your trip to the Everson! Download the Suzanne Anker & Frank Gillette Family Guide ›
Suzanne Anker & Frank Gillette Audio Tour
Learn more about the exhibitions Suzanne Anker: 1.5° Celsius and Frank Gillette: Excavations and Banquets using this audio tour narrated by the artists. Borrow an iPod at the admissions desk or download and enjoy the tour on your own device (bring your own headphones!).